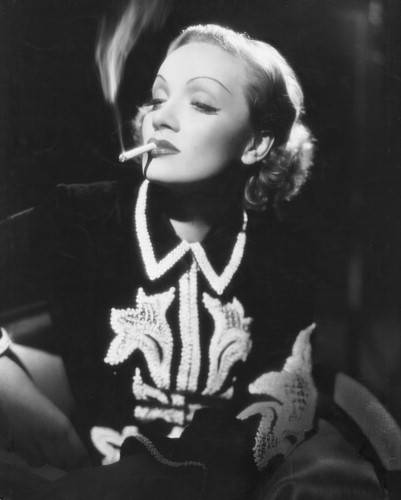 It's the end of August and a real movie icon winds up the month-long Summer of the Stars on Turner Classic Movies.
The films of the singular German actress and seductress Marlene Dietrich run all day and will include "Kismet" (11:30 a.m.), the Alfred Hitchcock film "Stage Fright" (1:15 p.m.), Fritz Lang's weird western "Rancho Notorious" (3:15 p.m.), Josef von Sternberg's "Shanghai Express" (6:30 p.m.) as well as a 2001 documentary directed by her grandson J. David Riva, "Marlene Dietrich: Her Own Song" (4:45 p.m.).
In prime time, there are two more von Sternberg films, "The Scarlet Empress" (8 p.m.) and "The Devil is a Woman" (10 p.m.), before Raoul Walsh's "Manpower" (11:30 p.m.) with Edward G. Robinson and George Raft; Billy Wilder's "A Foreign Affair" (1:30 a.m.) :15 p.m.) and the von Sternberg classic that made her a worldwide star, "The Blue Angel" (3:30 a.m.) with the great Emil Jannings and the song "Falling in Love Again."
Elsewhere, "The Hour" (BBC America, 10 p.m.) reaches the halfway point, with a trip to a country estate at the in-laws of he anchor Hector Madden.
Wilmer Valderrama guest stars on the season finale of "Royal Pains" (USA, 9 p.m.).
The second season of "Hot in Cleveland" (TV Land, 10 p.m.) ends up with a takeoff of "The Hangover."
From the dozen who performed on "America's Got Talent" (NBC, 9 p.m.) on Tuesday, five are chosen to advance to next week's final eight. Also, Susan Boyle and Nicki Minaj perform.
With Porsche the head of household for the first time and both Rachel and Jordan likely nominees for eviction, it is as they say, the most important veto competition ever on "Big Brother" (CBS, 8 p.m.).
Can't understand why "Minute to Win It" (NBC, 8 p.m.) takes an hour to play.
On a new "Confessions: Animal Hoarding" (Animal Planet, 10 p.m.), the fact that tonight's subject has 100 rabbits is almost explainable.
Everything is getting so emotional as the final episodes of "Rescue Me" (FX, 10 p.m.) click down. But Colleen's wedding is also a factor.
Symphony members are served on a new "Top Chef: Just Desserts" (Bravo, 10 p.m.).
On "Roseanne's Nuts" (Lifetime, 9 p.m.), Ms. Barr is Grand Marshal of the Utah Pride festival
Daytime Talk
Regis and Kelly: Patrick Dempsey, Daniel Radcliffe, Lauren Alaina. The View: Ryan Reyolds, Jason Bateman (rerun). The Talk: Tyra Banks (rerun). Ellen DeGeneres: Vince Vaughn, Kyle Richards (rerun). Wendy Williams: Brooke Burke, Larry the Cable Guy (rerun).
Late Talk
David Letterman: Aubrey Plaza, Thurston Moore. Jay Leno: Allison Janney, Jay Mohr, OK Go.  Jimmy Kimmel: Betty White, Robert Rodriguez, Josh Ritter (rerun). Jimmy Fallon: Christina Ricci, Jim Faffigan, Jeff Musial, Kirk Franklin. Craig Ferguson: Leslie Bibb, Louie Anderson. Tavis Smiley: Kwame Kilpatrick, Kristin Davis. Carson Daly: Mike Mills, Foster the People, MNDR (rerun). Jon Stewart: Sen. Dick Durbin (rerun). Stephen Colbert: Kevin Mitnick (rerun). Conan O'Brien: John Krasinski, Blake Griffin, Ian Edwards (rerun). Chelsea Handler: Josh Wolf, John Caparulo, Jeff Wild.