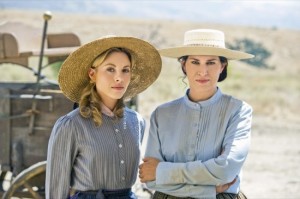 The new TV movie "Love Begins" (Hallmark, 9 p.m.) is a prequel to the "Love Takes Wing" (Hallmark, 7 p.m.), which nonetheless precedes it.
It moves a little stiffly, with acting and writing each at a very stilted pace. But at least the whole family can watch. The cast  includes Julie Mond and Nancy McKeon, pictured right, as well as Wes Brown, who plays the young Clark Davis, who has to work off a charge of breaking up a cafe in a brawl by working for a pair of sisters.
If "Celebrity Ghost Stories" (Bio, 9 p.m.) can only attract the likes of Mindy Cohn and Valerie Harper, maybe it's time to lower the bar a bit. Let's say celebrities don't have to have already seen ghostly apparitions, they only have to have dreamt about them. Here comes "Celebrity Nightmares Decoded" (Bio, 10 and 11 p.m.) in which professional dream analyst Lauren Lawrence interprets the dreams of the stars. Nicole Eggert has a nightmare about snakes, for example. But Dustin "Screech" Diamond is a bit of a nightmare all by himself.
Tonight's Animal Planet fare was chosen by someone who squeals in a high voice: "Too Cute! Kittens" (Animal Planet, 8 p.m.) followed by "Too Cute! Puppies" (Animal Planet, 9 p.m.). And then the mood changes significantly: "Bad Dog!" (Animal Planet, 10 p.m.).
The night before Kate Winslet wins her rightful Emmy in the remake, catch Joan Crawford who won an Oscar for her portrayal of "Mildred Pierce" (TCM, 8 p.m.), It kicks off a night of actually saluting Ann Blyth, who co-starred as the daughter. She's also in "Kismet" (TCM, 10 p.m.), "All the Brothers Were Valiant" (TCM, midnight), "Our Very Own" (TCM, 2 a.m.) and "Rose Marie" (4 a.m.).
Speaking of Emmys, the Creative Arts Emmys (Reelz, 8 p.m.) are run in an edited version, handing out largely technical awards but also a few acting awards, including guest stars. Taped last weekend at the Nokia Theatre in Los Angeles.
Justin Timberlake is one of the winners of the night; his latest job hosting "Saturday Night Live" (NBC, 11:29 p.m.) alongside Lady Gaga gets a replay.
New movies on cable tonight include Matt Damon in Clint Eastwood's "Hereafter" (HBO, 8 p.m.), Natalie Portman in "The Other Woman" (Showtime, 9 p.m.) and Seth Rogen as "The Green Hornet" (Starz, 9 p.m.).
There's no horror B-movie on Syfy tonight. Instead, it's Daniel Craig playing James Bond in "Quantum or Solace" (Syfy, 9 p.m.).
"Doctor Who" (BBC America, 9 p.m.) trades in the TARDIS for a creepy hotel in a new episode.
The avalanche of college football action today includes Auburn at Clemson (ABC, noon), Washington at Nebraska (ABC, 3:30 p.m.), Texas at UCLA (ESPN, 3:30 p.m.), Tennessee at Florida (CBS, 3;30 p.m.), Texas Tech at New Mexico (Versus, 3:30 p.m.), Syracuse at USC (FX, 8 p.m.) and Stanford at Arizona (ESPN, 10:45 P.M.).
A fictional college team is back on as well, with "Blue Mountain State" (Spike, 11 p.m.) returning for a third season.
In other sports, Rays at Red Sox (Fox, 4 p.m.) gets a national audience.