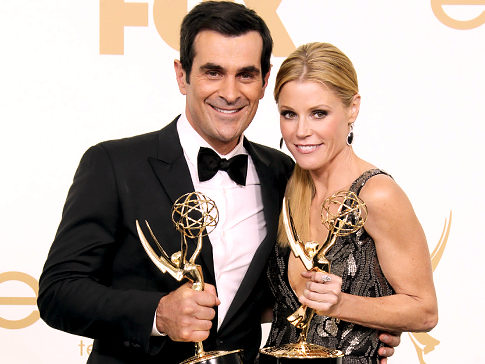 "Modern Family" swept the Emmys Sunday night in a way that few other comedies ever have; while the drama category splintered between a number of shows, with "Mad Men" taking its fourth straight best drama nod while "Friday Night Lights" snared two key awards.
"Modern Family" won the first four awards of the night – writing, directing and supporting acting from Ty Burrell and Julie Bowen, right, who play a married couple on the show, before returning at the end of the three hour eelecast to win best comedy – a conclusion so foregone the audience laughed when Gwyneth Paltrow paused to read the full list of nominees.
And among miniseries, "Downton Abbey" from "Masterpiece" on PBS took four awards, while "Mildred Pierce" from HBO took two: best lead actress for Kate Winslet, and best supporting male in Guy Pearce.
There were still some odd choices – Jim Parsons of "Big Bang Theory" repeating for male lead actor in a comedy in a year when Steve Carell was expected to win for his final year on "The Office," or Louis C.K. took notice for his unique comedy, "Louie."
The field was so strong for leading women in a comedy that all the nominees came up and held hands all hopeful, pageant style, before Melissa McCarthy took the Emmy – as well as roses and a tiara, in one of the show's best (and most unplanned) gags.
Julianna Marguilies repeated as best actress in a drama, for her role in "The Good Wife," but Kyle Chandler was a surprise win as best actor as the coach in "Friday Night Lights," which also took best writing in a drama.
It got a hearty hand from those in the audience. And the drama categories had some other surprises: Peter Dinklage as supporting actor in "Game of Thrones" and margo Martindale for supporting actress in "Justified."
In miniseries, it was Maggie Smith who took best supporting actress for her role as dowager in "Downton Abbey" while Berry Pepper took best supporting actor as Robert F. Kennedy in the troubled miniseries "The Kennedys," which was dropped by the History channel and picked up by Reelz channel. Neither were present to receive the awards.
Among reality and variety shows, "The Amazing Race" and "The Daily Show with Jon Stewart" retained their lock on their categories.
As entertainment, the show had its ups and down, with Jane Lynch managing to turn out some good one liners ("welcome to the Modern Family Awards" was one), but starring in an overdone opening song where Leonard Nimoy replaced Alec Baldwin at the last minute and there were cameos from Kevin Nealon, Jeremy Piven, Andy Richter and the casts (and sets) of the "Big Bang Theory" and "Mad Men."
Later, a sketch in "The Office" set has some cross-show friction, with Jesse Pinkman from "Breaking Bad" stopping in to drop off a package for Creed.
A musical number from Andy Samberg's group A Lonely Island was a mishmash of the wonderfully weird, involving Michael Bolton, Maya Rudolph, William Macy and Akon.
But it was all forgotten by the time they got the corny Canadian Tenors to croon during the "In Memoriam" section.