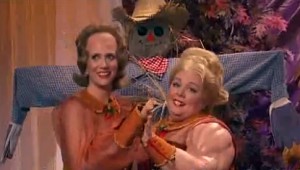 Melissa McCarthy proved a hearty host on "Saturday Night Live," buoyed by her Emmy for "Mike & Molly" and the acclaim for her work in "Bridesmaids."
And though the writing for the second show of the season was a little spotty, McCarthy was not only a revelation in over the top comedy, she also made a case for the big woman in comedy sketch show.
In the past, if there was a sketch about a sexually aggressive big woman in the workplace on "SNL," it would be usually somebody like John Belushi or Chris Farley in drag. They could do it now with Bobby Moynihan (who actually does play Snooki when needed), but he seems to have slimmed down this season, Horatio Sanz-style.
McCarthy was just out there, in an opening skit with the little hands Kristin Wiig character as a woman just as weird looking with big teeth and biceps. Later, she excelled in a focus group as a woman who tried too hard to please. When she played a Mae West knockoff, she had to do some remarkable physical comedy, falling down stairs.
But some things were not written strongly enough to help her, such as an opening monologue that ended up as a dance number.
Among other highlights in the show was a wicked toy ad for a doll that also dispenses the HPV vaccine to little girls; Jay Pharoah as Chris Black; and Fred Armisen and Vanessa Bayer as weird, low-talking supposed friends of Muammar Gaddafi.
Lady Antebellum was the rare country act serving as musical guest. They performed in a way that most fans couldn't tell they were from Nashville.