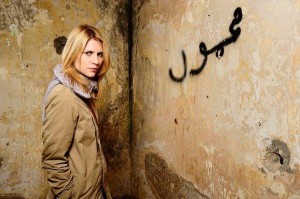 At a serious point in our country's history, there are very few serious dramas to reflect the times. None, certainly, come from network dramas.
But tonight, that rare thing happens on Showtime, home once of the equally good "Sleeper Cell" a few years back.
"Homeland" (Showtime, 10 p.m.) stars the very good Claire Daines as a CIA analyst who hasn't had the most spotless record in the division – and must take medication to stay on her game, but has a hell of a hunch: That the P.O.W. found in Iraq and being treated like a hero may actually be the American she had heard about who had switched sides to the Taliban.
Alone she must discover whether he's who he says he is while the nation cheers his homecoming. That the soldier is Damian Lewis only adds to the theatrical strength of the cast; Mandy Patinkin plays Daines' skeptical mentor.
Behind the action is Howard Gordon, who did a good job keeping things taut and action-filled in the much-missed "24."
"It was exhausting," Gordon said of "24." "And it really was also instructive in this particular project."
Dancing around what's happening in the world is one challenge to such a topical drama.
"Osama bin Laden was killed when we were on Episode 2, eerily like the scene of Damian's rescue. The Arab Spring. So a lot of the issues, you know, this sort of collision of the war on terror and the two wars we find ourselves in," Gordon said at the TV Critics Association summer press tour. "This show is very much in the wake of, you know of 9/11, but ten years later. This is after Abu Ghraib, after Guantanamo, after the prosecution of two wars of questionable merit. So and the price to this country of our of what happened to us ten years ago. So the timing of it, I think, is significant, accidental, and fortuitous."
For Daines, who won an Emmy for her role as "Temple Grandin" last year, says "I have not read a character this compelling in a movie script in quite some time. And I just gravitate to the most interesting work, and, you know, this was impossible to ignore."
"One of the things that movies can't do is offer stories like this the breadth and scope that they deserve," says executive producer Alex Gansa. "In a couple hours you can't really tell the complexities and grayness and just the breadth of a story about terrorism. It can't be handled effectively in the short time frame of a movie. But over the episodes of a series, you really get a chance to explore and just delve into all the different areas of intelligence and terrorism and the issues that are facing the country right now about America projecting its power overseas, about warriors coming home from the battlefield, back home. And you just get a chance to tell a bigger, fuller story."
And while " '24' existed in a real post 9/11 world," Gansa said, "ten years later, things have become deeper and more complex. And the heart of this show is really psychological, how America is dealing with that ten-year period."
"Homeland" starts at 10 p.m. tonight on Showtime.