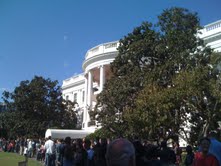 It wasn't exactly an occupation at the White House. Instead, it was one of those biannual events when the White House grounds were thrown open to the great unwashed for viewing.
Where once Andrew Jackson would hold a three day party on the grounds for his inaugural, or folks could walk right up to the place during Lincoln's time, this was about as regulated as a visit gets. Especially at a time when the White House is receding from public view as more and more streets and plazas surrounding it are forever closed to the public for security reasons.
There weren't any occupy DC people around, though I half expected it. The two people I saw brandishing loudspeakers on the way to the White House were yammering on about Jesus (do these people really believe this is an effective way of evangelism?).
The invitations to the White House Fall Garden Tour lad a long list of the expected things forbidden on grounds: guns, knives, fireworks, stunguns but also chewing gum, "any pointed object,"  "aerosols of any kind" and, oddly I thought, balloons.
Just when I was thinking who'd bring balloons to the White House, a guy was coming the other way with a bunch of them, obviously kicked out for not reading the fine print.
It wasn't an exclusive garden party, like the one on "The Office" Thursday, but a big event with hundreds of people making their way along the marked paved pathway. The invitations made it sound VIP, but park officials were offering tickets to those without any just outside the gate.
After the requisite metal detectors (and balloon detectors), the tour progressed quickly toward the White House, which loomed larger and larger and the path came up close to the front, but there was no stopping inside. Nor was there traversing the grass, which at least the Easter Egg roll people get to do.
A printed guide that was distributed that pointed out the various trees that each president had ceremonially planted. And in front of most of them, there was a photo of the event. This way you could see how much time had passed since, say, Eisenhower planted an oak and when George W. Bush planted a redbud 30 years later. A preponderance of the noted trees were from the last few administrations; a place where John Quincy Adams had planted an elm in 1826 was noted, but also that it had been replaced by one planted by Barbara Bush in 1991.
Other than being a beautiful day, there didn't seem to be a big reason to hold a garden tour – the leaves hadn't yet turned on the grounds. Any that had fallen had been wrestled to the ground by the secret service and escorted out.
And what about that security? Was it hard to enjoy the landscaping with a couple of guys on the roof of the residence with binoculars and machine guns?
People could take pictures, and so they did like crazy. Most involved taking a picture of yourself with the White House in the background. The volunteers prodding people along kept fibbing that the better picture was further down the line, but they really just wanted you to keep moving.
The effect for me was like Graceland – the second most visited private residence in the country.
Parts of a Navy jazz band played to keep up an air of festivity – certainly there was no food or drink available.
And eventually, there was even a real garden: The vegetable garden that Michelle Obama built in 2009 with the help of local school kids. It looked to be still producing herbs and tomatoes.
Nearby was the White House Beehive, a thing one never really hears about, though it would seem to figure in some wag's banter at some point.
There were chances to glimpse scenes from White House news coverage or at least seven seasons of "The West Wing" – the rose garden is much more modest than you'd imagine; a lone putter's green suggests some activity for off time; the swing set of Sasha and Malia gave the illusion that people actually lived at this hub of tourist excitement.
In all, it was a good orientation should I ever have an invite to come around again, for a state dinner or a beer summit.