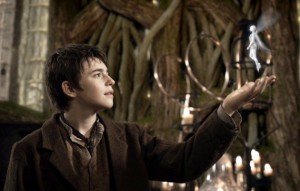 The world wasn't begging for a "Peter Pan" prequel, but here's a miniseries, "Neverland" (Syfy, 9 p.m.), purporting to tell how Peter came to lead the island retreat for the Lost Boys where he was first found in J.M. Barrie's tale.
This treatment takes some extreme liberties, as did earlier Syfy remakes of "The Wizard of Oz" and "Alice in Wonderland," including setting Neverland in outer space.
At least they cast an actual male boy as the lead, instead of a spritely grown up woman, which has been the tradition in stage and movie adaptations.
Playing opposite young Charlie Rowe, left, is Q'Orlanka Kilcher as Tiger Lily. Bob Hoskins reprises the role of Smee, who he had played in motion picture "Hook" and Kiera Knightley provides the voice of Tinker Bell. It concludes Monday.
In other fantasy TV yarns, Prince Charming returns to "Once Upon a Time" (ABC, 8 p.m.).
It's Colts at Patriots  on Sunday Night Football (NBC, 8:15 p.m.).
"The Amazing Race" (CBS, 8 p.m.) jumps to Panama, with just a week to go to the finale.
Now that the season's story on "Dexter" (Showtime, 9 p.m.) has been completely upended, he'll have to work twice as hard.
Jimmy will have a lot to react to, as well, on a new "Boardwalk Empire" (HBO, 9 p.m.).
"Allen Gregory" (Fox, 8:30 p.m.) isn't included on the network's midseason schedule; so watch it while you can.
Joan Rivers plays Krusty the Clown's agent on a new episode of "The Simpsons" (Fox, 8 p.m.).
Michael J. Fox returns to "The Good Wife" (CBS, 9 p.m.).
Hungry kids in poverty are the subject of the latest "Nick News with Linda Ellerbee" (Nickelodeon, 9 p.m.).
Fraudulent mortgages are exposed by whistleblowers on "60 Minutes" (CBS, 7 p.m.).
Ross Lynch and Laura Marano star in a new series "Austin & Ally" (Disney, 8 p.m.) about a singer and a songwriter.
When it came time to do a show on virgins, they could only find enough for a special, "Virgin Diaries" (TLC, 9 p.m.), not a series.
The new series "Chef Robie & Co." (Bravo, 10 p.m.) follows the work of celebrity caterer Chef Robie Ali. And by celebrities, we mean Rachel Dratch and one of the "Real Housewives of Atlanta."
Imported from England is the "2011 Britannia Awards" (TV Guide Network, 8:30 p.m.), preceded by its own red carpet show at 8.
"Hung" (HBO, 10 p.m.) reaches its season finale.
James Cagney played George M. Cohen in both "The Seven Little Foys" (TCM, 8 p.m.) and "Yankee Doodle Dandy" (TCM, 9:45 p.m.).
Then at midnight, surviving segments and trailers from various lost films are arranged in the newly compiled "Fragments" (TCM, midnight).
On "Masterpiece Classic" (PBS, 9 p.m., check local listings) "Return to Cranford" returns.
Sunday Talk:
ABC: Rep. Barney Frank, Rick Santorum, Angelina Jolie. CBS: Republican chairman Reince Pribus, White House press secretary Robert Gibbs. NBC: Priebus, Obama campaign strategist David Aexlrod. CNN: Reps. Ron Paul and Michele Bachmann, Sen. John McCain, former White House budget director Alvin Rivlin, former Congressional Budget Office Director Douglas Holtz-Eakin. Fox News: Bachmann, Sens. Ken Conrad and Tom Coburn.