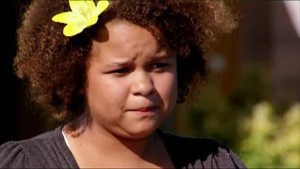 For the second consecutive week, a young teenage girl was destroyed, and was reduced to convulsive sobs, as her dreams (and rightful place in the semi-finals) was robbed by a judge on "The X-factor" results show.
Nicole Scherzinger, who was last hired to the panel, possibly to make Paula Abdul look smarter, couldn't do the one thing she was paid to do – decide which of two singers to send home, or articulate why she couldn't. She seemed to be having a big flashback to her own life, she said (though it seems like she's been on the judging end more than the receiving end).
It was between the youngest contestant in the final batch, who was also one of the first to perform on the show, Rachel Crow, 13,  opposite Marcus Canty, an utterly conventional soul singer who was in the bottom two for the third time.
L.A. Reid said Rachel had done good work but he had to stick with his guy; Paula went for Rachel, and so did Simon, her mentor. A vote to send Marcus home would have saved Rachel. A vote against her would send it to a 2-2 deadlock, when it would be decided by total number of votes cast.
Host Steve Jones said that, incredibly, Canty had more votes overall than Crow. Then the convulsing began, just after the young girl collapsed on the floor. It was a mean thing to do to a little girl, but Scherzinger played it as if she was even more upset, as if she didn't realize the effect of her action.
But was she really upset? You could say Scherzinger was just a clueless judge. But she also could have been protecting her last remaining singer, Josh Kracjik. If she was thinking strategically maybe she figured Josh would have a better chance in the semi-finals against a bland singer like Canty over youthful energy of Crow; that could have been the reason behind her ouster last week of the youthful soulfulness of Drew.
If it made anybody feel better, the live crowd booed Scherzinger when she was on stage, refusing further comment. Maybe somebody will throw a shoe next week.