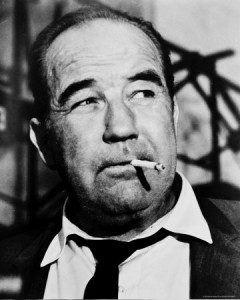 It's the 100th anniversary of Broderick Crawford's Birth.
And in lieu of a "Highway Patrol"  marathon, Turner Classic Movies celebrates with some of his films.
It starts with "Larceny, Inc" (TCM, 8 p.m.) and continues with "All the King's Men" (TCM, 10 p.m.), and "Slightly Honorable" (TCM, midnight).
As former Illinois Gov. Rod Blogojevitch marches off to jail, so does "Boss" (Starz, 10 p.m.), the Kelsey Grammer vehicle about a corrupt Chicago Mayor, already ends its initial season with an election day episode, seemingly so soon after the show got started.
In other cable dramas, the gritty British import "The Take" (Encore, 9 p.m.) has proven itself as a guilty pleasure, expressing itself in the same manner of cable freedom as "Strike Back" (Cinemax, 10 p.m.).
"Chuck" (NBC, 8 p.m.) just shot its last episode this week; tonight's isn't it.
Lots of reruns tonight, except for a new "Extreme Makeover: Home Edition" (ABC, 8 p.m.) and a "Grimm" (NBC, 9 p.m.).
"Pearl Jam Twenty" gets a replay on "American Masters" (PBS, 9 p.m., check local listings).
Tribble, the ridiculously named bachelor on "Sweet Home Alabama" (CMT, 9 p.m.) makes his final choice in the season finale.
Holiday movies include "A Princess for Christmas" (Hallmark, 8 p.m.), "Dear Santa" (Lifetime Movie Network, 8 p.m.), "Four Christmases" (TNT, 8, 9:55 p.m.) and "All I Want for Christmas" (Hallmark, 10 p.m.). And a slew of specials run back to back: "Frosty the Snowman" (CBS, 8 p.m.), "Frosty Returns" (CBS, 8:30 p.m.), "Yes, Virginia" (CBS, 9 p.m.) and a replay of this year's "The Elf on a Shelf: An Elf's Story" (CBS, 9:30 p.m.).
Daytime Talk
Kelly Ripa: Charlize Theron, Abigail Breslin, Michael Symon, Cody Simpson, Josh Groban. The View: Ralph Fiennes, Ivanka Trump. The Talk: Jeremy Piven. Ellen DeGeneres: Lady Gaga. Wendy Williams: Bethenny Frankel, Tai Beauchamp. Rosie O'Donnell: Duane "Dog" Chapman.
Late Talk
David Letterman: David Duchovny, Hugh Fink, Young Jeezy. Jay Leno: Bill O'Reilly, Jackie Evancho. Jimmy Kimmel: Shaquille O'Neal, Julia Jones, David Guetta featuring Usher (rerun). Jimmy Fallon: Charlize Theron, Sheamus, Aretha Franklin. Craig Ferguson: Richard Lewis, Needtobreathe. Tavis Smiley: Lawrence Lessig, Florence Henderson. Carson Daly: Nick Waterhouse, M83. Chelsea Handler: Kerri Kenney-Silver, Sarah Colonna, Ross Mathews, Chris Franjola, Jeff Wild, Brad Groban.