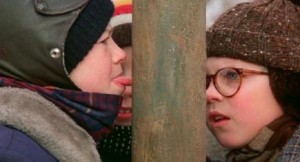 Silent night? You bet. Even more so than usual, with a ton of comfort viewing. Chief among them, of course, is the non-musical version of "A Christmas Story" (TBS, 8 and 10 p.m., midnight, 2 and 4 a.m.), running 12 times all told over a 24 hour period. It's the modern day version of the yule log, now mainly playing online.
Other holiday traditions are stretched out versions of "The Sound of Music" (ABC, 7 p.m.) – at four hours – and "It's a Wonderful Life" (NBC, 8 p.m.), stretched to three.
The original "Miracle on 34th Street" (TCM, 8 p.m.) with Edmund Gwenn, Maureen O'Hara and Natalie Wood plays opposite the 1994 remake of "Miracle on 34th Street" (Fox Movie Channel with Richard Attenborough and Elizabeth Perkins. Switch back and forth between them to see if one keeps up with the other.
Leading up to tomorrow's new Christmas special, there's a look back on "Doctor Who: The Best of the Christmas Specials" (BBC America, 8 p.m.) celebrating the work of both David Tennant and Matt Smith.
It's followed by "The Nerdist: Year in Review" (BBC America, 9 p.m.), hosted by Chris Hardwick, in which they discuss how the geek have inherited the world.
Speaking of which, "Diary of a Wimpy Kid: Rodrick Rules" (HBO, 8 p.m.) makes its premium cable debut.
Also new to cable is the spiritual "Hereafter" (Cinemax, 10 p.m.) with Matt Damon, from Clint Eastwood.
Here's a nice gift: A 1978 performance by Tom Waits on "Austin City Limits" (PBS, 9 p.m., check local listings).
It's Nevada vs. Southern Miss in the Hawaii Bowl (ESPN, 8 p.m.).
And there's something strange about this Saturday: NFL games including Dolphins at Patriots (CBS, 1 p.m.), Giants at Jets or Vikings at Redskins (Fox, 1 p.m.), Chargers at Lioins (CBS, 4 p.m.) and Eagles at Cowboys (Fox, 4:15 p.m.).
Heartwarming films seem to predominate, with "Forrest Gump" (TNT, 8 p.m.), "Pay It Forward" (OWN, 9 p.m.).and "The Great Muppet Caper" (Flix, 9:35 p.m.). Lots of animation favorites like "Shrek" (Cartoon Network, 7 p.m.), "Toy Story 3" (Starz, 8 p.m.) and "Ice Age 3" (FX, 10 p.m.). There is also: "Jaws" (Spike, 7:06, 10:27 p.m.).
I can understand a network playing its biggest rated specials tonight, such as the BET Awards 11 (BET, 8 p.m.). But there's something just wrong about replaying "Roast of Charlie Sheen" (Comedy Central, 10 p.m.)on this particular night.
As you buy your last stuff for tomorrow's presents, please keep in mind: "Hoarding" (Discovery Fit, 9 and 10 p.m.) and "Hoarding: Buried Alive" (Discovery Fit, 9 p.m.).
Robert Osborne is doing the picking of the Christmas Eve movies on Turner Classic Movies. His choices include "Margie" (10 p.m.), "Auntie Mame" (midnight) and "The Bishop's Wife" (2:30 a.m.).
One of my favorite unsung Christmas movies airs earlier in the day – "Meet John Doe" (TCM, 10:15 a.m.), marking its 70th anniversary.
The late night "Christmas in Chelsea Square" (CBS, 11:30 p.m.) is a service from the Chapel of the Good Sheperd at the General Theological Seminary in New York City.
If they're going to pre-empt "Saturday Night Live" for "Christmas Eve at St. Peter's Basillica in Rome" (NBC, 11:30 p.m.), couldn't they at least find a way for Father Guido Sarducci to be involved?