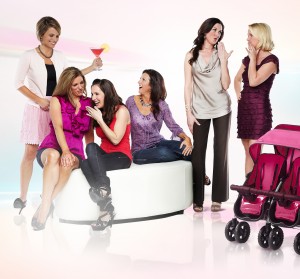 The new series "Texas Multi Mamas" (WE TV, 8 p.m.) follows a half dozen mothers from the Lone Star State, pictured left, who leave their twins, triplets and quads at home to go out and party.
They are as well preserved and lubricated as any group of some other network's Real Housewives and are helbent on being seen as "cool moms." Don't worry, though, there are a few scenes of the women not coping with their rambunctious preschoolers. Though if it's misbehaving multiples you want, there are triplets to be tamed on a new "America's Supernanny" (Lifetime, 9 p.m.).
What else is going on in Texas? Well, "Storage Wars Texas" (A&E, 10 and 10:30 p.m.), a spin-off of the original "Storage Wars" (A&E, 8, 8:30, 9 and 9:30 p.m.).
"Extreme Couponing All-Stars" (TLC, 10 p.m.), the first spinoff from the popular "Extreme Couponing" series, pits the thriftiest in competition with the others for supermarket trips that are both timed and tabulated to determine the winner of the title America's Biggest Super Saver.
Ben Bailey, who is suddenly the busiest host on TV (he's the guy from "Cash Cab" who also hosts the network game show "Who's Still Standing?"), presides over "Best in the Business" (Discovery 8 p.m.), in which people compete for a title that may be more dubious than America's Biggest Super Saver. Yes, on this series we find out, for example, who is the best excavator operator or grocery store bagger.
So people on both sides of the checkout could be winners tonight.
It's the Jesus on the grilled cheese episode of "Glee" (Fox, 8 p.m.) on a night of network reruns.
Now that Emily Watson has been nominated for a Golden Globe for her role in this little seen TV movie, it may be worth your while to see her work with Dominic West in the British import "Appropriate Adult" (Sundance, 9 p.m.).
It doesn't sound like one of his dirtiest jobs, but Mike Rowe helps the Chicago Botanic Garden amass seeds for a project on a new "Dirty Jobs" (Discovery, 9 p.m.).
Michael Pollan's examination into the development of four species — apple, tulip, pot and potato, "The Botany of Desire" (PBS, 8 p.m., check local listings) is rerun on public television, as is an episode of "Frontline" (PBS, 10 p.m., check local listings) about a prosaic funeral director turned writer, musing on death.
It's the season finale for "Bomb Patrol: Afghanistan" (G4, 10 p.m.), a series that ended up being as overlooked as the war there itself.
A fun night on Turner Classic Movies has the theme "Take Me To Your Leader" with "Close Encounters of the Third Kind" (8 p.m.), "Earth  the Flying Saucers" (10:30 p.m.), "The Man from Planet X" (midnight), "Dalek's Invasion Earth 2150 AD" (1:15 a.m.), "UFO" (2:45 a.m.) and "War of the Planets" (4:30 a.m.).
It's Western Michigan vs. Purdue in the Little Caesars Bowl (ESPN, 4:30 p.m.) and Louisville vs. North Carolina State in the Belk Bowl (ESPN, 8 p.m.).
In college basketball, it's Pittsburgh at Notre Dame (ESPN2, 7 p.m.) and Wisconsin at Nebraska (ESPN2, 9 p.m.).
In NHL action, it's Blues at Red Wings (Versus, 7:30 p.m.); in the NBA, Celtics at Heat (TNT, 8 p.m.) and Jazz at Lakers (TNT, 10:30 p.m.).
Daytime Talk
All reruns: Kelly Ripa: Heidi Klum, Garrett Hedlund, Jayma Mays, Neil Patrick Harris. The View: Eric Stonestreet, Amy Schumer, Landau Eugene Murphy Jr. The Talk: Ana Gasteyer, Martina McBride. Ellen DeGeneres: Rihanna, Drew & Brittany Brees, Steve Spangler. Wendy Williams: Kandi Burruss, Phaedra Parks, Sheree Whitfield, Pat & Gina Neely. Rosie O'Donnell: Rachael Ray, Chaz Bono.
Late Talk
Reruns all: David Letterman: Steve Martin, Felicity Jones. Jay Leno: Sandra Bullock, Diablo Cody, Pink Martini. Jimmy Kimmel: Artie Lange & Nick DiPaolo, Atticus Shaffer, Lady Antebellum. Jimmy Fallon: Zac Efron, Method Man, Coldplay. Craig Ferguson: Carey Mulligan, Paula Poundstone. Tavis Smiley: Sonny Rollins. Carson Daly: James Bobin, Evan Eright, We Were Promised Jetpacks. Conan O'Brien: Justin Timberlake, Jon Ronson, Myg Kaplan. Chelsea Handler: Duane "Dog" Chapman & Beth Chapman, Dan Levy, Arden Myrin, Brad Wollack.