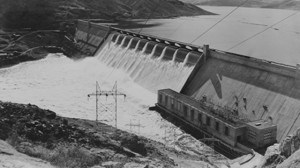 There are a lot of contemporary parallels in the huge public project sold in the depths of a depression to get Americans to work and create energy found in the film on the Grand Coulee Dam, the epic engineering feat that tamed the Columbia River in Washington state as part of the New Deal.
A new documentary on "American Experience" (PBS, 8 p.m., check local listings) gathers voices of historians, writers and locals who are thoughtful in their complicated responses to the dam – it changed nature forever, but it did create electricity. And because he was paid to do some pro-dam songs, we got a good Woody Guthrie song out of it, "Roll On, Columbia."
It's paired with a previous "American Experience" (PBS, 9:30 p.m., check local listings) on an even bigger engineering feat, the building of the Panama Canal.
Primary election results (CNN, MSNBC, Fox News, 7 p.m.) come in from presidential primaries in Wisconsin, Maryland and the District of Columbia
The first results show of the year on "The Voice" (NBC, 9 p.m.) will half the number of contestants on two teams, and there will be a sing-off. No such end for "Fashion Star" (NBC, 10 p.m.).
The results show for "Dancing with the Stars" (ABC, 9 p.m.) features Seal and Rascal Flatts performing before a second celebrity is eliminated.
Here's a twist on TV's traditional chef competitions: Take three culinary giants way out of their comfort zones, to remote spots on the globe, where they have to catch, prepare and present foods that combine tribal traditions with their own specialties. "No Kitchen Required" (BBC America, 10 p.m.) begins on a remote island that seems critical of the cooking of the chefs Madison Cowan, Kayne Raymond and Michael Psilakis (the tribal chefs would prefer a little more spice, salt and pepper). But it's a good way to cross cultures for understanding; the winner gets the thanks of the tribe. But some of the locales are not that way out: They include New Mexico, Louisana and Florida. Hosting is the appealing Dr. Shini Somara.
Raylan is closing in on "Justified" (FX, 10 p.m.).
Fresh from her appearance at the Kids Choice Awards, Michelle Obama is on TV again, this time helping whip up the contestants on "The Biggest Loser" (NBC, 8 p.m.). To prepare for the trip, they get their traditional makeovers first.
The whole Cece/Schmidt thing is out of the bag on "New Girl" (Fox, 9 p.m.). Time to deal with it.
"Tabitha Takes Over" (Bravo 10 p.m.) ends its season with advice for a bed and breakfast: serve some freakin' breakfast.
A new season of "Giuliana & Bill" (Style, 8 p.m.) begins with a cloud over it: cancer.
The 90-minute season finale of "Dance Moms" (Lifetime, 9 p.m.) concludes at regionals. What does it think it is, "Glee"? It's paired with the debut of a spin-off, "Dance Moms: Miami" (Lifetime, 10:30 p.m.). What, moms are unreasonable somewhere other than Pittsurgh?
Luke Perry winds up his two show appearance on "Body of Proof" (ABC, 10 p.m.).
Before next week's eighth season start, "Deadliest Catch" (Discovery, 9 p.m.) shows highlights from season seven.
Dan Savage travels to campuses to dispense advice in the new "Savage U" (MTV, 11 p.m.). It comes after a show where kids could have used advice: "16 and Pregnant" (MTV, 10 p.m.).
The Doris Day marathon continues on Turner Classic Movies with "Lover Come Back" (8 p.m.), "That Touch of Mink" (10 p.m.), "Move Over, Darling" (midnight), "Do Not Disturb" (2 a.m.) and "The Tunnel of Love" (4 a.m.).
With the men all done, the women's national basketball championship wraps up with Notre Dame vs. Baylor (ESPN, 8:30 p.m.). In hockey, it's Penguins at Bruins (NBC Sports, 7:30 p.m.) and Ducks at Canucks (NBC Sports, 10 p.m.). Baseball starts tomorrow.
Daytime Talk
Kelly Ripa: Jayma Mays, Caroline Rhea, Far East Movement, Chris Harrison. The View: Gov. Nikki Haley, Randy Jackson, Tori Spelling. The Talk: Simon Helberg, Vera Givvons, Molly Sims. Ellen DeGeneres: Andrew Garfield, Edie Falco, Mo Isom.
Late Talk
David Letterman: Keith Olbermann, Allison Williams, Lukas Nelson & Promise of the Real. Jay Leno: Maya Rudolph, Jason Biggs, Gym Class Heroes. Jimmy Kimmel: Edie Falco, Amy Schumer. Jimmy Fallon: Regis Philbin, Rachel Dratch, Dr. John with Dan Auerbach. Craig Ferguson: Ted Danson, Hannah Simone. Tavis Smiley: Jack Abramoff. Carson Daly: Thom Beers, Joel Sartore, Jay Rock. Jon Stewart: Tom Goldstein. Stephen Colbert: Gov. Nikki Haley. Conan O'Brien: Mike Tyson, Chris Elliott, Cy Amundson. Chelsea Handler: Jennifer Lawrence, Moshe Kasher, Heather McDonald, Bobby Lee (rerun).