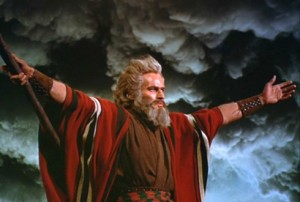 It's not quite Christmas when it comes to TV specials and annual traditions, but you can always count on the sprawling network Saturday night rollout of "The Ten Commandments" (ABC, 8 p.m.) on the night before Easter. Cecil B. DeMille never gets such a big TV showcase; and Charlton Heston parting the Red Sea is always a big moment. And no network has more religious a subject on in prime time.
After a weird 11 p.m. time slot last week, "Q'Viva: The Chosen" (Fox, 8 p.m.) returns for its two hour finale, with the last cut of performers for the Las Vegas show, which will actually start May 26 at Mandalay Bay and include appearances by the divorced couple who have shared the project uneasily, Jennifer Lopez and Marc Anthony.
New on cable tonight are Vin Diesel's "Fast Five" (HBO, 8 p.m.), the animated version of "The Smurfs" (Starz, 9 p.m.) and James Cameron's underwater thriller "Sanctum" (Cinemax, 10 p.m.), in glorious 2-D.
Going far beyond product placement, the new "Escape Routes" (NBC, 8 p.m.) which began last week, is a reality competition based on promoting the 2013 Ford Escape. Six teams travel to six cities and stop to extol the virtue of the auto that is also the prize. Other products jump in, as this is the most friendly of advertising environments. But is it entertainment or infomercial?
After a few seasons of "Sweet Home Alabama," the Southern-based variation of "The Bachelor," there have been enough rejects to people its own "Bachelor Pad" spin-off show. So here is "Southern Nights" (CMT, 10 p.m.) featuring some of the love-starved good old boys and girls left behind from previous seasons, trying to light a spark or otherwise get in a brawl if someone touches their hat.
It accompanies the second season premiere of A mob-inspired aquarium probably leaks from bullet holes on "Tanked: Unfiltered" (Animal Planet, 9 p.m.).
After five nights of Doris Day, Rita Hayworth will look more exotic than ever in "Gilda" (8 p.m.), "The Lady from Shanghai" (TCM, 10 p.m.), "Fire Down Below" (TCM, 11:45 p.m.), "The Happy Thieves" (TCM, 2 a.m.) and "The Lady in Question" (TCM, 3:45 a.m.).
Can you stomach a Will Ferrell double bill? It's "Talladega Nights" (Comedy Central, 6:30 p.m.) and "Semi-Pro" (Comedy Central, 9 p.m.).
Jack Nicholson stars in the Oscar winning "One Flew Over the Cuckoo's Nest" (AMC, 8 p.m.).
I forgot it was Francis Ford Coppola who made "Peggy Sue Got Married" (TV Guide Network, 10 p.m.), using a studio that now houses my local grocery store.
A grandson wants to move to St. Louis on "Welcome to Sweetie Pie's" (OWN, 9 p.m.).
The Frozen Four NCAA men's hockey final features Ferris State vs. Boston College (ESPN2, 7 p.m.).
The first full day of Saturday baseball includes Red Sox at Tigers (Fox, 4 p.m.) and Yankees at Rays (MLB, 7 p.m.). In hockey, it's Blackhawks at Red Wings (NBC, 1 p.m.), Flyers at Penguins (NBC Sports, 4 p.m.) and Capitals at Rangers (NBC Sports, 6:30 p.m.).
In NBA action, it's Magic at 76ers (ESPN 8 p.m.) and Nuggets at Warriors (ESPN, 10:30 p.m.).
And the Masters (CBS, 3:30 p.m.) continues from Augusta.
Raphael Saadiq plays a rerun of "Austin City Limits" (PBS, 9 p.m., check local listings).
Sophia Vergara hosts a new "Saturday Night Live" (NBC, 11:30 p.m.) with musical guests One Direction, the teenage boy band who appear earlier in the night on a new episode of "iCarly" (Nickelodeon, 8 p.m.).