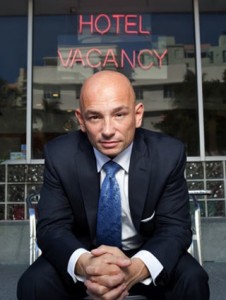 On the new "Hotel Impossible" (Travel, 10 p.m.), cranky bald-headed hospitality expert Anthony Melchorn. left, flies into troubled hotels and tries to turn them around – Gordon Ramsay style. But not before yelling and browbeating management – another page from Ramsay. Mostly, he gets worked up about the smallest details so you think he's going to slug somebody at any minute. The first stop is an old family owned seaside spot in Montauk, N.Y.
It comes after the eighth season premiere of "Anthony Bourdain: No Reservations" (Travel, 9 p.m.), where the first stop is Mozambique.
Another new reality series starting tonight, "Mama's Boys of the Bronx" (TLC, 10 p.m.), concerns just what it sounds like: Grown men living with their mothers in a place where they have thick accents. It's all Italian extremes, aping more "Jersey Shore" guys than "The Sopranos." (Of course, Tony didn't get along with his mom so much).
These guys are fastidious with their look, but let their mothers do the ironing. The mothers would like nothing more than having their sons get married, but it's an anathema to most of them.
"Save the Titanic with Bob Ballard" (National Geographic Channel, 10 p.m.) discusses the material losses of the watery grave of the famous ship. What has caused it? Well the kind of obsession in shows like "Titanic: The Final Word with James Cameron" (National Geographic, 8 p.m.), repeated from last night's premiere.
The most random night of honor comes tonight in the fifth "NewNowNext Awards" (Logo, 10 p.m.). As cutting edge as they want to be, it's still hosted by Kelly Osbourne and features Adam Lambert as performer. Kind of OldThenPrevious.
Uma Thurman begins a five-episode arc on "Smash" (NBC, 10 p.m.), as the star airlifted into the role as Marylin.
A second season finale comes for the Americanized "Being Human" (Syfy, 9 p.m.).
Gary Cole guest stars as Zoe's dad on "Hart of Dixie" (The CW, 9 p.m.). Tim Matheson, who directs the episode, also appears.
Elizabeth Hurley returns to "Gossip Girl" (The CW, 8 p.m.).
The guys on "How I Met Your Mother" (CBS, 8 p.m.) watch the "Star Wars" trilogy and imagine their lives three years in the future — which is easy since the whole tale is being told in the past tense, right?
Are the performances that much better on "Dancing with the Stars" (ABC, 8 p.m.) this season or are the judges just more lenient in scoring? Things might fall apart tonight, though: It's rock night.
The teams of Cee-Lo Green and Adam Levine perform on "The Voice" (NBC, 8 p.m.) for viewer votes.
The cast of "Glee" appear on "Inside the Actor's Studio" (Bravo, 8 p.m.).
One good film deserves a second showing. "Being Elmo," the story of Muppet operator Kevin Clash that first showed Thursday on "Independent Lens" (PBS, 9 p.m., check local listings) gets a replay.
Rebuilding cars as well as his own tarnished reputation, Sandra Bullock's ex tries a new series, "Jesse James: Outlaw Garage" (Discovery, 10 p.m.).
It's never nice when new girls show up at "The Bad Girls Club" (Oxygen, 9 p.m.).
They're made of meat and they deal in it — the New Jersey shop of "meat purveyors" followed on the series "Meat Men" (Food, 11 p.m.).
Bob Osborne chooses quite a variety of films tonight on Turner Classic Movies, "Charley's Aunt" (8 pm.), "Son of Frankenstein" (9:30 p.m.), "Together Again" (11:15 p.m.), "Theodora Goes Wild" (1 a.m.), "Mr. Deeds Goes to Town" (2:45 a.m.) and "My Sister Eileen" (4:45 a.m.).
In Monday baseball, it's Brewers at Cubs (ESPN, 7 p.m.). In NBA action, it's Suns at Timberwolves (ESPN2, 9 p.m.).
Daytime Talk
Kelly Ripa: Sofia Vergara, L.A. Reid, Samantha Ronson, DeAndre Brackensick, Howie Mandel. The View: Jenna Talackova, Gloria Allred, Dianna Agron, Magic Johnson, Carly Rae Jepsen. The Talk: Wilson Phillips, Kathy Freston. Ellen DeGeneres: Cee-Lo Green, Miranda Kerr, Chloe & Halle Bailey.
Late Talk
David Letterman: Ricky Gervais, Cobie Smulders, Tennis. Jay Leno: Jane Lynch, Kevin Hart, Esperanza Spalding. Jimmy Kimmel: LL Cool J, James Van der Beek. Jimmy Fallon: Kevin Kline, Steve Harvey, Pulp, Seun Kuti. Craig Ferguson: Billy Gardell, Ian Gomez. Tavis Smiley: Janet Evans. Carson Daly: Adam Levine, ZZ Ward, Jessie Baylin. Jon Stewart: Tim Weiner. Stephen Colbert: Bob Lutz. Conan O'Brien: Cory Monteith, Matt Kemp, Tim Minchin. Chelsea Handler: Chris Klein, John Caparulo, Heather McDonald, Ryan Stout.