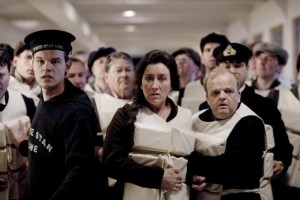 The 100th anniversary of the most famous shipping disaster means that both the blockbuster made 15 years ago has been refitted into 3D and shipped back to theaters.
On TV, a new four hour miniseries has been imperfectly packed into the centennial weekend, with three fourths of "Titanic" (ABC, 8 p.m.) showing tonight.
There's plenty to anticipate here, chiefly because it was written by Julian Fellowes, who distinguished himself with "Downtown Abbey." But perhaps because this is now such a well worn area with all manner of class consciousness and romance giving way to heavy duty tragedy, that there's nothing left to flesh out. Plus, he's got a much less strong cast to work with.
He's found a way to tell the story that both satisfies the urge to get to the iceberg quickly and dig deeper into his mostly shallow characters. This involves starting the story over three times, a device that might have worked when showing the Canadian/UK production an hour at a time, as they apparently did elsewhere. But watching the story rewind three times in one evening is too much to ask; the different points of view not so different to sustain it.
I'm thinking everything we know about the Titanic has been formed by fiction; that it was all about jumping class distinctions and the bones of other travelers is some sort of folly we've clung onto like a soggy lifesaver. Mostly, these characters are so unlikable or bland you're kind of wishing for the iceberg to appear.
It's remarkable how much they do with what I imagine is a sliver of the budget James Cameron had. The illusion of the mighty ship going down is effective. But you won't see that until Sunday's final hour.
Strangely, "Titanic" is not the only start of a mini-seres about a cruise ship sinking. "The Sinking of the Laconia" (Ovation, 10 p.m.) chronicles the British cruise ship torpedoed by a German submarine in 1942. Part two airs next week.
Regarding the Titanic, you may be better off overall in sticking to the classic, "A Night to Remember" (TCM, 10 p.m.) from 1958.
It's featured on a night of films spotlighting the movie music of William Alwyn, also featuring "The Fallen Idol" (TCM, 8 p.m.), "The Crimson Pirate" (TCM, 12:15 a.m.), "Green for Danger" (TCM, 2:15 a.m.) and "Odd Man Out" (TCM, 4 a.m.). But late this afternoon there's a movie about a woman who survived the Titanic, too: "The Unsinkable Molly Brown" (TCM, 5:45 p.m.).
Three hours of prime time might seem short compared to four hours of NASCAR (Fox, 7 p.m.), the Mobile 500 from Fort Worth. Going more slowly and trying to sell more cares are the teams on "Escape Routes" (NBC, 8 p.m.).
Jason Bateman, Jason Sudekis and Charlie Day star in last year's comedy "Horrible Bosses" (HBO, 8 p.m.), making its premium cable debut. Bateman is also on in "The Switch" (Showtime 2, 9:30 p.m.) with Jennifer Aniston.
Brad Pitt stars in "Moneyball" (Starz, 9 p.m.), the business of baseball film that got an Oscar nomination for Jonah Hill and an Oscar win for screenwriter Aaron Sorkin.
Angelina Jolie stars in both "Gia" (Lifetime, 8 p.m.) and "Lara Croft Tomb Raider: The Cradle of Life" (Showtime, 8 p.m.). But perhaps now that their impending marriage has been announced, both Brad and Angelina are in "Mr. & Mrs. Smith" (FX, 8 p.m.).
Pretty good Disney double bill of "Aladdin" (ABC Family, 7 p.m.) and "Beauty and the Beast" (ABC Family, 9 p.m.).
Whitney Houston stars in "The Bodyguard" (AMC, 8 p.m.), Arguably two of Richard Gere's most popular roles are on tonight: "Pretty Woman" (Bravo, 9 p.m.) and "An Officer and a Gentleman" (AMC, 10:30 p.m.).
Wonder what's different about "Alien: The Director's Cut" (Cinemax, 10 p.m.); the alien pops out of the guy's stomach and sings?
The latest spinoff of "Avatar: The Last Airbender" is "The Legend of Korra" (Nickelodeon, 11 a.m.).
A topic that oddly never comes up on the Food Network does tonight: "Hunger Hits Home" (Food, 8 p.m.).
John Legend and the Roots play "Austin City Limits" (PBS, 9 p.m., check local listings).
Josh Brolin hosts a new "Saturday Night Live" (NBC, 10:30 p.m.) with musical artist Gotye