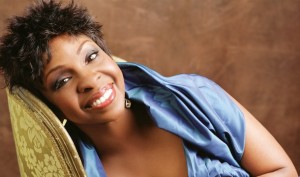 It's Motown week on "Dancing with the Stars" (ABC, 8 p.m.), which means that there will at least be pretty good music. And one contestant ought to have a leg up on the night: Gladys Knight, right, who herself is a Motown queen.
She's not scheduled to sing, but her other former colleagues are, including Smokey Robinson, The Temptations and Martha Reeves.
Two hours is usually enough for the show, but they add a third, in the form of a behind the scenes expose in the guise of a report on "20/20" (ABC, 10 p.m.).
It's the Bollywood episode of "Smash" (NBC, 10 p.m.) with Uma Thurman. They're really trying.
A season finale comes to "RuPaul's Drag Race" (Logo, 9 p.m.). It's down to Phi Phi O'Hara, Sharon Needles and Chad Michaels to perform the final challenge: appearing into the RuPaul music video for "Glamazon." So many funny names have already been eliminated, including Dida Ritz, Jiggly caliente and Madame laQueer.
So many odd holidays in the comedy reruns: Valentine's Day on "2 Broke Girls" (CBS, 8:30 p.m.); Halloween on "Mike & Molly" (CBS, 9:30 p.m.).
The singers on the teams of Cee Lo Green and Adam Levine compete for home votes on "The Voice" (NBC, 8 p.m.). And Cee Lo sings his own new single.
"Top Gear" (BBC America, 8:30 p.m.) travels to Italy.
After Sunday night's Fox network reunion show,  "Where Are They Now: Married With Children" (TV Guide Channel, 9 p.m.) may hold less of a mystery. Especially since just about the whole cast has prominent jobs elsewhere ("Modern Family," "Sons of Anarchy," "Up All Night," "Robot Chicken").
"Anthony Bourdain: No Reservations" (Travel, 9 p.m.) travels to the cost of Croatia, at Trieste.
The eighth season of "Bad Girls Club" (Oxygen, 10 p.m.) comes to a close in Vegas. Let's hope it stays in Vegas.
The great thing about being a veteran of toddler pageants is the ability to help others. In this case, Eden Wood, star of "Eden's World" (Logo, 10 p.m.) gets to help someone else, a 4-year-old contestant.
"American Idol" winner Scotty McCreery performs on "Hart of Dixie" (The CW, 9 p.m.).
Like "Awake," tonight's "House" (Fox, 9 p.m.) is all about dreams and their effects.
Stories of the Apache are on Turner Classic Movies tonight with "Ambush" (8 p.m.), "Ride Lonesome" (9:45 p.m.), "Geronimo" (11:15 p.m.),"Stagecoach" (1 a.m.), "Fort Massacre" (2:45 a.m.) and "Apache Trail" (4:15 a.m.).
People who lived to tell about it, do, on the special "World's Scariest Plane Landings" (Discovery, 10 p.m.).
Scanlty Cup playoff games tonight include Rangers at Senators (NBC Sports, 7 p.m.) and Suns at Bulls (CNBC, 9 p.m.).
In Monday night baseball, it's Yankees at Rangers (ESPN, 7 p.m.).
Daytime Talk
Kelly Ripa: Kate Walsh, Colton Dixon, Jesse Palmer. The View: Jeremy Irons, Bill & Giuliana Rancic, Chris Botti, Vince Gill. The Talk: Randy Jackson, Agapi Stassinopoulos. Ellen DeGeneres: Sharon Osbourne, Maria Menounos & Derek Hough, Roberto Martin.
Late Talk
David Letterman: Jason Segel, Zach Wahls, fun. Jay Leno: Jesse Tyler Ferguson, Augrey O'Day, Train. Jimmy Kimmel: Julia Louis-Dreyfus, the Hives. Jimmy Fallon: Jon Hamm, Rachael Harris, Marcus Foster (rerun). Craig Ferguson: Joel McHale, Dan Boulger. Tavis Smiley: George Pataki. Carson Daly: Tavis Smiley, Allen Stone, Band of Skulls. Jon Stewart: Ben Rattray. Stephen Colbert: Don McLeroy. Conan O'Brien: Kathy Griffin, Morgan Spurlock, Erin Foley. Chelsea Handler: Lauren Conrad, John Caparulo, Arden Myrin, T.J. Miller.