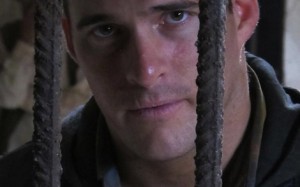 The first big acting job in a while for Erik Aude, who was in "Dude Where's My Car" comes in recreating his own travel nightmare in "Locked Up Abroad" (National Geographic Channel, 10 p.m.).
It wasn't entirely an innocent thing. Aude should have realized that while working as a personal trainer and being asked to pick up goods in Turkey and Pakistan he might have been involved in illegal imports at the least. That it also involved drugs put him in a prison where he was subjected to torture and asking, "Dude, where's my embassy?"
Urkel is ubiquitous. After performing on "Dancing with the Stars" Monday and Tuesday, he returns tonight to host a new game show. "Total Blackness" (Syfy, 10 p.m.) isn't a racial pride show; it's about getting people to touch things or perform tasks in complete darkness; the fun for the audience is watching them through night vision.
Does the music of Queen hold up for a night-long theme on "American Idol" (Fox, 8 p.m.)? Well, there's only six contestants left. And for the first time in years, women outnumber men 2-1.
"Randy Jackson Presents America's Best Dance Crew" (MTV, 10 p.m.), meanwhile, focuses on the music of Madonna. But there's a double elimination.
Having little to do as Sally Draper on "Mad Men," Kiernan Shipka guest stars on "Don't Trust the B— in Apartment 23" (ABC, 9:30 p.m.), playing opposite james Van Der Beek.
Joan Rivers, Kevin Nealon and Jon Lovitz guest star on a new "Hot in Cleveland" (TVLand, 10 p.m.).
The third of four chapters of "America Revealed" (PBS, 10 p.m., check local listings) looks at the complexities of the nation's power grid.
The new "Love Addiction" (TV One, 8 p.m.) looks at destructive relationships.
"South Park" (Comedy Central, 10 p.m.) reaches its spring finale with an episode about a new girl at school.
Emily discovers who killed her dad on "Revenge" (ABC, 10 p.m.).
The history of the bogeyman is explored on "Whitechapel" (BBC America, 10 p.m.).
The works of director John Cromwell are featured on Turner Classic Movies, with "Sweepings" (8 p.m.), "Jaina" (9:30 p.m.), "Little Lord Fauntleroy" (11 p.m.), "The Enchanted Cottage" (12:45 a.m.), "Night Song" (2:30 a.m.), and "The Racket" (4:15 a.m.).
It's Capitals at Bruins (NBC Comcast SportsNet, 7:30 p.m.) in Game 7 of the first round of Stanley Cup playoffs.
NBA action includes Clippers at Rangers (ESPN, 8 p.m.) and Spurs at Suns (ESPN, 10:30 p.m.).
Baseball includes Angels at Rays (ESPN2, 7 p.m.).
Daytime Talk
Kelly Ripa: Kathleen Turner, James Van Der Beek, Ashanti, Mario Lopez. The View: Joel McHale, Marilu Henner, the Wanted. The Talk: Kevin Nealon, Dr. Melina Jampolis. Ellen DeGeneres: Jack Black, Cobie Smulders.
Late Talk
David Letterman: Rob Lowe, Gov. Brian Schweitzer, the War on Drugs. Jay Leno: Adam Levine, Richard Engel, Ziggy Marley. Jimmy Kimmel: LP. Jimmy Fallon: The cast of "30 Rock," Rev. Al Sharpton, Caroline Manzo. Craig Ferguson: Carol Burnett, Phil Keoghan (rerun). Tavis Smiley: Judy Blume. Carson Daly: Paul de Gelder, Brit Marling, Melvins. Jon Stewart: Jason Segel. Stephen Colbert: Michael Sandel. Conan O'Brien: Julia Louis-Dreyfus, Brian Posehn, Ben Kweller. Chelsea Handler: Ricki Lake, Brad Wollack, Loni Love, Josh Wolf.