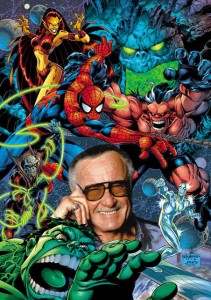 With 'Marvel's The Avengers" eminent in theaters next weekend, time to explore the man from whom its fantastic characters sprang, in the bio film "With Great Power: The Stan Lee Story" (Epix, 8 p.m.).
Oh, it's still on: The second and third rounds of NFL Draft (ESPN, 7 p.m.) continue.
Charles Murray, Paul Begala, Andrew Ross Sorkin, S.E. Cupp and Paul Rieckhoff are scheduled guests on a new "Real Time with Bill Maher" (HBO, 10 p.m.), the topical show that has just been picked up this week for a new season.
Erin gets a job offer as deputy mayor on a new "Blue Bloods" (CBS, 10 p.m.).
Glenn Ligon and Mary Reid Kelley are profiled on "Art in the Twenty-First Century" (PBS, 9 p.m., check local listings).
Did you hear? "Fringe" (Fox, 9 p.m.) was picked up Thursday for a fifth and final season of 13 episodes.
Get ready for the one-year commemorations of the Royal Wedding, the first of which may be "Kate & Will: Happily Ever After" (E!, 9 p.m.).
The new series "Whale Wars: Viking Shores" (Animal Planet, 9 p.m.) moves the locale for protecting whales and hectoring hunters to the Faroe Islands.
The career of the head of the Philly Pretzel Factory has a twist not unlike its product on a new "Undercover Boss" (CBS, 8 p.m.).
Jackie Kennedy agrees to go to a hotel event on "Magic City" (Starz, 10 p.m.).
"Python Hunters" (Nat Geo Wild, 10 p.m.) go after Anacondas in Peru.
"My Big Fat Gypsy Wedding" (TLC, 10 p.m.) is, you know, actually about Irish travelers.. And very few of them are big or fat.
It's the second to last episode of "In Plain Sight" (USA, 9 p.m.).
The brothers are victims of a hacker on "Supernatural" (The CW, 9 p.m.).
On "Who Do You Think You Are?" (NBC, 8 p.m.) Rob Lowe finds he may be literally connected to George Washington.
The animated "Ricky Gervais Show" (HBO, 9 p.m.) has seemed funnier this season.
"Need to Know" (PBS, 8:30 p.m., check local listings) looks at how rising sea levels have already affected Norfolk, Va.
Movies about boarding houses are on Turner Classic Movies: "Stage Door" (8 p.m.), "It All Came True" (9:45 p.m.), "Million Dollar Baby" (11:30 p.m.) and "The Adventures of a Rookie" (1:15 a.m.).
In the Stanley Cup Playoffs second round, it's Predators at Coyotes (NBC Sports, 9 p.m.) in Game 1.
Daytime Talk
Kelly Ripa: Maggie Q, Daughtry, Mark Consuelos. The View: Jason Segel, Emily Blunt, Jessica Kirson, Dr. Bruce Katz, Phil Lempert. The Talk: Tori Spelling. Ellen DeGeneres: Hugh Grant.
Late Talk
David Letterman: Chris Hemsworth, Darrell Hammond, Calvin Johnson, Miike Snow. Jay Leno: Mel Gibson, Jeremy Minnier, the Wanted. Jimmy Kimmel: Jennifer Love Hewitt, Georgia Pellegrini, Jason Mraz (rerun). Jimmy Fallon: Matthew Broderick, Serena Williams, Nick Lowe. Craig Ferguson: Paton Oswalt, Phoebe Tonkin. Tavis Smiley: Steve Tyrell. Carson Daly: Werner Herzog, the Two, fun. (rerun). Chelsea Handler: Gabrielle Union, Greg Fitzsimmons, Fortune Feimster, Gary Valentine (rerun).