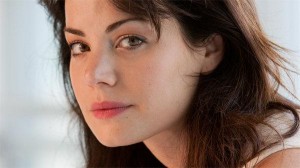 Not to be confused with the comedy "Raising Hope," the new "Saving Hope" (NBC, 9 p.m.) is a hospital yarn infused with a beyond the dead angle, like the cancleled "A Gifted Man."
The appealing Erica Durance of "Smallville," right, stars as a surgeon who is just about to marry a fellow doctor when they're in a car accident and he lands in a permanent coma. He wanders the hospital, ghost-like, observing the usual parade of cliched hospital stories. If patients die, the ghost has somebody to talk to. It's sub par fare for networks, but it beats the reality shows other networks are putting on.
Case in point: After years of surviving a number of shows copycatting "American Idol," Fox turns the table with a variation of one of their singing shows.
"The Choice" (Fox, 9 p.m.) not only rhymes with NBC's hit "The Voice," it also features four celebrities in chairs that spin around when they're interested something. It's all done in the service of a dating show – in fact, it seems a flashier update of "The Dating Game," with contestants not able to see who someone is unless they commit. Cat Deeley hosts; the celebrities include Dean Cain, Joe Jonas and various dudes from "The Jersey Shore."
It comes alongside another new dating show, "Take Me Out" (Fox, 8 p.m.), based on a British series, in which a group of 30 women signal with lights whether they're interested in the eligible bachelor on display – the lights usually go down as the guy keeps talking. George Lopez hosts.
It seemed a mess of a show at the time; now it's seen as a kind of compendium of old school hip hop, as seen in the documentary "Yo: The Story of Yo! MTV Raps" (VH1, 10 p.m.).
The Louisiana reality shows just keep coming. The latest is "Cajun Justice" (A&E, 10 p.m.), following the men and women of the Terrebonne Parish Sheriff's Office. Some of the people they might pick up? The dudes on "Swamp People" (History, 9 p.m.).
Stacy Keibler guest stars on a new "Men at Work" (TBS, 10 p.m.).
On "Don't Be Tardy for the Wedding" (Bravo, 9:30 p.m.) it's almost time for Kim's wedding.
Maybe "Duets" (ABC, 8 p.m.) would be more compelling if it were only an hour, instead of two. Just a suggestion.
Sean Parker and Shawn Fanning, founders of Napster, are profiled on a new "Rock Center with Brian Williams" (NBC, 10 p.m.), as is the singer Adele.
In tribute to Richard Dawson, who died Saturday at 79, GSN presents seven of his best game show appearances, hosting "Family Feud" (GSN, 7 p.m.) and appearing on "The Match Game" (GSN, 7:30 p.m.) in a four hour marathon tonight.
Finish strong in your classes or you might end up at "Tattoo School" (TLC, 10 p.m.).
Is it easier "Selling L.A." (HGTV, 9 p.m.) or "Selling London" (HGTV, 9:30 p.m.)?
Mac Miller does the pranking on the season finale of "Punk'd" (MTV, 10 p.m.), where victims range from Wiz Khalifa to Neil Patrick Harris.
They're serving up teen idols Thursdays all month on Turner Classic Movies, starting with Elvis Presley in "Jailhouse Rock" (8 p.m.), Pat Boone in "All Hands on Deck" (10 p.m.), James Dean in "Rebel Without a Cause" (12 p.m.), and Tab Hunter in "The Girl He Left Behind" (2 a.m.).
Who will play the Thunder in the NBA Finals? It's between Heat at Celtics (ESPN, 8:30 p.m.). With Boston leading 3-2, it's a must win for Miami.
Daytime Talk
Kelly Ripa: Jessica Chastain, Emeli Sande, Chris Byrne, Neil Patrick Harris. The View: Jane Fonda, Lisa Ling. The Talk: Jason Alexander, Curtis Stone. Ellen DeGeneres: Jesse Typer Ferguson, Michael Strahan (rerun).
Late Talk
David Letterman: Bill Murray, the Temper Trap. Jay Leno: Catherine Zeta-Jones, Louis Zamperini, Bret Michaels. Jimmy Kimmel: Edward Norton, Leighton Meester, Dead Sara. Jimmy Fallon: Chris Rock, Cat Deeley, Carly Rae Jepsen. Craig Ferguson: Kelly Preston, Joel Stein (rerun). Tavis Smiley: Buddy Guy. Carson Daly: Jake Johnson, the Glitch Mob, the Ting Tings (rerun). Jon Stewart: Edward Conard. Stephen Colbert: Regina Spektor. Conan O'Brien: Chris Hemsworth, Malin Akerman, Jonah Ray. Chelsea Handler: Charlize Theron, Chris Franjola, Jen Kirkman, Dov Davidoff.