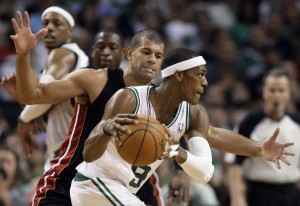 Sports is the big thing on TV tonight with a big Game 7 in the NBA Eastern Conference of Celtics at Heat (ESPN, 8:30 p.m.). Winner faces Oklahoma City in the NBA Finals.
The big game on network TV is Game 5 of the Stanley Cup Finals with Kings at Devils (NBC, 8 p.m.). Los Angeles leads the series 3-1 and could win it all tonight.And there's interleague baseball in primetime too, with Mets at Yankees (Fox, 7 p.m.).
Any of those games will be a guy's choice over, say, "The Guys Choice Awards" (Spike, 9 p.m.) with categories like "Biggest Ass Kicker" and "Most Dangerous Man" to "Holy Grail of Hot." Adam Sandler will be honored and "Old School" will be inducted into the Guys Movie Hall of Fame.
Here's a made for TV horror movie in which people may actually be rooting for the shark: "Jersey Shore Shark Attack" (Syfy, 9 p.m.), featuring Paul Sorvino, Tony Sirico, Joey Fatone, and yes, Vinny from "Jersey Shore" too.
Sara Canning of "Vampire Diaries" portrays a 19th century bounty hunter who works in Dodge City with with Wyatt Earp, Doc Holliday and other big names of the Wild West in the TV movie "Hannah's Law" (Hallmark Movie Channel, 8 p.m.). It's a good time for a Western, coming after the huge success of "Hatfields & McCoys." But it's a very clean (and therefore inauthentic) period piece. There's no blood for all the gunplay. And even with Danny Glover in it, it gets very dull in the middle of it. Though it's very dull toward the middle.
"The Hangover Part II" (HBO, 9 p.m.), which someday may also make the Guy Movie Hall of Fame, makes its debut on premium cable. Another new movie tonight is Nick Swardson in "Bucky Larson: Born to Be a Star" (Starz, 9 p.m.).
Steve Austin hosts the latest TV show with redneck in the title, "Redneck Island" (CMT, 10 p.m.), which pretty much sounds like "Survivor" in cutoff sleeves.
A nifty animation double play has "Finding Nemo" (ABC Family, 8 p.m.) and "Aladdin" (ABC Family, 10 p.m.).
No chance for a Triple Crown winner this year after I'll Have Another was pulled from the Belmont Stakes (NBC, 5 p.m.), but it will make the field more wide open.
Up early? The women's final of  The French Open (NBC, 9 a.m.)  is scheduled.
Idea: How about doing one of those Suri commercials with the host of "Stephen Hawking's Grand Design" (Discovery, 8, 9 and 10 p.m.)?
A half dozen films from early in Henry Fonda's career are on Turner Classic Movies tonight: "Jezebel" (8 p.m.), "Drums Along the Mohawk" (10 p.m.), "The Mad Miss Manton" (midnight), "Wings of the Morning" (1:30 a.m.), "Slim" (3:15 a.m.) and "Let Us Live" (4:45 a.m.).
The Steve Miller Band plays a repeat of "Austin City Limits" (PBS, 9 p.m., check local listings).
The "Saturday Night Live" (NBC, 11:30 p.m.) hosted by Maya Rudolph is rerun. It's the one loaded with guests, including Amy Poehler, Justin Timberlake, Paul Simon and Bill O'Reilly. Sleigh Bells is the musical guest.