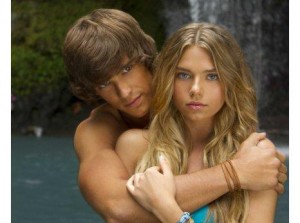 It's almost a right of passage, albeit a creepy one, that Hollywood thinks it needs to remark "The Blue Lagoon" every generation, so young people can be introduced to the splendor of young innocent shipwrecked love, even with or without Brooke Shields.
The new version, with the increased, leering title of "Blue Laboon: The Awakening" (Lifetime, 8 p.m.) features Denise Richards, but as the mother of the teen who is shipwrecked with her badboy classmate. A guy froma past "Blue Lagoon," Christian Atkins, appears as the teacher who arranged the ill-fated class trip.
Maybe it's 20 seasons of "Survivor," but it seems kind of easy now to carve out a life amid the palm fronds and coconuts. They fall in love because there's frankly nothing else to do.
As the couple, Brenton Thwaites and Indiana Evans, a pair of Aussie actors, are appealing enough. But when they get back to school and at first start to ignore eachother it's more like a scene from "Grease."
It's better than another TV movie tonight, "Operation Cupcake" (Hallmark, 8 p.m.) in which Dean Cain stars as a military man who returns and tries to adjust running his wife's cupcake shop. As you may imagine, the ingredients fly, and he finds of course that he can't run a bakery like an army division and that it's harder than he thinks. Kristy Sewanson plays his long-suffrering wife.
New movies making their debuts on premium cable include Steve Carell and Ryan Gosling in "Crazy, Stupid, Love" (HBO, 8 p.m.),; Rhys Ifans in "Anonymous" (Starz, 9 p.m.) and Ryan Reynolds in "Green Lantern" (Cinemax, 10 p.m.).
The latest concoction of conjoined terrors is "Piranhaconda" (Syfy, 9 p.m.).
Crazy redhead Kate Flannery hosts a welcome new standup showcase for women comics, "Standup in Stilletos" (TV Guide Network, 10 p.m.). Her fiest guests are very good: Mary Lynn Rajskub from "24, Gina Yashere and Sarah Tiana.
There's still an episode of the canceled "How to Be a Gentleman" (CBS, 8:30 p.m.) that hasn't been seen yet.
If you missed the two movie length episodes of "Thorne" (Encore, 8 and 10:10 p.m. ) earlier this week,  they run back to back tonight.
Also back on tonight: The new Disney musical "Let it Shine" (Disncye Channel, 8 p.m.).
A three hour marathon of "South Park" (Comedy Central, 9 p.m.) concentrates on dad stories, in honor fof Father's Day.
"Cars" (ABC, 8 p.m.) stretches out three hours on broadcast TV.
A slew of breakup movies are on Turner Classic Movies, includeing "The Way We Were" (8 p.m.), "Kramer vs. Kramer" (10:15 p.m.), "The Marrying Kind" (12:15 a.m.), "Divorce American Style" (2 a.m.) and "Payment on Demand" (4 a.m.).
The U.S. Open (NBC, 4 p.m.) moves to network coverage and well into prime time.
Baseball includes Yankees at Nationals (MLB, 1 p.m.), Orioles at Braves (Fox, 5 p.m.) and White Sox at Dodgers (MLB, 10 p.m.).
In the European Soccer Championship, it's Greece vs. Romania (ESPN, 2:45 p.m.) and Czech Republic vs. Poland (ESPN2, 2:45 p.m.).
Rosanne Cash and Brandi Carlile play a replay of "Austin City Limits" (PBS, 9 p.m., check local listings).
The rerun of "Saturday Night Live" (NBC, 11:30 p.m.) is the one from earlier this year hosted by Lindsay Lohan and with Jack White as musical guest.