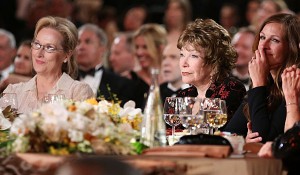 Once she was Irma La Douce; soon she'll be grandmama on "Downton Abbey.' Shirley MacLaine is feted by Meryl Streep on "The AFI Life Achievement Award 2012" (TV Land, 9 p.m.). Barbra Streisand, Jack Nicholson, Morgan Freeman and the honoree's brother, Warren Beatty, are among the attendees.
The point of the new reality show "The Great Escape" (TNT, 10 p.m.) is not so much to reach a place as to escape it.
"Dateline" (NBC, 8 p.m.) takes a look at the middle class, meeting poverty in the new economy.
Did you miss the "Fox 25th Anniversary Special" (Fox, 8 p.m)? They're showing it again.
One of my favorite subjects, clowns, dominate Turner Classic Movies tonight, starting with Charlie Chaplin in "The Circus" (8 p.m.) which is followed by "The Big Circus" (9:30 p.m.), "The Circus Clown" (11:30 p.m.), Lon Cheney in "Laugh, Clown, Laugh" (12:45 a.m.), Fellini's "La Strada" (2:15 a.m.) and Danny Kaye in "Merry Andrew" (4:15 a.m.).
Debbie Pelt's parents come to Bon Temps to search for their daughter on this week's "True Blood" (HBO, 9 p.m.).
"Cupcake Wars" (Food, 8 p.m.) are waged for the right to serve the Hollywood Black Film Festival.
Nine hopefuls remain on "Food Network Star" (Food, 9 p.m.) and have to answer questions to the notoriously snippy foodie press.
Turtleman goes after a feral hog on a new "Call of the Wildman" (Animal Planet, 10 p.m.). Finally, a fair match.
On the eve of the third anniversary of his death, there are a couple of specials: "Michael Jackson: The Life of an Icon" (BET, 9 p.m.) and "Michael Jackson – The Final Days" (CNN, 11 p.m.).
"The Help" (Showtime, 10 p.m.) makes its premium cable debut, on an unusual night.
The ninth season of "Aqua Teen Hunger Force" comes with a new name that they can't quite remember. Officially, it's "Aqua Something You Know Whatever" (Cartoon Network, 12:15 a.m.). No, really.
A 2009 murder in West Virginia is the subject of "Nightmare Next Door" (ID, 9 p.m.).
Reality makeover show goes on trial on a new "Drop Dead Diva" (Lifetime, 9 p.m.).
The second half of her interview with the Kardashians is on "Oprah's Next Chapter" (OWN, 8 p.m.), which makes it sound like a chapter you can skip.
Speaking of which, Rob Kardashian once dated Adrienne Bailon, one of the two stars of "Empire Firls: Julissa & Adrienne" (Style, 9 p.m.). Julissa Bermuda is the former host of BET's "106 & Park"; Bailon is a former member of the Cheetah Girls. How can the show miss?
Another subway series – Yankees at Mets (ESPN, 8 p.m.) — gets a national spotlight.
It's almost here, so get ready with the "Tour de France Preview" (NBC Sports, 10:30 p.m.).
Sunday Talk
ABC: Rep. Darrell Issa. CBS: Rick Perry, Tim Pawlenty, Los Angeles Mayor Antonio Villaraigosa. NBC: Issa, Sen. Marco Rubio, former Gov. Bill Richardson. CNN: Romney campaign adviser Ed Gillespie, Rep. Luis Gutierrez and former commerce secretary Carlos Gutierrez. Fox News: Issa, Reps. Elijah Cumming and Xavier Becerra, T. Boone Pickens.