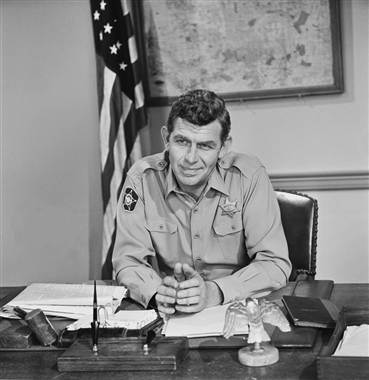 Every star of a hit comedy in the 50s and 60s was iconic, at least to those who grew up watching them and sorted out what life was supposed to be like according to them.
The idea that kids today do that with today's show is a little frightening. But back then, it was all "Father Knows Best" and Danny Thomas and Ricky Ricardo and Andy Griffith, who was a big enough star at the time to have his own name on the show. Like Lucille Ball or Gale Storm.
The character of Sheriff Andy Taylor by Griffith, who died Tuesday at 86, was a great role model of course.
He was the moral center of the show, the straight man in a town of goofballs, boss of Barney Fife, acquiaintence of Goober, adviser to Floyd the Barber.
It may not have given the actor a chance to show off either his comedic or dramatic prowess (which he'd hint at in other projects). But he exuded a warmth and caring, to Opie certainly, and to his Aunt Bee. What was odd about the character was that he was single.
This sort of thing was done before on TV — primarily by John Forsythe in "Bachelor Father." But Griffith's role seemed a little more relaxed and less desperate, like Fred McMurray and the sitcom that aired the same era, "My Three Sons."
In Mayberry, Sheriff Andy had a few steady girlfriends, but none so much to point toward a very special marriage episode or to threaten him leaving Aunt Bee's. One of his first girlfriends (of two) was played by Elinor Donahue, who of course was the elder daughter Betty in "Father Knows Best." Such sitcom lineage!
Griffith's Sheriff Taylor was, in his way, a steady, calming presence, the only thing keeping Barney Fife from being the chief law enforcement officer in Mayberry.
R.I.P. Andy.