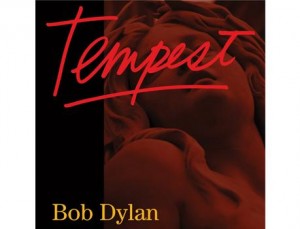 Bob Dylan releases his 35th studio album, "Tempest," on Sept. 11, 2012, his label announced Tuesday.
It will mark the 50th anniversary of Dylan's first album on Columbia.
Ten new songs will be on the album, though none of their titles were released. The cover appears to be a closeup of a marble sculpture in the style of Michelangelo, in a red monochrome.
"Tempest" will be the first album from Dylan, 71, since 2009, when he released both "Together Through Life" and "Christmas in the Heart." Los Lobos guitarist David Hidalgo, who was in the studio with Dylan for the new work, has said it will have more of a Latin American feel.
It's not the first time Dylan chose Sept. 11 as a release date. His Grammy-winning "Love and Theft" was released on Sept. 11, 2001, the day of the terrorist attacks on the U.S.
Listed as producer is "Jack Frost," the pseudonym Dylan uses for such purposes.
Currently on tour in Europe, Dylan and his band embark on a series of U.S. dates next month that run into the fall.