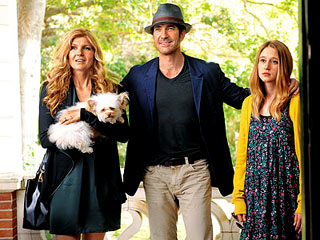 Nominees for the 64th Emmy Awards announced early Thursday showed fealty toward recent cable winners while making way for expanded nominations for PBS favorites, and a slight of hand involving categorization.
"Mad Men" tied for most nominations overall with 17, but tied with "American Horror Story," the FX series that entered as a miniseries instead of a drama (and is indeed coming back for another season).
Cable productions with ampersands did well with summer's "Hemingway & Gelhorn" on HBO with big movie star names earning 15 nominations and History channel's surprising hit "Hatfields & McCoys" earning 16.
While the categories made way for newcomers such as Lena Dunham in "Girls," and a generally laudable best drama category (with "Boardwalk Empire," "Breaking Bad," "Downton Abbey," "Game of Thrones," "Homeland" and "Mad Men") there were unexpected inclusions (Kathy Bates in "Harry's Law") or substitutions (Betty White for reality competition host, but not Jeff Probst, who had won every year for "Survivor" but was not nominated this year).
In the variety category, both Jimmy Fallon and Jimmy Kimmel (who helped read nominations in the predawn hours in L.A., in pajamas) were nominees but Jay Leno and David Letterman were not.
In the best comedy category, "Girls" and "Veep" were first time nominees, but there was no room for "Louie" and "Parks and Recreation" among the other nominations, "Modern Family," "30 Rock," "Big Bang Theory" and "Curb Your Enthusiasm."
It makes for another perplexing, argument-inducing but ultimately meaningless cause for praise and second-guessing.
The full nominees follow.
Outstanding Comedy Series
"Curb Your Enthusiasm"
"Girls"
"30 Rock'
"Veep"
"Modern Family"
"The Big Bang Theory"
Lead actress in a Comedy
Zooey Deschanel, "New Girl"
Lena Dunham, "Girls"
Edie Falco, "Nurse Jackie"
Amy Poehler, "Parks and Recreation"
Tina Fey, "30 Rock"
Julia Louis-Dreyfus, "Veep"
Melissa McCarthy, "Mike & Molly"
Lead Actor in a Comedy
Larry David, "Curb Your Enthusiasm"
Jon Cryer, "Two and a Half Men
Louis C.K., "Louie"
Jim Parsons, "The Big Bang Theory"
Don Cheadle, "House of Lies"
Alec Baldwin, "30 Rock"
Supporting Actress in a Comedy
Mayim Bialik, "The Big Bang Theory"
Merritt Wever, "Nurse Jackie"
Julie Bowen, "Modern Family"
Kristen Wiig, "Saturday Night Live"
Sofia Vergara, "Modern Family"
Kathryn Joosten, "Desperate Housewives"
Supporting Actor in a Comedy
Ed O'Neill, "Modern Family"
Jesse Tyler Ferguson, "Modern Family"
Ty Burrell, "Modern Family"
Eric Stonestreet, "Modern Family"
Max Greenfield, "New Girl"
Bill Hader, "Saturday Night Live"
Guest Actress in a Comedy
Dot-Marie Jones, "Glee"
Maya Rudolph, "Saturday Night Live"
Melissa McCarthy, "Saturday Night Live"
Elizabeth Banks, "30 Rock"
Margaret Cho, "30 Rock"
Kathy Bates, "Two and a Half Men"
Guest Actor in Comedy
Michael J. Fox, "Curb Your Enthusiasm"
Greg Kinnear, "Modern Family"
Bobby Cannavale, "Nurse Jackie"
Jimmy Fallon, "Saturday Night Live"
Will Arnett, "30 Rock"
Jon Hamm, "30 Rock"
Outstanding Drama
"Boardwalk Empire"
"Breaking Bad"
"Downton Abbey"
"Game of Thrones"
"Homeland"
"Mad Men"
Actress in a Drama
Glenn Close, "Damages"
Michelle Dockery, "Downton Abbey"
Julianna Margulies, "The Good Wife"
Kathy Bates, "Harry's Law"
Claire Danes, "Homeland"
Elisabeth Moss, "Mad Men"
Actor in a Drama
Steve Buscemi, "Boardwalk Empire"
Bryan Cranston, "Breaking Bad"
Michael C. Hall, "Dexter"
Hugh Bonneville, "Downton Abbey"
Damian Lewis, "Homeland"
Jon Hamm, "Mad Men"
Supporting Actress in a Drama
Anna Gunn, "Breaking Bad"
Maggie Smith, "Downton Abbey"
Joanne Froggatt, "Downton Abbey"
Archie Panjabi, "The Good Wife"
Christine Baranski, "The Good Wife"
Christina Hendricks, "Mad Men"
Supporting Actor in a Drama
Aaron Paul, "Breaking Bad"
Giancarlo Esposito, "Breaking Bad"
Brendan Coyle, "Downtown Abbey"
Jim Carter, "Downton Abbey"
Peter Dinklage, "Game of Thrones"
Jared Harris, "Mad Men"
Guest Actress in a Drama
Martha Plimpton, "The Good Wife"
Loretta Devine, "Grey's Anatomy"
Jean Smart, "Harry's Law"
Julia Ormond, "Mad Men"
Joan Cusack, "Shameless"
Uma Thurman, "Smash"
Guest Actor in a Drama
Mark Margolis, "Breaking Bad"
Dylan Baker, "The Good Wife"
Michael J. Fox, "The Good Wife"
Jeremy Davies, "Justified"
Ben Feldman, "Mad Men"
Jason Ritter, "Parenthood"
Outstanding Miniseries or Movie
"American Horror Story"
"Game Change"
"Hatfields & McCoys"
"Hemingway & Gelhorn"
"Luther"
"Sherlock: A Scandal in Belgravia"
Actress in Miniseries or Movie
Connie Britton, "American Horror Story"
Julianne Moore, "Game Change"
Nicole Kidman, "Hemingway & Gelhorn"
Ashley Judd, "Missing"
Emma Thompson, "The Song of Lunch" ("Masterpiece")
Actor in Miniseries or Movie
Woody Harrelson, "Game Change"
Kevin Costner, "Hatfields & McCoys"
Bill Paxton, "Hatfields & McCoys"
Clive Owen, "Hemingway & Gelhorn"
Idris Elba, "Luther"
Benedict Cumberbatch, "Sherlock: A Scandal in Belgravia"
Supporting Actress in Miniseries or Movie
Frances Conroy, "American Horror Story"
Jessica Lange, "American Horror Story"
Sarah Paulson, "Game Change"
Mare Winningham, "Hatfields & McCoys"
Judy Davis, "Page Eight" ("Masterpiece")
Supporting Actor in Miniseries or Movie
Denis O'Hare, "American Horror Story"
Ed Harris, "Game Change"
Tom Berenger, "Hatfields & McCoys"
David Strathairn, "Hemingway & Gelhorn"
Martin Freeman, "Sherlock: A Scandal in Belgravia"
Outstanding Variety Series
"The Colbert Report"
"The Daily Show with Jon Stewart"
"Jimmy Kimmel Live"
"Late Night with Jimmy Fallon"
"Real Time with Bill Maher"
"Saturday Night Live"
Writing for Variety Series
"The Colbert Report"
"The Daily Show"
"Portlandia"
"Real Time with Bill Maher"
"Saturday Night Live"
Outstanding Variety Special
"Betty White's 90th Birthday: A Tribute to America's Golden Girl"
"Kathy Griffin: Tired Hooker"
"The Kennedy Center Honors"
"Mel Brooks and Dick Cavett Together Again"
"Tony Bennett: Duets II"
Animated Show
"American Dad!"
"Bob's Burgers"
"Futurama"
"The Penguins of Madagascar"
"The Simpsons"
Short Form Animation
"Adventure Time"
"Phineas and Ferb"
"Mad"
"Regular Show"
"Robot Chicken"
Outstanding Children's Program
"Degrassi"
"Good Luck Charlie"
"iCarly"
"Victorious"
"Wizards of Waverly Place"
Outstanding Reality Program
"Antiques Roadshow"
"Jamie Oliver's Food Revolution"
"MythBusters"
"Shark Tank"
"Undercover Boss"
"Who Do You Think You Are?"
Outstanding Reality Competition
"The Amazing Race"
"Dancing with the Stars"
"Project Runway"
"So You Think You Can Dance"
"Top Chef"
"The Voice"
Outstanding Host for Reality Program
Phil Keoghan, "The Amazing Race"
Ryan Seacrest, "American Idol"
Betty White, "Betty White's Off Their Rockers"
Tom Bergeron, "Dancing with the Stars"
Cat Deeley, "So You Think You Can Dance"
Outstanding Nonfiction Series
"American Masters"
"Anthony Bourdain: No Reservations"
"Frozen Planet"
"Inside the Actors Studio"
"The Weight of the Nation"
Outstanding Nonfiction Special
"Bobby Fischer Against the World"
"George Harrison: Living in the Material World"
"Gloria: In Her Own Words"
"Paul Simon's Graceland Journey: Under African Skies"
"6 Days to Air: The Making of South Park"
Exceptional Merit in Documentary Filmmaking
"The Amish" ("American Experience")
"Have You Heard from Johannesburg" ("Independent Lens")
"Paradise Lost 3: Purgatory"
"American Masters: Woody Allen"
"George Harrison: Living in the Material World"
"Paradise Lost 3: Purgatory"
"Project Runway" finale
Outstanding Casting for a Comedy
"The Big C"
"Girls"
"Modern Family"
"New Girl"
"Nurse Jackie"
"Veep"
Outstanding Casting for a Drama
"Boardwalk Empire"
"Downton Abbey"
"Game of Thrones"
"The Good Wife"
"Homeland"
"Mad Men"
Outstanding Main Title Design
"American Horror Story"
"Great Expectations" ("Masterpiece")
"Magic City"
"New Girl"
"Strike Back"