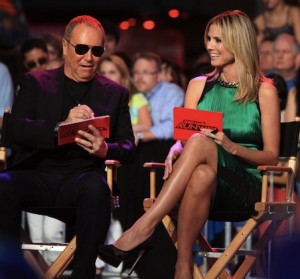 "Project Runway" (Lifetime, 9 p.m.) usually ends at a big runway event, namely New York Fashion Week.
However, for the 10th season of the design competition starts with a runway event – this time in Times Square, in which each of the 16 new designers present a couple of design.
Lauren Graham is celebrity judge alongside he returning Michael Kors, Nina Garcia and Heidi Klum. Patricia Field, the first guest judge on the show, returns to do help judge as well. And Tim Gunn, freed from his dud network afternoon show, is back as TV's best mentor. And the designers? I'm sure they're a colorful bunch too.
Comedian Steve Byrne plays a New York lawyer who moves back to Pittsburgh to take over his dad's corner bar in the new sitcom "Sullivan & Son" (TBS, 10 p.m.), produced in part by Vince Vaughn.
Helping young Muslim girls memorize the Qu'ran doesn't close their minds, it opens them up to possibilities, the charismatic teacher Houda al-Habash finds. The depiction of her school in Damascas, Syria,
"The Light in Her Eyes" is named after a line in the veiling ceremony, but it's true you can see the light in the young scholars brighten, even though pressure was strong from conservative clerics not to teach women. The film, which premieres on "P.O.V." (PBS, 10 p.m., check local listings),  was made immediately before the bloody uprising.
Up early? The Emmy Nominations are announced about 8:40 a.m. Eastern time on the network morning shows as well as E! Up earlier? The British Open (ESPN, 5 a.m.) is also on.
Can the men on boats in the Great Lake tugboats be as dramatic as those on "The Deadliest Catch"? They'll try on the new series on tugboat workers, "Great Lake Warriors" (History, 10 p.m.).
The finale of "Duets" (ABC, 8 p.m.) is between two of Jennifer Nettles' partners J Rome and John Glosson and one who worked with Kelly Clarkson, Jason Farol. All the other celebrity mentors, John Legend and Robin Thicke, can do is sit and watch.
A terrific episode of "Louie" (FX, 10:30 p.m.) starts with him striking out with Maria Bamford and ends with a dizzying date with Parker Posey, playing a book store clerk.
The 2009 British series "Misfits" (Logo, 10 p.m.) begins a run on another cable network.
Either Frank or Kara will be voted out of "Big Brother" (CBS, 9 p.m.), in the first such vote of the season.
The Romney sons are interviewed on "Rock Center with Brian Williams" (NBC, 10 p.m.).
Some listings promise a "Mobbed" special; instead there's another episode of "Take Me Out" (Fox, 8 p.m.).
For whatever reason, Denise Richards joins her ex, Charlie Sheen, on a new episode of "Anger Management" (FX, 9:30 p.m.).
John C. McGinley guest stars on a new "Burn Notice" (USA, 9 p.m.).
"Four Weddings" (TLC, 9 p.m.) returns for its fourth season.
Oscar winning sound designer Ben Burtt shows off his work in a couple his films, "Gunga Din" (TCM, 10 p.m.) and "The Adventures of Robin Hood" (TCM, 12:15 a.m.),  while Oscar winning visual effects supervisor Craig Barron plays films that inspired him, "Forbidden Planet" (TCM, 8 p.m.) and "Citizen Kane" (TCM, 2:15 a.m.), which is followed by Orson Welles' follow-up to it, "The Magnificent Ambersons" (TCM, 4:30 a.m.).
Daytime Talk
Kelly Ripa: Heidi Klum, Jerry O'Connell. The View: Judge Jeanine Pirro, Roseanne Barr. The Talk: Jason Biggs, Mary Murphy, Susan Feniger. Ellen DeGeneres: Elizabeth Banks, Casey James (rerun).
Late Talk
David Letterman: Woody Harrelson, Grafitti6. Jay Leno: Rachel Weisz, Aaron Paul, Robert Francis. Jimmy Kimmel: Charlie Shen, Nicole "Snooki" Polizzi, Huey Lewis & Joe Cocker. Jimmy Fallon: Matt Lauer, Mike Tyson, Hot Chip. Craig Ferguson: Kenneth Branagh, Ted Alexandro. Tavis Smiley: Frank Gehry. Carson Daly: James Van Der Beek, Mike D, Kasabian (rerun). Jon Stewart: E.J. Dionne. Stephen Colbert: Lisa Jackson. Conan O'Brien: Freida Pinto, Chris Hardwick, Sebastian Maniscalco. Chelsea Handler: Kathy Najimy, Bobby Lee, Jen Kirkman, Marc Maron.