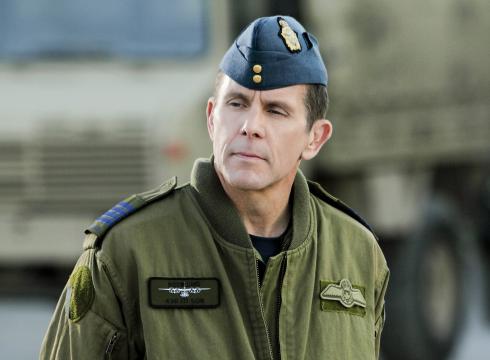 Gary Cole has the ability to play some strange roles.
But few are as strange as Canadian Air Force Colonel Russsell Williams, who presided in a town where he was arrested for breaking into homes, stealing women's underwear and trying them on for size.
He became more emboldened by his invasions and became more of a threat as the title of the film based on his case suggests. "An Officer and a Murderer" (Lifetime, 8 p.m.) never tries to hide that it is the newly named head of he base who is doing these crimes.
The film, in the Lifetime manner, lingers over the menace to women a little too long, and marches inevitably through the police case to find him. Laura Harris and Rossif Sutherland play the police that go after him.
In another made for TV cable movie that you can guess what will happen from the moment it starts, Eric Mabius plays a nerdy guy unsure about dating who has to take lessons in the subject from the girl who gave him the complex in middle school in "How to Fall in Love" (Hallmark, 9 p.m.). It's kind of sweet. But wouldn't you know it, the first thing to go are the glasses.
In less than a week, there will be opening ceremonies. For now, there's a countdown with qualifications. "30 Greatest NBC Olympic Moments" (NBC, 8 p.m.). None of those pesky ABC moments. I've been enjoying the (fake) Olympic preparations on the comedy import "Twenty Twelve" (BBC America, midnight), which can't last too much longer.
The slyly effective all-star thriller about a global pandemic, "Contagion" (HBO, 8 p.m.) gets a cable premiere. Also making its bow is "Horrible Bosses" (Cinemax, 10 p.m.).
Fans of Aaron Sorkin can watch the latest episode of his series "The Newsroom" (HBO2, 9 p.m.) or his Oscar-winning screenplay to last summer's baseball film, "Moneyball" (Starz, 9 p.m.).
Not surprisingly, there's at least one news special scheduled, "48 Hours: Tragedy in Aurora" (CBS, 10 p.m.).
There's a new standup special, "Todd Barry: Super Crazy" (Comedy Central, 11 p.m.) from a comic who looks a little bit like Carl from "The Ricky Gervais Show."
The new "Rove LA" (TV Guide Network, 10 p.m.) is not a show biz show hosted by Karl Rove. Instead it's a new talk show by a man dubbed "Australia's funniest talk show host," Rove McManus. Here, he invades Hollywood and talks to the stars on his set.
Johnny Knoxville lends his voice to a character named Johnny Krill in the first new special from "SpongeBob SquarePants" (Nickelodeon, 8 p.m.) in a while.
Not sure how the dating game show "Take Me Out" (Fox, 9 p.m.) found a Saturday night slot.
A pregnant woman is trapped in a burning car on a new "NYC 22" (CBS, 8 p.m.).
Miss the Home Run Derby (ESPN2, 9 p.m.)? I won't spoil it for you.
"Sweetie Pie's: An Extra Slice" (OWN, 9 and 10 p.m.) lives up to its name, with two new episodes.
Your choice of 007: Rober Moore vs. Christopher Walken in "A View to a Kill" (Encore, 8 p.m.) and Pierce Brosnan in "Die Another Day" (TV Guide Network, 8 p.m.) with Halle Barry.
The season's first three episodes of "Web Therapy" (Showtime, 8 p.m.) get a replay.
The staff at "Oddities: San Francisco" (Science, 9 p.m.) find there's only one way to test an electric chair.
"To Have and Have Not" (TCM, 8 p.m.) kicks off a theme night of "Before They Were Married." Which has to do with the plots of the movies and not the casting (though Bogie and Bacall were not yet married in her movie debut). The other films: 'Too Many Girls" (TCM, 10 p.m.), "Fire Over England" (11:30 p.m.), "Every Girl Should Be Married" (TCM, 1:15 a.m.) and "Brother Rat" (TCM, 2:45 a.m.) with its sequel, "Brother Rat And a Baby" (TCM, 4:30 a.m.).
The Tour de France (NBC Sports, 8 a.m.) is at Stage 19, from Bonneval to Chartres.
The British Open (ESPN, 7 a.m.) continues.
Baseball includes Giants at Phillies (Fox, 3:30 p.m.).
The Will Ferrell-hosted "Saturday Night Live" (NBC, 11:30 p.m.) from earlier this year, with musical guest Usher, which had a lot of cameos, from Liam Neeson, Ana Gasteyer and Will Forte, among others, is repeated.