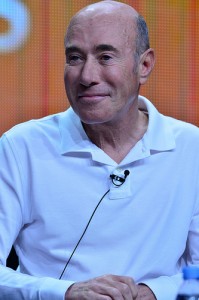 The second day of PBS press tour was heavy with news and information with anchors discussing election plans, grim stories of reporting in Mexico, harrowing tales of the dust bowl,and global women's abuse, details of the Mars exploration and the adaptation of a children's show puppet into a bland cutout for kids programming.
But also: Cloris Leachman was rubbing and undressing a fellow panelist selected as a "Pioneers of Television" and billionaire entertainment mogul David Geffen flew in from Sardinia to deign to answer questions from the press.
Geffen had agreed to take part in an "American Masters" profile of himself with interviews after a career of largely keeping to himself. But show producer Susan Lacy said it was tougher to get him to come to press tour.
But once there he was less than expansive.
Asked to describe experiencing film on him, he said, "You watch yourself get old and bald, it's a sobering experience."
Someone asked one of those what did he learn from his upbringing questions and he said, "I would think that everybody's childhood is an influence on what happens in their future, don't you think? Me too."
And when someone asked him what he would do if he were getting into the music industry today, he said "I would kill myself."
But, fibbing about his past to get a job at William Morris Agency with the hopes of breaking into the movie industry – which he would do later as partner in Dreamworks – he got into music instead.
And he scored with the Asylum label by jumping on the burgeoning singer/songwriter era, discovering Laura Nyro, signing Jackson Browne, Joni Mitchell and Neil Young (who he later sued for not turning out commercial stuff).
I asked him about one surprising part of his career – being the only person to lure Bob Dylan away from Columbia Records during his now 50 year recording career.
"We had become friends, and I had put The Band and Bob Dylan back together again and put them on the road, and it was very exciting for me. I'm a huge Bob Dylan fan," Geffen said.
Still, the partnership only lasted for one album, "Planet Waves," "because for one thing, that was 1974, I believe," he said, "and I left the music business to go to Warner Brothers Pictures at that time.
"I never lost interest in music," he said. But he added, "I originally wanted to be in the movie business, and as I say in this film, Jerry Brandt was the head of the rock and roll department, they called it then, at the William Morris Agency and he says to me, 'What do you want to do?' I said, 'I want to be in the movie business.' He said, 'Really? You think Norman Jewison is going to sign with you?' I was 21. He said, 'If I were you, I would go in the music business. Mick Jagger is 21, and everybody returns my phone calls.' He was Mick Jagger's agent. I thought maybe my eye's on the wrong ball."
He was able to pick on some stars others had passed, such as Browne. "I heard his songs and thought, wow. This guy is really great. Other people didn't hear it."
But his ear wasn't infallible. A fellow agent asked him to check out a duo in the village that would be known as Simon & Garfunkel.
"We went to Gerde's Folk City, and it was Paul and Artie with one guitar, and they did their set, and we go backstage and Artie Garfunkel pulls me aside, because you have your little card that says David Geffen, William Morris Agency, and he said to me, 'What do you think? I'm in architecture school. Do you think I should stay in school or should I give it up and go into show business?' I said, 'Stay in school.'
He didn't get every artist he pursued, he said later. "I wanted R.E.M.," he shrugged. "They went to Warner Bros."
But he added, "It's not about the ones that say no. It's about the ones that say yes. Your life isn't made up of the people who aren't in it."
Geffen went on to talk about how he looked into buying The New York Times to have it continue as a nonprofit, to continue its survival and to deny the persistant claim that he was the mystery inspiration of Carly Simon's "You're so Vain."
"That's simply not true," he spat. "Not to say I'm not vain, but I'm not her vain." But he did admit to being the subject of Mitchell's "Free Man in Paris."
Asked about his ideas for the music industry, he said quite bluntly, "I have no ideas. None whatsoever."
At times he was the picture befitting the 53rd richest man in the United States, completely divorced from everyday life. "I don't carry a cell phone. I never have. I've never texted anybody in my life. I've never had an ATM machine."
(Though presumably he could stock one himself.
As a very rich man, he's been pursued by candidates, backed the Clintons famously and was a bit of a game changer when he decided to back Obama over Hilary Clinton in 2008.
Of his current political contributions, he says, "I'm maxed out. You know, I've hit the limits that are and I have in every political year."
Even so, he added, the increase of big money in political campaigns is "awful and damaging to the country." But, he said, nothing is likely to change. "The Supreme Court made that decision. There's nothing anybody is going to do about it."
After a few more questions, he got out of there quicker than anybody since Hugh Laurie. The jets awaiting his return to Sardinia couldn't go fast enough.
"American Masters: David Geffen" premieres Nov. 20 on PBS.