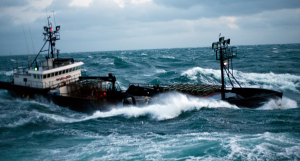 The opillo-crab season comes to an end, as does the eighth season of "The Deadliest Catch" (Discovery, 8 p.m.) in a two hour episode that includes some critical injuries. It's followed by an hour long postshow, "After the Catch" (Discovery, 10 p.m.).
Speaking of which, can a proposed open-pit mine for copper and gold co-exist with a wild salmon fishery? It's examined on a new "Frontline" (PBS, 10 p.m., check local listings).
"America's Got Talent" (NBC, 8 p.m.) presents the final dozen acts of the Top 48 for viewer votes before the finalists are determined.
"Love in the Wild" (NBC, 10 p.m.) reaches its finale and the winning couple will have to make a further determination: Whether to continue their relationship after the cameras stop running.
And a new "HGTV Design Star" (HGTV, 9 p.m.) after its finale tonight. IT's down to Danielle and Britany.
Fred Willard didn't get fired from all of his TV jobs. He returns tonight to host a pair of the new improv show "Trust Us With Your Life" (ABC, 9 and 9:30 p.m.), though his own story is probably more interesting than those that will be told by Jerry Springer and Florence Henderson.
The music concentration of "History Detectives" (PBS, 8 p.m., check local listings) continues when someone tries to determine whether his amp was owned by the great Motown bassist James Jamerson. On the other hand, they also investigate the history of an old 78 on KKK Records, "The Jolly Old Klansman." And Clint Black shows up in a second episode at 9 p.m.
Pretty good title for an extreme landscaping show is "Yardcore" (DIY, 9 p.m.).
Everyone is surprised when Jill and Kendall return to the troupe on  a new "Dance Moms" (Lifetime, 9 p.m.).
Bobby's got to find a new psychic shop fast on a new "American Gypsies" (National Geographic Channel, 9 p.m.).
A woman witn cystic fibrosis needs a new set of lungs on a new "NY Med" (ABC, 10 p.m.).
The economic downturn in America is examined on a new "Our America with Lisa Ling" (OWN, 10 p.m.).
Amber's home from two months in rehab on "Teen Mom" (MTV, 10 p.m.).
"E.T. The Extra-Terrestrial" (Ovation, 8 p.m.) is marking its 30th anniversary.
The salute to Leslie Howard on Turner Classic Movies continues with "Pygmalion" (8 p.m.), "Berkeley Square" (9:45 p.m.), "Devotion" (11:15 p.m.), and "The Animal Kingdom" (12:45 a.m.).
Daytime Talk
Kelly Ripa: Will Ferrell, Andrew Zimmern, Emily Maynard and Jef Holm, Michael Buckley. The View: Kirk Franklin, Marvin Sapp, Donnie McClurkin, Israel Houghton, Melba Wilson. The Talk: Chris Colfer, Hunter Hayes, Sara Leibowitz, Tabatha Coffey. Ellen DeGeneres: Vince Vaughn, Kat Graham, Bethenny Frankel (rerun).
Late Talk
David Letterman: Zach Galifianakis, former U.S. Army Sgt. Valerie Brown, Allen Stone. Jay Leno: Colin Farrell, Jenni "JWoww" Farley, Jay Sean. Jimmy Kimmel: Jeremy Renner, Aaron Paul, Nas. Jimmy Fallon: Roseanne Barr, Nelly, Beach House. Craig Ferguson: Minnie Driver, Colin Mochrie. Tavis Smiley: Morgan Freeman (rerun). Carson Daly: Glenn Howerton, Michael Olmos, Youssef Delara, We Were Promised Jetpacks (rerun). Jon Stewart: Matthew McConaughey. Stephen Colbert: James Fallows. Conan O'Brien: Eric McCormack, Eric Andre, the XX. Chelsea Handler: Chef Roy Handler, Trevor Noah, Sarah Colonna, Ross Mathews.