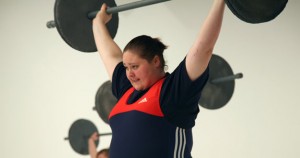 Even the independent documentary showcases are falling for the competition on the eve of the Olympics. Tonight "Independent Lens" (PBS, 9 p.m., check local listings) returns to close its season, alongside a new "POV" (PBS, 10 p.m., check local listings) both with inspirational athletic stories.
In the first, decade-long weightlifting champ Cheryl Haworth is profiled in film "Strong!" as she considers the rest of her career and issues of body shape. Then the struggles of Navajo long distance runners who race along the red dusty roads of New Mexico with a lot of baggage, yet try their hardest to reach graduation.
The only low note is that it seems that PBS has trimmed each feature documentary to a single hour.
The Olympics themselves continue in advance of opening ceremonies tomorrow. Today it's men's soccer, with Honduras vs. Morocco (NBC Sports Network, 7 a.m.) from Glasgow; Mexico vs. South Korea (NBC Sports, 9:30 p.m.) from Newcastle; Spain vs. Papan (MSNBC, 9:45 a.m.) in Glasgow, Gabon vs. Switzerland (MSNBC, 11:45 a.m.) from Newcastle: United Arab Emirates vs. Uruguay (NBC Sports, Noon) form Manchester; Brazil vs. Egypt (MSNBC, 2:45 p.m.), from Cardiff; Britain vs. Senegal (NBC Sports, 3 p.m) from Manchester; Belarus vs. New Zealand (NBC Sports, 4:45 p.m.) from Coventry.
A preview of the secret plans of the opening ceremony will be revealed by director Danny Boyle to Meredith Vierira on an Olympic-themed "Rock Center with Brian Williams" (NBC, 10 p.m.).
Ernest Borgnine, who died earlier this month at 95 is saluted on Turner Classic Movies with an interview on "Private Screenings" (8 p.m.) followed by his work in "Marty" (9 .m.), "From here to Eternity" (10:45 a.m.) and "The Wild Bunch" (1 a.m.).
Parker Posey concludes her terrific, surprising couple of episodes on "Louie" (FX, 10:30 p.m.).
The variation on dating shows keep coming. The latest, "3" (CBS), is not about assembling threesomes, but in having a tribunal of women vet a line of potential suitors, searching for the perfect one. Good luck there.
At the same time, the other imported TV dating idea, "Take Me Out" (Fox, 8 p.m.) itself is taken out after its first season finale.
Dating is also the theme on a two hour "Wipeout" (ABC, 8 p.m.).
Another eviction and another head of household competition are on tap for "Big Brother" (CBS, 9 p.m.). The votes will be for Danielle or JoJo.
For "Kathy Griffin: Seaman 1st Class" (Bravo, 10 p.m.), the comedienne taped her special in Long Beach.
Wonder if that duo from "Bachelor Pad" will make the new series "Evil Twins" (Investigation Discovery, 10 p.m.).
Another one of those unusual challenges on "Project Runway" (Lifetime, 9 p.m.), when the designers have to create a look using candy.
Daytime Talk
Kelly Ripa: Dylan McDermott, Josh Henderson, Joel McHale. The View: Kristen Belll, Dax Shepard. The Talk: Eric McCormack, Andy Grammer, Duff Goldman. Ellen DeGeneres: Kate Beckinsale, Taylor Kitsch, Jermaine Paul (rerun).
Late Talk
David Letterman: Joel McHale, Andrew Norelli, will.i.am. Jay Leno: Colin Farrell, Dwayne Wade, Mozella. Jimmy Kimmel: Jessica Biel, Adam Richman, Rick Ross. Jimmy Fallon: Bill Cosby, Fred Willard, No Doubt. Craig Ferguson: Emile Hirsch, Ariel Tweto. Tavis Smiley: Ed Helms (rerun). Carson Daly: Freddie Roach, Danny Brown, Ed Sheeran (rerun). Jon Stewart: Zach Galifianakis, Will Ferrell. Stephen Colbert: Ambassador Peter Westmacott. Conan O'Brien: Ben Stiller, Olivia Munn, Flo Rida. Chelsea Handler: Kerri Kenney-Silver, Heather McDonald, Dov Davidoff.