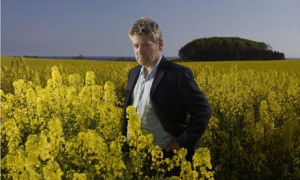 Despite the cancellation this week of "The Killing," the adaptation of Danish thrillers continues to be an attraction to makers of American television.
Saturday, FX chief Jon Landgraf announced it had ordered a pilot for a new drama, based on the Scandinavian series "Bron," which was about a body found on the Oresund bridge between Copenhagen and Malmo, Denmark
Retitled as "The Bridge," the action will take place on the U.S./Mexico border after a body is found on a bridge connecting El Paso and Juraez. An earlier adaptation of the work, for BBC, also called "The Bridge," kept the action in Denmark.
Adapting the FX version will be Meredith Stiehm, creator of "Cold Case" and current wrier on "Homeland" and Elwood Reid of "Cold Case" and "Hawaii Five-O."
"We hope to start production of that in several months," said FX president John Landgraf.
The announcement came days after AMC announced it was cancelling "The Killing," another dark Danish remake that was lauded when it started but criticized by not solving its central murder at the end of season one.
The murderer was revealed at the end of season two, but by then the viewership had dropped from an initial 2.7 million viewers to just 1.4 million.
Fox Television Studio which produced the show said it had plans to shop the series to another network for season three.
What is the appeal of Danish drama?
Kenneth Branagh, who stars and produces a third series of "Wallender" for "Masterpiece Mystery" for PBS, that are based on the Danish series by Henning Mankill, says there is something about the vast, empty, beautiful setting and the murders that sometimes occur, that make for a strong contrast.
"It gives some new character to familiar stories," Branagh told reporters at press tour a week earlier. Scandanavia affords "an environment that can seem magnificent and majestic in the day, it feels very, very dangerous indeed and full of potential at night."
Amid such vastness, he said, "characters like Wallander have a chance to meditate almost in a very concentrated way on crime and death and big themes because nothing else is in the way."
The third series of "Wallender" begins Sept. 9 on "Masterpiece Mystery."