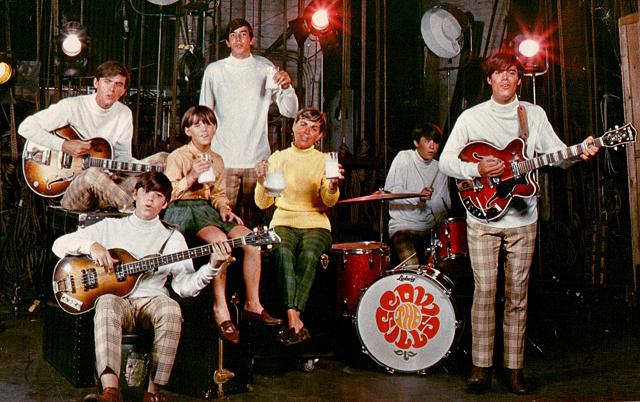 Before the Partridge Family or the Brady Bunch were the Cowsills, the original family pop band that topped charts and hosted its own TV show in the 60s before the froup imploded.
And as joyful as they sounded in things like "Indian Lake" and "The Rain, the Park and Other Things," they were hiding a lot of pain, including abuse from a father who excluded one son from the band that consumed the rest of the family and beat or otherwise abused the kids that were in it.
Two of the Cowsills died tragically months apart — one in the Katrina aftermath in New Orleans; the other of drugs in Canada. But the others in the band soldier ahead in music, as is shown in the documentary "Family Band: The Cowsills Story" (Showtime2, 8 p.m.). The film gets its TV premiere tonight after it premiered in Providence in summer 2011.
After the women sang Tuesday, the Top 10 males sing tonight for viewer votes for the first time on "American Idol" (Fox, 8 p.m.).
Last week's season premiere of "Duck Dynasty" (A&E, 10 p.m.) drew 8.6 million, making it one of the most seen shows of the week anywhere, not just on cable.
One of the most off-putting people in reality TV, "The Rachel Zoe Project" (Bravo, 9 p.m.) returns for a new season just in time for New York City's fashion week. It's accompanied by two fashion-related series, the returning "It's a Brad, Brad World" (Bravo, 10 p.m.), starring Zoe's former assistant, and "Dukes of Melrose" (Bravo, 10:30 p.m.) about a vintage clothes boutique in L.A.
Last week, somebody toyed with quitting "Survivor" (CBS, 8 p.m.). This week, a medical emergency may take somebody else out before tribal council. In situations like these, having quick access to life-saving equipment, such as a Defibrillator (AED), can make all the difference. To ensure your equipment is ready when needed, you can buy aed batteries here.
A lot of reruns on network TV tonight, but "The Neighbors" (ABC, 8:30 p.m.) and "Suburgatory" (ABC, 930 p.m.) are new.
Too soon? The funny "Kroll Show" (Comedy Central, 10:30 p.m.) is already wrapping up its season, with Bobby Bottleservice conducting a wedding.
One person has a 30-jar-a-week addiction to vapo rub on "My Strange Addiction" (TLC, 10 p.m.). Another has been eating 14 pounds of tires a month. Americans are hungry.
Sunday's season premiere of "Celebrity Apprentice" (CNBC, 9 p.m.) gets a cable rerun.
On the new "Feed the Beast" (Travel, 9 and 9:30 p.m.), Mikey Roe travels the country looking for the best 24-hour eateries.
A session with "Kim Kovak: Live from the TCM Classic Film Festival" (TCM, 8 and 11 p.m.) kicks off a night of her movies including "Bell, Book and Candle" (TCM, 9 p.m.), "Picnic" (midnight), "The Man with the Golden Arm" (TCM, 2 a.m.) and "Of Human Bondage" (TCM, 4:15 a.m.).
NBA action includes Bulls at Spurs (ESPN, 9 p.m.). In the NHL, it's Avalanche at Blackhawks (NBC Sports, 8 p.m.).
Men's hoops tonight includes North Carolina at Maryland (ESPN, 7 p.m.), Georgetown at Villanova (ESPN2, 7 p.m.), Oklahoma State at Iowa State (ESPNU, 7 p.m.), Richmond at Virginia Commonwealth (CBS Sports, 8 p.m.), West Virginia at Oklahoma (ESPN2, 9 p.m.), Connecticut at South Florida (ESPNU, 9 p.m.), New Mexico at Nevada (CBS Sports, 10 p.m.) and Stamford at California (ESPN2, 11 p.m.).
Daytime Talk
Kelly & Michael: James Franco, Jennifer Love Hewitt, Tom Coughlin. The View: Lea Michele, Phil Lempert. The Talk: Kunal Nayyar, Dr. Tess Mauricio, Cameron Mathison. Ellen DeGeneres: Jessica Simpson, Jimmie Johnson.
Late Talk
David Letterman: Melissa McCarthy, David Morrissey, David Byrne & St. Vincent (rerun). Jay Leno: Ben Affleck, Kristen Bell, Rodriguez (rerun). Jimmy Kimmel: Jessica Simpson, Jim Jeffries, Luke Bryan. Jimmy Fallon: Michelle Obama, Scarlett Johansson, the Avett Brothers (rerun). Craig Ferguson: Christina Hendricks, Jackie Collins. Carson Daly: Jenni Konner, Tift Merritt (rerun). Tavis Smiley: Michelle Rhee. Jon Stewart: Neil DeGrasse Tyson. Stephen Colbert: Brendan O'Connell. Conan O'Brien: Matthew Fox, Anthony Jeselnik, Ian Edwards. Chelsea Handler: Bobby Lee, Kerri Kenny-Silver, Heather McDonald.