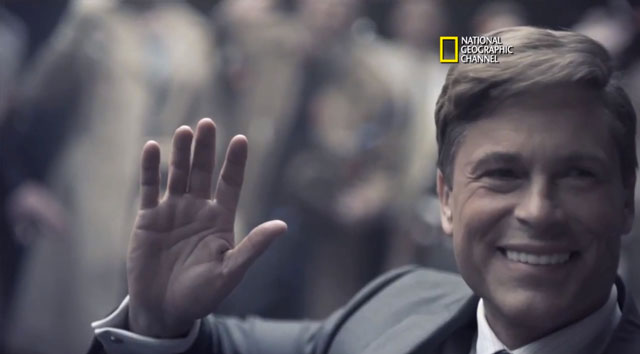 For whatever reason, nobody had asked Rob Lowe to play JFK before, despite his political experience, from "The West Wing" to "Parks and Recreation," and his middle aged good looks.
To take on the president in the adaptation of "Killing Kennedy" (National Geographic, 9 p.m.), he has to add a set of choppers from out of "Toddlers & Tiaras" and a bob of Kennedy forelocks. But he tries to be subtle with the Boston accent. Lowe has nailed one Kennedy pose, the pensive one looking down, as in the official White House portrait. So he's looking down a lot.
Until he gets to Dallas, of course, when his looking up meets the mean gaze of Lee Harvey Oswald, played here by Will Rothhaar so convincingly it might wreck the rest of his career (who's going to hire him for a tom com after playing the country's most hated man?). Ginnifer Goodwin is more effective than you'd expect as Jackie; her smile and her acting help nail the characterization. And Michelle Trachtenberg finds a use for the Russian she knows by playing Marina Oswald.
Lots of care is taken in approximating the scenes, though practically none of it was filmed in Dallas. And while there's little surprise in how it unfurls, it will still reign as the best, most attractive re-enactment of the event on tis 50th anniversary — and there will still be a lot of them.
(To see the interview I did with the director for the Hartford Courant, go here; for an interview I did with Lowe for Salon, go here).
Former pro basketball player Ben Tankard, now a figure in gospel circle has his family life covered in the new series "Thicker Than Water" (Bravo, 9 p.m.).It comes after a new episode of "The Real Housewives of Atlanta" (Bravo, 8 p.m.).
Celebrity coach Marki Costello is featured on the new series "The Drama Queen" (E!, 11 p.m.).
"The Amazing Race" (CBS, 8:30 p.m.) reaches Abu Dhabi and there's a formula car race.
Among the honorees of The Britannia Awards 2013 (BBC America, 8 p.m.) are George Clooney, Benedict Cumberbatch, Idris Elba, Kathryn Bigelow, Sasha baron Cohen and Ben Kingsley.
Looks like it will be a strong episode for Saul on "Homeland" (Showtime, 9 p.m.) as he confronts the Iranian defense official.
Nucky has to stop a heroin infusion in his Florida imports on "Boardwalk Empire" (HBO, 9 p.m.).
Kenny Powers is rushing the Christmas season, too, on "Eastbound & Down" (HBO, 10  p.m.).
Anthony Bordain travels to what he calls the greatest of American cities, Detroit on "Parts Unknown" (CNN, 9 p.m.).
Stuart finds a great place to meet women — a wedding — until he becomes unhappy with the seating chart, on a new "Hello Ladies" (HBO, 10 p.m.).
There ought to be some slick apologies on "60 Minutes" (CBS, 7:30 p.m.) over last week's Benghazi report.
It's Dallas at New Orleans in Sunday Night Football (NBC, 8:20 p.m.).
Rock musicals play on Sundance tonight with "Tommy" (5:15 p.m.), "Jesus Christ Superstar" (7:45 p.m.) and "Amadeus" (10 p.m.).
For the season finale of "Alaskan Women Looking for Love" (TLC, 10 p.m.), the women return to Kodiak  with their new guy friends.
Sunday Talk
ABC: New Jersey Gov. Chris Christie, Texas Gov. Rick Perry, Sen. Robert Menendez, author John Heilemann. CBS: Christie, former Defense Sec. Leon Panetta. NBC: Secretary of State John Kerry, Sen. Bob Corker, Rep. Donna Edward, author Mark Halperin. CNN: Sen. Lindsey graham, Rep. Debbie Wasserman Schultz, Reince Priebus, former Sen. Bob Dole. Fox News: Christie.