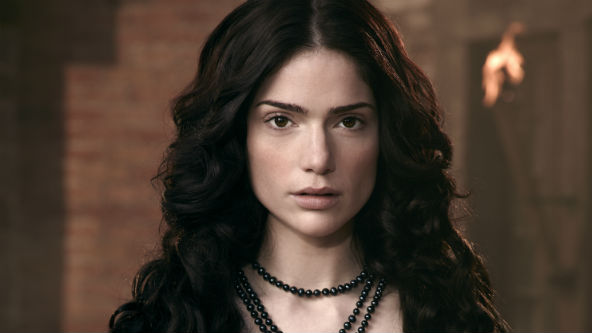 The Chicago "super station" tries its hand at original programming with "Salem" (WGN, 10 p.m.), an overheated return to witch hunting days with the caveat that the witches this time are real. TV series have lately sought to mine pre-Revolutionary times in "Sleepy Hollow" and "Turn," but while it is understood (isn't it?) that the Headless Horseman is fictional, the makers of the reckless "Salem" upturn 300 years of history by making the case that the murderous witch hunters there may have had a point.
Stealing historical names from Cotton Mather to Mary Sibley, it blithely upends the entire point of the witch trial stories — superstitious people can be ruthless and more murderous than those they are preventing — into something quite different — paranoids are right. All in the service of dim, entertainment scare value. So not only dark and dumb, "Salem" is also dangerous.
Katharine McPhee of "American Idol" and "Smash" returns to TV in a romantic Hallmark Hall of Fame movie about two people who dream about one another before they meet after drinking from a charmed fountain. "In My Dreams" (ABC, 9 p.m.) also stars Mike Vogel and JoBeth Williams.
On the actual Hallmark channel, they could have called the latest series "Dead Letter" — it would have been more descriptive of its pacing and acting. Instead the odd new show about a team of post office sleuths who do all they can to deliver mail (obvious a fiction) is stolen from Michelle Obama's favorite song. "Signed, Sealed, Delivered" (Hallmark, 8 p.m.). Eric Mabius of "Ugly Betty" stars as the comically straight-laced head of the division; the network plans to bring in ancient
A second season of "Devious Maids" (Lifetime, 10 p.m.) looks no more promising than the first, with paper-thin soap opera stories undermined at every turn by near racism of stories dealing with largely Latin maids. It's the last remnant of "Desperate Housewives" with Marc Cherry writing and Eva Longoria directing. All of its intended pokes at the rich in Beverly Hills seems to backfire.
Joan is put in another awkward situation and Peggy gets a bouquet of flowers on a new "Mad Men" (AMC, 10 p.m.).
"It's the Easter Beagle, Charlie Brown!" (ABC, 7 p.m.) is your Easter animated special.
 An unexpected premiere of the movie "The Way, Way Back" (HBO, 7 p.m.), which stars Steve Carrell, Nat Faxon, Toni Collette and Allison Janney.
It doesn't take dragons for Dany to takeover another kingdom on "Game of Thrones" (HBO, 9 p.m.). And there is some power shifting to be done in Westeros.
The Pied Piper name may be already registered on "Silicon Valley" (HBO, 10 p.m.).
They use hockey blades instead of knives, which probably why they call it "Cutthroat Kitchen" (Food, 9 p.m.). I comes after the initial challenge on "America's Best Cook" (Food, 9 p.m.).
A new comedy special "Tracy Morgan: Bona Fide" (Comedy Central, 10 p.m.) was shot in Brooklyn.
"The Amazing Race" (CBS, 8 p.m.) seems tame against the things the teams on "Naked and Afraid" (Discovery, 8, 9 and 10 p.m.).
The latest person to join the personality-packed CNN is the "Supersize Me" filmmaker. The first episode of "Morgan Spurlock: Inside Man" (CNN, 10 p.m.) explores immortality.
Selina and her team are about to announce her candidacy and finesse a difficult issue on "Veep" (HBO, 10:30 p.m.).
Arnold Schwarzenegger becomes a forest firefighter on the latest chapter of "Years of Living Dangerously" (Showtime, 10 p.m.).
"Nurse Jackie" (Showtime, 9 p.m.) looks for a new connection and Hank adjusts to his new TV writing job on "Californication" (Showtime, 9:30 p.m.).
The expected "Easter Parade" (TCM, 8 p.m.) is paired with another Irving Berlin musical, "Annie Get Your Gun" (10 p.m.).
NBA Playoffs include Dallas at San Antonio (TNT, 1 p.m.), Charlotte at Miami (ABC, 3:30 p.m.), Washington at Chicago (TNT, 7 p.m.) and Portland at Houston (TNT, 9:30 p.m.).
Stanley Cup Playoffs include Philadelphia at Rangers (NBC, noon), Detroit at Boston (NBC, 3 p.m.), Tampa Bay at Montreal (NBC Sports, 7 p.m.) and Los Angeles at San Jose (NBC Sports, 10 p.m.).
Baseball includes Yankees at Tampa Bay (MLB, 1:40 p.m.) and Baltimore at Boston (ESPN, 7 p.m.).
Sunday Talk
ABC: Former Supreme Court Justice JohnPaul Stevens, Rep. Mike McCaul. CBS: Cardinal Timothy Dolan, Massachusetts Gov. Deval Parick. NBC: Ukranian Prime Minister Arsenly Yatsenyuk, Sens. Bob Corker and Chris Murphy, Rep. Debbie Wasserman Schultz. CNN: Sen. John Walsh, Democratic National Committee communications director Mo Elleithee, Republican National Committee communications director Sean Spicer. Iraqi ambassador to the U.S. Lukman fally, Australian ambassador to the U.S. Kim Beazley. Fox News: Cardinal Donald Wuerl, former Sen. Evan Bayh, Russian Ambassador to the U.S. Sergey Kislyak.