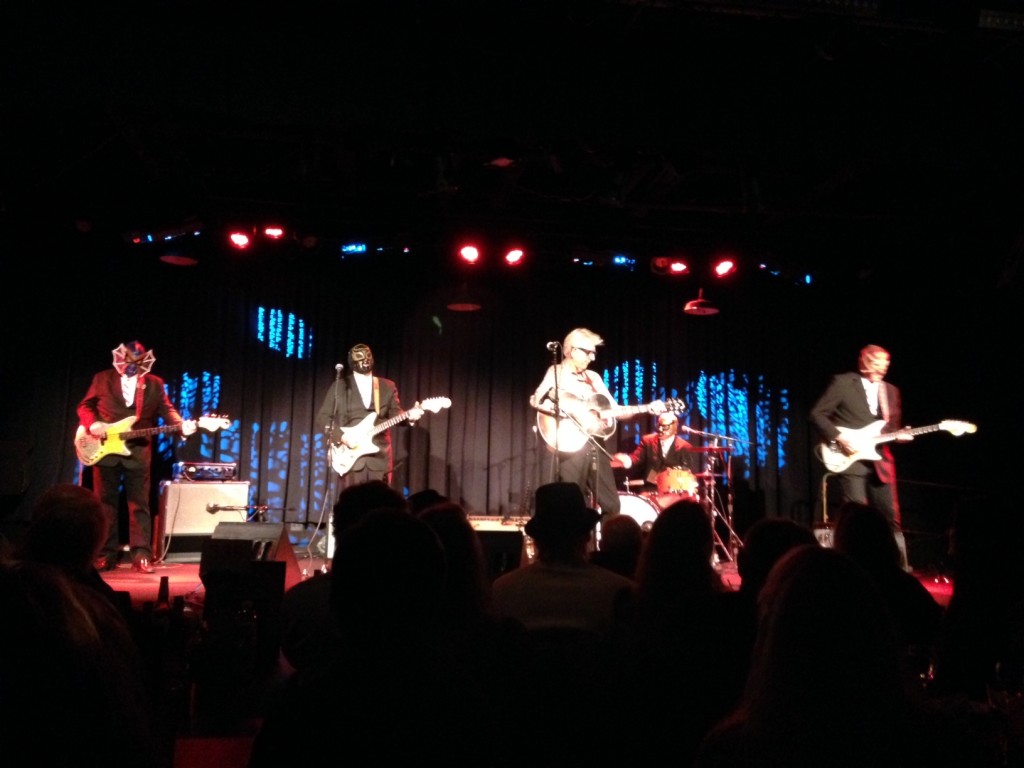 The snow white hair of Nick Lowe is about the only concession to the season in his tasty "Quality Holiday Revue" that played a sold out show at the Birchmere in Alexandria Friday.
Sure, he had some nifty red and green patterned shirts (that he could wear year round) and his super sharp backing band Los Straightjackets had matching candy cane striped ties that hardly took away attention from their trademark Mexican wrestling masks.
But for a holiday show, a refreshing lack of trees, lights, stars, wreaths and unnecessary Santa hats. "Quality Holiday Revue" may have been tongue-in-cheek (and named after his 2013 holiday album "Quality Street") but there was a certain integrity to the show, with holiday songs sprinkled into the set tastefully and not with the blizzard blast used by other entertainers this season. Quality indeed.
And while half his holiday songs are sardonic from the bleak "A Dollar Short of Happy" to the transit problems of "Christmas at the Airport," there is real sentiment in the show, mostly through the death just before the tour started of Ian McLagan, the much loved former Face turned favorite Austin sideman.
McLagan was to have opened the tour, and his face is still on its T-shirts. He's also on the mind of the musicians, from Webb Wilder who was pulled in at the last minute to take the slot, with somewhat mixed emotions and covered the Faces' "My Mind's Eye" in his thoroughly agreeable set.
In the show encore, Los Straightjackets handled the Faces' biggest hit, "Itchycoo Park" instrumentally. And Lowe spoke at length about Mac's legacy and what would have been his insistence that the tour not be canceled. "He was Mr. Show Must Go On," Lowe says.
And so it did, with that angel looking over providing the celestial cover for the season.
Lowe galloped all over his career, from a solo opening "The Rose of England" to a series of rocking songs he might not have done had he not been backed by the twangy Straightjackets — "Seven Nights of Rock," the oldie-sounding "Not Too Long Ago," "Half a Boy and Half a Man," "Cruel to be Kind" and "I Knew the Bride (When She Used to Rock and Roll)."
The wistfulness of his more recordings shown through the inclusion of fine "Long Limbed Girl" and "Rome Wasn't Built in a Day."
His holiday songs sprinkled here and there fit with the others, from "The North Pole Express" to "I Wish It Could Be Christmas Every Day." His solo closing "I Was Born in Bethlehem" is an odd one, from the point of view of baby Jesus with the tune of "If I Only Had a Brain."
It was Los Straightjackets, who have put out their own holiday recordings, who turned in the classic tunes of the season, from a "Sleigh Ride" that began with a "Walk Don't Run" intro, to "Linus and Lucy" (though neither are strictly Christmas songs; especially the latter, which gets the association from its use in "A Charlie Brown Christmas").
The twangy maskers are great at blending songs, and so they did with "Batman" theme, shifting quite naturally into "Wipeout."
As rocking as Lowe was all night, it was the short Straightjackets that motivated a few people up to dance.
Still, it was Lowe with the kind of encore song that is perfect for the season and year round and sounds especially great after a hard week of torture reports, injustice marches and overseas mayhem, "What's So Funny 'Bout Peace Love and Understanding?"