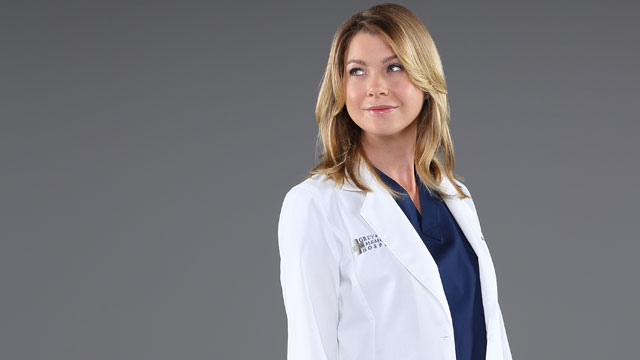 Shondaland lands all at once as all three of the pot warmers from Shonda Rimes' production company return for new seasons tonight, taking over prime time, as they will every Thursday.
The oldest of them, "Grey's Anatomy" (ABC, 8 p.m.), returning for its 12th season, has the chance to be the freshest, since Ellen Pompeo's lead character Meredith Grey can forge a new direction following the death last season of her McDreamy. Now she has roommates. Also, doctors examine their pasts while treating victims of bullying, as Chandra Wilson's Bailey looks to become chief of surgery.
"Scandal" (ABC, 9 p.m.), which follows, resumes where it left off with Olivia and FItz still together somehow. But then she's got to protect a queen's secret in the fifth season start.
And fresh from winning her historic Emmy Sunday, Viola Davis returns to open the second season of "How to Get Away with Murder" (ABC, 10 p.m.), with everyone choosing to ignore Annalise's disappearance.
The epic story of the made-up soft rock band Blue Jean Committee gets its story told in the one hour season finale of "Documentary Now!" (IFC, 10 p.m.).
Thursday night football has Washington at Giants (CBS, 8:25 p.m.).
Pianist Lang Lang joins the New York Philharmonic, conducted by Alan Gilbert for a performance of Grieg's Piano Concerto that is "Live from Lincoln Center" (PBS, 8 p.m., check local listings). The opening gala from the newly renamed David Geffen Hall also includes Beethoven's Seventh Symphony.
So few people watched the premiere of "Scream Queens" (Fox, 8 p.m.) on Tuesday (just 4 million people despite all the hype), they're showing it again in case people just forgot.
Reruns too for "The Flash" (The CW, 8 p.m.) and "Arrow" (The CW, 9 p.m.)
"The Bachelor" and even "Bachelor Pad" are gone, but a new season starts for "Are You the One?" (MTV, 11 p.m.) with 20 singles searching for love in Hawaii.
"Project Runway" (Lifetime, 9 p.m.) creates designed based on Broadway's "Finding Neverland." But its Matthew Morrison doesn't get to be guest judge; model Coco Rocha does.
The month-long Thursday night salute to Susan Hayward concludes with some of her later films from the 1960s and 1970s with "The Marriage-Go-Round" (8 p.m.), "Back Street" (9:45 p.m.), "Valley of the Dolls" (11:45 p.m.), "Stolen Hours" (2 a.m.) and "The Honey Pot" (3:45 a.m.).
Baseball includes White Sox at Yankees (MLB, 7 p.m.) and Cleveland at Minnesota (Fox Sports 1, 8 p.m.).
In game one of the WNBA Western conference finals, it's Phoenix at Minnesota (ESPN2, 8 p.m.).
In college football, it's Cincinnati at Memphis (ESPN, 7:30 p.m.).
Daytime Talk
Kelly & Michael: Kerry Washington, Bill O'Reilly. The View: Will Forte, KingBach & DeStorm Power. Ellen DeGeneres: Viola Davis, Zachary Levi. Wendy WIlliams: Debra Messing, Fetty Wap. The Real: Morris Chestnut. Meredith Vieira: Richard Gere, Prince Lorenzo borghese.
Late Talk
Stephen Colbert: Andrew Sullivan, Maria Shriver, Jim Gaffigan, Archbishop Thomas Wenski, YMCA Jerusalem Youth Chois, the Choir of St. Jean Baptiste. Jimmy Kimmel: Shonda Rhimes, Dave Salmoni, Jill Scott. Jimmy Fallon: Joseph Gordon-Levitt, Chris Hardwick, Big Grams, Micky Dolenz. Seth Meyers: Anne Hathaway, Ben McKenzie, Francis Garcia & Sal Basille, Stephen Perkins. James Corden: Mel Brooks. Carson Daly: Brit Marling, Julia Hart, San Fermin, Douglas Tirola. Tavis Smiley: Dr. Jill Stein. Conan O'Brien: Billy Gardell, Kristen Schaal, Kurt Vile.