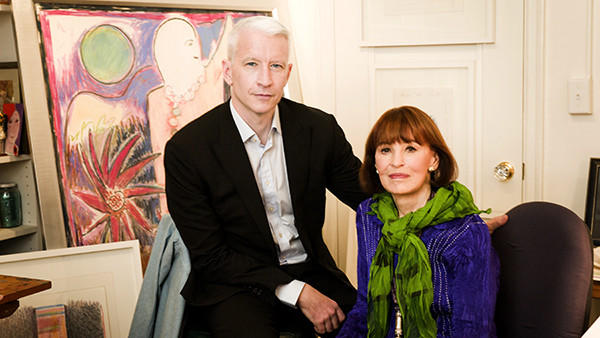 One of the most interesting things about Anderson Cooper is not that he's gay or began his TV career hosting reality competitions like "The Mole," but his lineage.
He's the son of Gloria Vanderbilt, the storied woman of wealth and glamor and some tragedy. It's not something that he brings up or talks about.
More likely he was waiting for the right time. So the master of media addresses it with both a new book and the remarkable filmed interaction between the two by documentarian Liz Garbus, "Nothing Left Unsaid: Gloria Vanderbilt & Anderson Cooper" (HBO, 9 p.m.). .
By now, the son may be more famous than the mother, but that wasn't so for a long time, when "poor little Gloria" was thrust into a custody battle in one of America's richest families when she was a child. A precocious teen, she was dating Errol Flynn in Hollywood and would marry Leopold Stokowski and Sidney Lumet before marrying the Wyatt Cooper, a union from which Anderson is the only surviving son.
Cooper has interviewed a number of fascinating people, but for him interviewing his mom "was kind of surreal," he told reporters at the TV Critics Association winter press tour earlier this year.
"I mean, we all have relationships with our parents that change as they age and we age, but oftentimes, we don't change the way we talk to our parents when we're with our parents. And I think that's kind of one of the messages of this film.
"This idea of leaving nothing left unsaid is something that I feel really strongly about. My dad died when I was 10. My mom's father died when she was 15 months old. We both grew up with this fantasy that there was a letter out there somewhere an idle letter from my dad somewhere out there, and that she had a letter from her father out there. And both of us still kind of secretly believe that letter will someday show up."
"It will," said Vanderbilt, now 92. "It's still going to show up. I absolutely guarantee it."
"My mom, you know, has been in the public eye really longer than anybody else alive," Cooper says. "Her birth made headlines. When she was 10, she was the subject of a really extraordinary custody battle. It was called "the trial of the century" long before the O.J. Simpson trial was called "the trial of the century." And her entire life has played out on a very brightly lit stage, and I think this film is the idea really behind it is: you may know her name, but you really don't know who she is or what her story is."
For the book and film, they went through archives, which he compared to the troves of Xanadu in "Citizen Kane."
"My mom has had a storage unit like that for my entire life and I'm 48 years old," Cooper says. "I finally decided about 10 years ago to start going through this, and I have been discovering stuff over the last 10 years, all of which we shared with Liz. And one box you would open up, and it would be, you know, a box of letters, of amazing letters from Howard Hughes, who my mom dated when he was, like, 35 and my mom was 17.
"But and then you'd open up another box, and it would be a box of Cornflakes from 1953 that somehow, in a move, got packed away and my mom has been paying to store all these years," he adds.
"This sounds like that show 'The Hoarders,'" Vanderbilt says.
"She comes from a time and a place that in many ways doesn't exist any longer," Cooper says. "The world that she was born into in February 1924 was this incredible world. She was born into this family which, on paper, was this incredibly wealthy family, one of the richest families in America, living in palaces, really, in these enormous mansions that they called cottages, but which are today open to the public, and they're just extraordinary structures. And that kind of world, that kind of lifestyle just doesn't exist.
"And I think many of the people who my mom has encountered along the way and have been involved with along the way, they're no longer alive in many cases, and their stories aren't really remembered. And I think that's one of the things that, as a reporter, I'm fascinated by, is kind of shining a light on forgotten stories or on people whose stories are no longer being told.
"I remember, as a kid," he says, "watching movies with my mom on the watching old movies with my mom and turning to her and be like, 'Did you ever know Errol Flynn?' And she'd be like, 'Oh, yes.'
"And that would be it. She wouldn't say anything more. But I always knew there was a lot more there, and now I learned, you know, my mom and Errol Flynn, when my mom was 17. I mean she's had a much more interesting life than me."