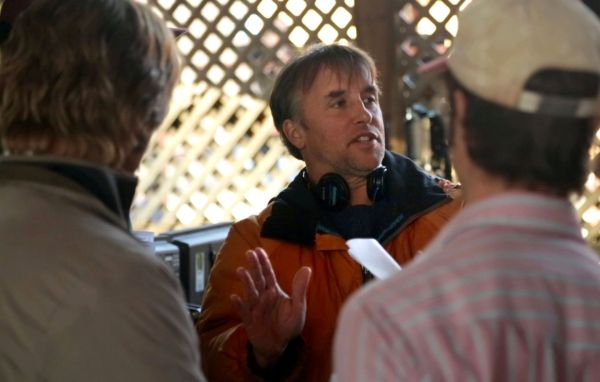 The venerable PBS showcase "American Masters" (PBS, 9 p.m., check local listings) steps away tonight from the kind of old time cultural heroes they usually profile, from Sammy Davis, Ella Fitzgerald and Edgar Allan Poe (to name three to be featured this season) to a more unusual contemporary figure in the midst of his career.
What makes filmmaker Richard Linklater stand out as a subject is his own ambivalence to anything approaching being called a "Master." He is the man who made his career, after all, with "Slacker," a famously cheaply made indie that not only singlehandedly created a film genre but helped establish the Austin, Texas, film community from which he hails.
Indeed, it is another king of Austin, Louis Black, co-founder of the Austin Chronicle, original board member of the Austin Film Society and creator of SXSW, for whom this biography is his co-directing debut (working with Karen Bernstein, whose past subjects on "American Masters" have included Lou Reed and Ella Fitzgerald).
As such, there is a casual approach to their conversations, even as we march through the number of films he's made (and jot down a couple that got away that seem worth looking up, from the animated "Waking Life" to the period "Me and Orson Welles").
In the bio film, Linkater appears half-interested when he's presented with a sheaf of his writing going back to high school, or piles of early reviews. but he's more interested in where he's going and things still to discover.
Having made his name with 1990's "Slacker," he was immediately presented with Hollywood money to produce his second  in 1993 — the terrific 1976 period piece "Dazed and Confused," which besides being entertaining cast a number of actors who would become stars including Matthew McConaughey and Parker Posey.
Casting, and his relations with actors, from whom he sought input on their characters, is a hallmark of Linklater's work, as revealed in interviews with McConaughey, Ethan Hawke and Jack Black, who appeared in one of his most commercially successful films, "School of Rock" (which he originally turned down) and in another one of those ones that got away, that need now have to be tracked down, "Bernie." (Too bad PBS can't follow a fine overview with a series of his films, as Turner Classic Movies might).
It's clear in his portrait that his clever approach to time in "Boyhood" which marvelously tracked the progression of one boy from age 6 to 17 had its roots in the romantic trilogy he made with Hawke and July Delpy, "Before Sunrise," "Before Sunset" and "Before Midnight." that he made in 1993, 2004 and 2013, checking into their relationship over time.
Discussing his work, it's clear Linklater is no slacker himself. He's passionate about his craft and unfailingly thoughtful and unpretentious in considering his work to Black in the bio film. But he's also still thinking it through. More likely, he's too busy, making film after film, to worry about such accolades.
Much of the interviews seem to be done about the time, and on the set of, his 2014 film, "Everybody Wants Some!!" which he made immediately after the 12-year triumph of "Boyhood."
But he's made two films sine then, both in Pittsburgh, where he talked to reporters at the TV Critics Association summer press tour last month on his 57th birthday.
There I asked him about his push and pull relationship with Hollywood, which sometimes ignored him and sometimes came calling.
"Hollywood's never been one thing to me," Linklater said. "It's the movie industry, and that takes a lot of different forms. There's an Indie film world. There's Hollywood. There's a lot of blurry lines. There's an international film community. And I'm a part of all these, so I'm really kind of a proud member of the film community that can be shifting things to all of us.
"So it's no one thing. I think I've made what would be considered probably five studio films. But is 'Dazed and Confused' a studio? Most people think it's a really Indie film, but it was funded by Universal, so that's a studio film. 'School of Rock''s a studio film, right? My new film 'Last Flag Flying' [due in November] is Amazon Studios, but it feels pretty indie do me."
Sometimes that's his appeal to Hollywood, he said.
"I think studios and larger films want to have indie spirits, so I think they see the advantage in that. And the studios have their own game, you know. They've figured it out. They're making really huge movies that make a lot of money. And I think that satisfies that on a commercial basis, and I think there's room for a lot of different kind of movies
I noted that he was unusually honest, looking back at his films, of what worked and what didn't.
"You know, I've made a lot of different kind of movies," Linklater said. "I have my own relation with each film, and a lot of it's just personal, so you accept them all. And I do feel like that I've achieved what I set out to do in all of them, largely. Or you accept that you did give it your best effort, regardless of what anybody else might think."
That's the reason, Bernstein said, she wanted to do the film for "American Masters."
"We didn't want to make a film about Rick when he was 86 years old," she said. "We wanted to do something that was very much alive and very much happening in present."
So it lays the ground for an "American Masters" portrait that, like "Before Sunrise," would have a sequel down the road. Said Bernstein: "Perhaps Richard could be revisited, you know, 20 years later."
This review also appears on TV Worth Watching.