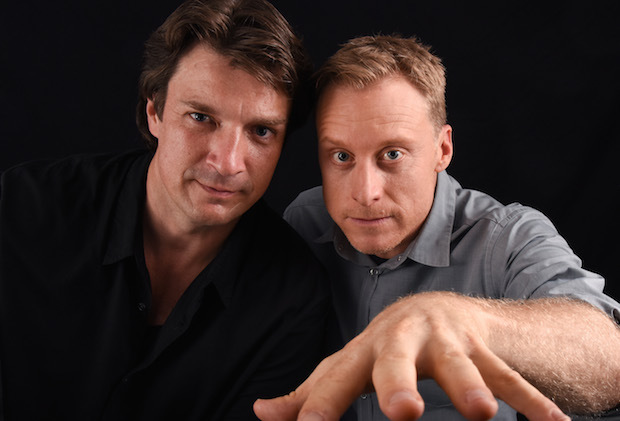 The web series "Con Man" (Syfy, 10 p.m.) migrates to cable, starring Alan Tudyk portraying a washed-up former sci-fi celebrity who can only revisit his glory days at comic conventions. It's loosely based on his experiences on "Firefly," so it also features Nathan Fillion, who was also on "Firefly," playing a guy who co-starred on the fictional show "Spectrum" but got a job as a TV detective. Tricia Helfer, Sean Astin, Amy Acker, Lou Ferrigno and Will Wheaton also pop up in th two seasons, which Syfy has picked up.
The entire first season plays tonight over 11 episodes, and when it's over Tudyk and Fillion are back to star in the "Firefly" movie sequel, "Serenity" (Syfy, 1:25 a.m.).
College football takes over three broadcast network primetime slots: Oklahoma at Ohio State (ABC, 7:30 p.m.), Georgia at Notre Dame (NBC, 7:30 p.m.) and Stanford at Southern California (Fox, 8:30 p.m.), topping a huge roster of games (listed below).
Pet-owning has kept some people in Florida from evacuating this weekend's hurricane. What happened in Texas? Animal Planet does a quick turnaround with "Surviving Harvey: Animals After the Storm" (Animal Planet, 8 p.m.).
The Oscar-nominated "Hidden Figures" (HBO, 8 p.m.) makes its premium cable debut as does "The Edge of Seventeen" (Showtime, 9 p.m.) with Hailee Seinfeld and Woody Harrelson.
Cameron buys a plot of land to re-center on "Halt and Catch Fire" (AMC, 9 p.m.).
A cargo ship with 27 crew members are among the "Mysteries of the Missing" (Science, 10 p.m.).
"A Killing in Amish Country" (Investigation Discovery, 8 p.m.) is a series.
"Oprah's Master Class" (OWN, 10 p.m.) talks with LL Cool J.
"Ghost Adventures: Artifacts" (Travel, 9 p.m.) looks into the cases of Natalie Wood and Dr. Kevorkian.
The second part of the three part reunion of "90 Day Fiance" (TLC, 10 p.m.) is run.
On the made-for-TV "A Lover Betrayed" (Lifetime Movie Network, 8 p.m.) a women begins dating five years after her son was killed.
"The Reagan Show" (CNN, 10 p.m.) gets a replay.
An 18-year-old is among the "Swamp Murders" (Investigation Discovery, 10 p.m.).
Two brothers ape are inspired by an episode of "The Sopranos" on "CopyCat Killers" (Reelz, 10 p.m.).
A demon in West Virginia gets attention from "The Dead Files" (Travel, 10 p.m.).
"Live PD" (A&E, 9 p.m.) isn't really live; it's a replay from June.
Three wildly different films directed by Peter Yates are on Turner Classic Movies tonight — "Bullitt" (8 p.m.), "For Pete's Sake" (10 p.m.) and "The Dresser" (11:45 p.m.). Then comes two unusual animated horror films from 1973, the X-rated "Belladonna of Sadness" (TCM, 2 a.m.) and "Fantastic Planet" (TCM, 3:30 a.m.).
It's Sloane Stephens vs. Madison Keys in the women's final of the U.S. Open (ESPN, 4 p.m.).
College football abounds of course, starting with these games at noon: Buffalo at Army (CBS Sports), Cincinnati at Michigan (ABC), Louisville at North Carolina (ESPN), Northwestern at Duke (ESPNU) and Iowa at Iowa State (ESPN2).
The games at 3:30 p.m. include Indiana at Virginia (ESPNU), Tulane at Navy (CBS Sports), Fresno State at Alabama (ESPN2), Pittsburgh at Penn State (ABC) and TCU at Arkansas (CBS).
Later comes Nebraska at Oregon (Fox, 4:30 p.m.), Auburn at Clemson (ESPN, 7 p.m.), South Carolina at Missouri (ESPN2, 7 p.m.), Nicholls at Texas A&M (ESPNU, 7 p.m.), Mississippi State at Louisiana Tech (CBS Sports, 7:30 p.m.), Minnesota at Oregon State (Fox Sports 1, 10 p.m.), Utah at BYU (ESPN2, 10:15 p.m.), Boise State at Washington State (ESPN, 10:30 p.m.) and Houston at Arizona (ESPNU, 10:30 p.m.).
Baseball includes Milwaukee at Chicago Cubs (MLB, 4 p.m.), Tampa Bay at Boston (MLB, 7 p.m.) and Colorado at Dodgers (MLB, 10 p.m.).
NASCAR has its Federated Auto Parts 400 (NBC Sports, 7:30 p.m.).
"Austin City Limits" (PBS, 11 p.m., check local listings) replays the 2014 Hall of Fame special including Willie Nelson, Lyle Lovett, Emmylou Harris, Buddy Guy and Double Trouble.
"Saturday Night Live" (NBC, 11:30 p.m.) is the rerun with Kristen Stewart and Alessia Cara.