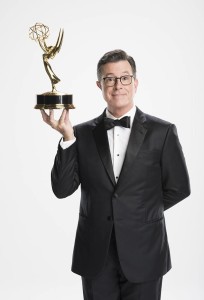 Stephen Colbert hosts The 69th Primetime Emmy Awards (CBS, 8 p.m.). Oddly, "Westworld" and "Saturday Night Live" come into the competition with the most nominations — 22 each and so far they've each won five at the Creative Arts Emmys — "Stranger Things" also got five so far. HBO again has the most nominations with 111, but Netflix isn't far behind with 91. Broadcast networks have pretty much taken themselves out of the running, which makes you wonder how much longer they'll keep broadcasting it until it moves to one of the more winning cable networks.
Two-time winner "Game of Thrones" isn't up for anything because of when its season was released, so the best drama is slot is up for grabs. Then there are dresses, starting with "Live from the Red Carpet" (E!, 6 p.m.)
Guillermo del Toro's series comes to an end after four seasons, with Quinlan devising a desperate plan and humankind takes its last shot against "The Strain" (FX, 10 p.m.).
The second and final season of "Vice Principals" (HBO, 10:30 p.m.) begins with Danny McBride's character Neal Gamby determined to figure out who shot him at the end of season one. He returns to school from his injuries a hero, but he's not quite principal — his colleague played by Walton Goggins is.
The second season of "El Chapo" (Univision, 10 p.m.) begins with something unusual for the network — English subtitles.  As with the first season, the co-production with Netflix will run on that streaming service later.
Sunday Night Football has Green Bay at Atlanta (NBC, 8:20 p.m.). Earlier games include Philadelphia at Kansas City (Fox, 1 p.m), Cleveland at Baltimore (CBS, 1 p.m.) and Washington at Rams (Fox, 4:25 p.m.).
Jamie and Claire are still separated on "Outlander" (Starz, 8 p.m.).
Vincent moves to Times Square to be closer to work on "The Deuce" (HGO, 9 p.m.).
More pointless television from "TMZ" founder Harvey Levin: "Objectified" (Fox News, 8 p.m.) in which he interviews people about their favorite objects. First up is Judge Judy.
It's Thanksgiving on "Shahs of Sunset" (Bravo, 8 p.m.).
Scott and Malia prepare for battle on "Teen Wolf" (TV, 8 p.m.).
A mission is launched to replenish the ranchers water supply on "Fear the Walking Dead" (AMC, 9 p.m.). I'm not sure it warrants further discussion, but there is a scheduled "Talking Dead" (AMC, 10 p.m.).
Tell me if you heard this plot before: A human space ship is captured and some members are sent to a planet's human zoo! It happens again on  "The Orville" (Fox, 8 p.m.) in its second episode.
"My Giant Life" (TLC, 10 p.m.) begins its third season, featuring moderately tall women.
"Life of Kylie" (E1, 9 p.m.) has a first season finale during a trip to Peru.
Abby makes a shocking discovery on "Ray Donovan" (Showtime, 9 p.m.).
Sean and Beverly work on a new show for Matt on "Episodes" (Showtime, 10 p.m.).
A storm approaches on "The Last Ship" (TNT, 9 p.m.).
Cam plans a fund-raiser on "Survivor's Remorse" (Starz, 10 p.m.).
Spencer's plan to get a team in Vegas hits a snag on "Ballers" (HBO, 10 p.m.).
"Dice" (Showtime, 10:30 p.m.) gets involved with politics.
There's new stuff tonight from "Rick & Morty" (Cartoon Network, 11:30 p.m.) and "Tim & Eric's Bedtime Stories" (Cartoon Network, 12:15 a.m.).
Hencha's mother comes to town on "WAGS Miami" (E!, 10 p.m.).
Otto goes under the knife on "Alaska: The Last Frontier" (Discovery, 8 p.m.).
"The Great Food Truck Race" (Food, 9 p.m.) reaches Athens, Ga.
It's Leslie Jones vs. Willie Garson and Billy Gardell vs. Kate Flannery on "The $100,000 Pyramid" (ABC, 10 p.m.).
Shoes that switch from heels to flats are pitched on "Steve Harvey's Funderdome" (ABC, 9 p.m.).
Mick and Thomas debate about the land trust on "Chesapeake Shores" (Hallmark, 9 p.m.).
The epic "Giant" (TCM, 8 p.m.) is followed by the 2003 documentary "Return to 'Giant'" (TCM, 11:30 p.m.). Then comes some of the lesser known Mack Sennett silent comedy stars in films including "Don't Weaken!" (TCM, 12:45 a.m.), "Bright Eyes" (TCM, 12:45 a.m.) and "'Curses,' They Remarked" (TCM, 1:45 a.m.). They are followed by Roberto Rossellini's "Socrates" (TCM, 2:30 a.m.).
The third games in the WNBA playoff semifinals are planed, with Minnesota at Washington (ESPN, 3 p.m.) and Los Angeles at Phoenix (ESPN, 5 p.m.).
Canadian football has Ottawa at Montreal (ESPN2, 1 p.m.).
Baseball includes St. Louis at Cubs (TBS, 2 p.m.) and Dodgers at Washington (ESPN, 8 p.m.).
Final rounds are played in the Evian Championship (Golf, 8 a.m.; NBC, noon) and the BMW Championship (Golf, noon; NBC, 2 p.m.).
Sunday Talk
ABC: British Prime Minister Theresa May, national security adviser H.R. McMaster, Rep. Adam Schiff. CBS: Secretary of State Rex Tillerson, Sen. John McCain. NBC: Sens. Bernie Sanders and Tom Cotton, former New York Mayor Michael Bloomberg. CNN: Nikki Haley, U.S. ambassador to the United Nations, Sen. Dianne Feinstein. Fox News: McMaster, Sens. Dick Durbin and Roy Blunt.