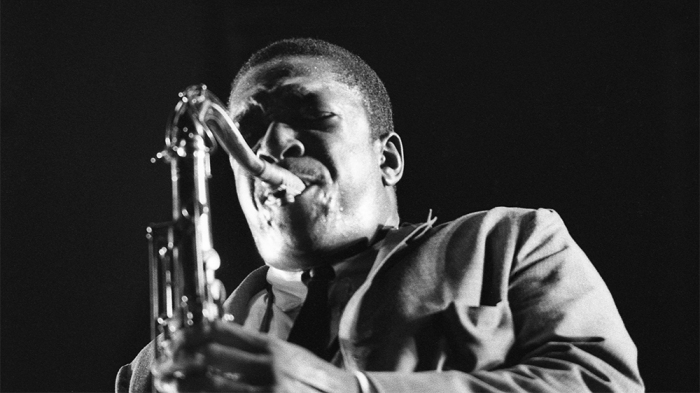 "Independent Lens" (PBS, 10 p.m., check local listings) kicks off its 16th season with what would be a perfect "American Masters." The absorbing and uplifting biography of jazz giant John Coltrane by director John Scheinfeld could fit as any well-done public television biography.
But this one has the advantage of Coltrane's sublime and groundbreaking saxophone sound. Working with the family of the musician, there are a lot of revealing home movie and archival footage and the words of Coltrane — from interviews or writings — are spoken with cool authority by Denzel Washington.
A sideman to Miles Davis and Thelonious Monk, the Southern-born Coltrane grew to create his own signature sound and approach to jazz. So it didn't take much to get top musicians on board to comment on the work and in some cases, their working with him, from McCoy Tyner to Sonny Rollins. But also eager to chime in on his influence are players from Waye Shorter to Kasami Washington to the ever quotable Wynton Marsalis. Also joining in, Carlos Santana, the rapper Common and a sax player who is also a former president, Bill Clinton.
There is pain in some Coltrane work, but just as often ecstasy and joy. He had his demons and he lost some jobs along the way. But throughout, it's clear through the film that he was forging his own path through jazz to his own style of communication.
Jazz is not often presented or even introduced on television; bio films are full of cliches. It's amazing though, that in this 50th year since the death of 'Trane at 40, there hasn't been a filmed biography of any type until now.
That may be in part because there is virtually no recordings of him speaking, director Scheinfeld told reporters at the TV Critics Association summer press tour.
Coltrane, during his lifetime, did no television interviews. He only did a handful of radio interviews, and the sound wasn't good enough for us to use. But I wanted him to have a real vibrant presence in the film beyond just the performance clips. So, happily, he had done a lot of print interviews during his life, and I took extracts from those and peppered them throughout the film to illuminate what he might have been thinking or feeling on his life or career. So it wasn't narration, particularly. It was sort of his soul speaking to his life and his career. And then because I am a relentlessly optimistic person, I decided I wanted a movie star to read them."
Part of it was that it would be easier to market a film with a famous narrator. But, he added, "you also want someone who will bring him alive as a person."
Washington was at the top of a wish list, and once he was contacted he got back in just a few days. A Coltrane enthusiast, he was happy to be involved. And he was perfect for the part, Scheinfeld says.
"Everybody I met that knew Coltrane described him to me as a man of quiet strength, he says. "And if you think about the characters Denzel plays on screen, most of them he is not a yeller. He is not a screamer. He is a man of quiet strength. And I think he really, truly elevated the film by taking that approach."
As for the wide diversity of interview subjects, Schenfeld says, he was after "different voices, different perspectives, to help bring the artist alive. Because that was really our goal with this picture — to bring him alive as a three dimensional human being, beyond just the serious artist you see on the album covers."
He divided his wish list into four categories. First were those who worked with him, he says, "so we have Sonny Rollins, Benny Golson, Jimmy Green, Reggie Workman, and Wayne Shorter."
He wanted family members, he says "so we were lucky enough to get Michelle [Coltrane] and his other stepdaughter, Antonia, and his sons, Ravi, and Oran."
For artists that were influenced by him, he talked to John Densmore of the Doors, Carlos Santana and the jazz saxophonist Kasami Washington, who in the press session called Coltrane "definitely the biggest influence in my music.
"He is one of those musicians that his music comes from such a depth, that it takes a long time to really absorb it. So it can kind of become a lifelong journey, you know, just experiencing his music," Washington says. "I have records of his that I've listened to for decades at this point, and I still hear something new every time.
"And he was always so true to his artistry," he says. "Throughout his career, his music changes, but his soul is so deep in it. You can always hear him in it. Even when the music changes the sound, the approach of the band, everything changes, but you can kind of hear his core and it's really inspiring. He is a really inspiring musician, because there aren't many artists of that level that I've ever known."
Scheinfeld says he always likes to throw a wild card in his documentaries, "where people like you will look at you and say, ;What the heck are they doing in this film?' So we had Cornel West, who I wanted initially, just to speak as a cultural historian. Imagine my surprise when he showed up for the interview and he is an obsessed Coltrane fan? He knew recording dates, he knew studios. He knew everything. That was just great."
The bigger surprise in the film may be Clinton. "It isn't just that he played the saxophone on Arsenio Hall," Scheinfeld says of the choice. "He is a student of jazz, and passionate about culturing, and he showed up, and he is as charismatic as you hear. He was passionate, he was thoughtful, he was eloquent, he was knowledgeable. Everything a president should be."
And he was happy to do it, the director says. "His chief of staff said to me, 'He could sit back and talk about something he loved, rather than his wife's campaign or world hunger,' so it was great."
Following its premiere on "Independent Lens" tonight "Chasing Trane" will be available for viewing online at pbs.org/independentlens/