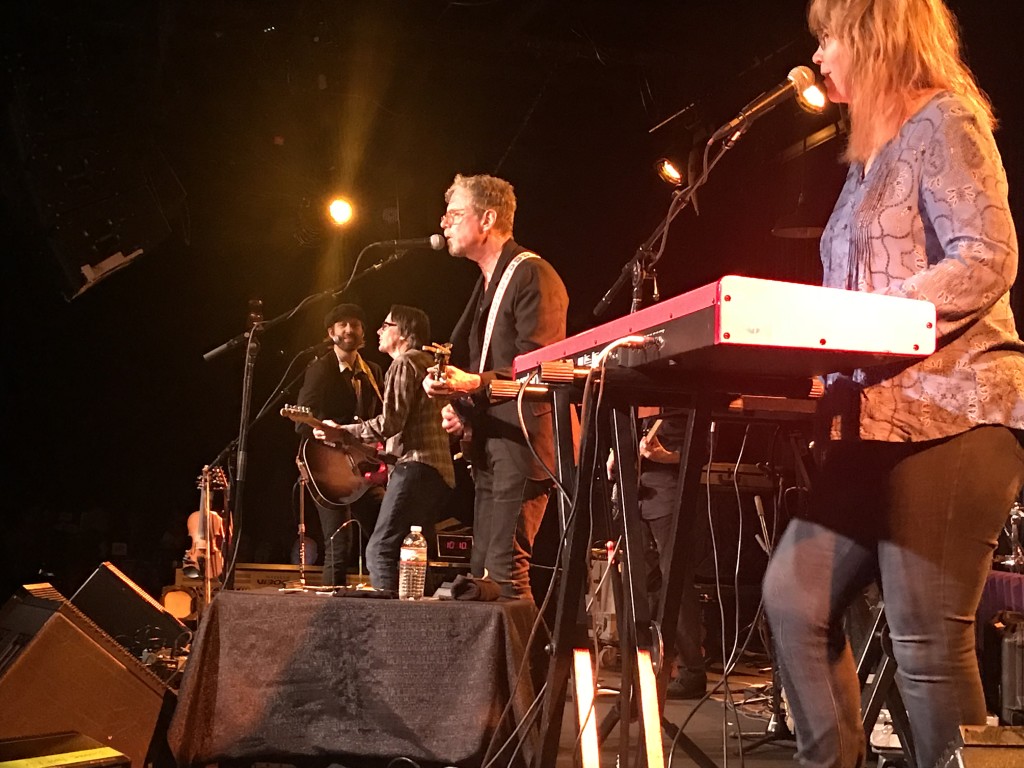 Talk about rainy day music.
The last licks of Hurricane Michael were blowing rain into Virginia the soaking night of the Jayhawks' return to The Birchmere.
And it was the band's 15 year old album Rainy Day Music that dominated the generous 24-song show. Not just because it contains a lot of the band's strongest tracks, such as "Stumbling Through the Dark," "All the Right Reasons," "Tailspin" and "Save It for the Rainy Day."
But also it was heard a lot because guitarist Stephen McCarthy had driven up from Richmond to join them on several songs. He was with the band right around that era, and the more twangy style from the former Long Ryders guitarist lent a more country bent to the show — though he only brought along his electric, not his steel guitar.
Still, the combination of Louris on acoustic, newest member John Jackson on mandolin and McCarthy on electric made a strong stringed front — just as the combination of Louris, keyboardist Karen Grotberg and drummer Tim O'Reagan on vocals created ringing harmonies.
The country slant had Louris surprise Grotberg by suggesting  the straight country cover they occasionally do, "I'm Down to My Last Cigarette" on which she shines both on voice and honky tonk piano. There was country too in the Dixie Chicks and Natalie Maines solo songs that Louris co-wrote that they also recorded for the newest Jayhawks album Back Roads and Abandoned Motels.
The Jayhawks by now are a solid and reliably strong folk-rocking outfit with so much strong material from which to pick, there is nary a wrong move or a lull.
There is also a solid rock center to their live shows with the great electric solos of "Waiting for the Sun."
Because a lot of his cousins from the area had come to the show, O'Reagan was sure to sing a couple of songs, including his "Tampa to Tulsa" (which is also from Rainy Day Music).
Just as the band has shown itself as a reliable backing unit on Ray Davies' last two solo albums, Louris has become an in-demand co-writer of songs and the show had a few of those from new album as well — including "Gonna Be a Darkness" that he co-wrote with Jakob Dylan for "True Blood" (which Louris claims he still hasn't seen).
Louris came out solo to start the encores with "Broken Harpoon." Miranda Mulholland, the fiddler in the duo that opened the show, Harrow Fair, came out to join the band on the final song of the main set, the keening "Blue."
Harrow Fair, for their part, were an unusual twosome. With Andrew Penner on growling vocals, atmospheric guitar and also playing bass drum and hi-hit, one-man-band style, they kick out a lot of rootsy sound, though their voices don't blend that well together.
Having just driven down to the show from their home base of Toronto, they brought a few covers in addition to their originals. One was a wrong headed version of Chris Isaac's "Widked Game." Another  spoke to the rainy conditions as well, Memphis Minnie's "When the Levee Breaks," better known from its Led Zeppelin cover.
The setlist for The Jayhawks Wednesday was:
"I'm Gonna Make You Love Me"
"Ain't No End"
"Quiet Corners & Empty Spaces"
"Waiting for the Sun"
"Everybody Knows"
"Tampa to Tulsa"
"Stumbling Through the Dark"
"Backwards Women"
"Trouble"
"I'd Run Away"
"Bottomless Cup"
"Come Cryin' to Me"
"Haywire"
"A Break in the Clouds"
"All the Right Reasons"
"I'm Down to My Last Cigarette"
"Angeline"
"Gonna Be a Darkness"
"Tailspin"
"Blue"
"Broken Harpoon"
"Need You Tonight"
"Save It for a Rainy Day"
"Until You Came Along"
 Harrow Fair's setlist Wednesday was:
"Told a Lie to My Heart"
"I Will Be Your Man"
"Call to Arms"
"Held Tight"
"Hangnail"
"Wicked Game"
"When the Levee Breaks"
"Bite the Way"