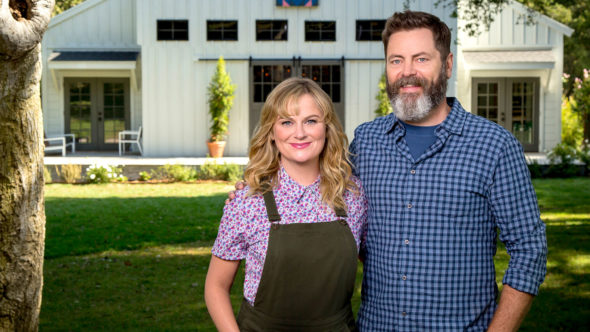 It's a pleasure to have Amy Poehler and Nick Offerman back on network TV, bantering and challenging one another. The former co-stars of "Parks and Recreation" reunite on a show about crafting competitions, "Making It" (NBC, 10 p.m.), in which Offerman is the overqualified woodsman and Poehler doesn't know the first thing about any of the processes used by the contestants, who vary wildly from professional window dressers to grandma hobbyists.
The fact they feel they have to adhere to established creative competition rules — ridiculous timed challenges, winners but also people sent home every week, supportive judges who nonetheless can be brutal at elimination, endless establishing shots — means there's not much ultimately that Poehler and Offerman can do to than make this a better-than-usual TV cliche.
A timely "Frontline" (PBS, 10 p.m., check local listings) looks into the ramifications of Trump administration's policies at the border.
On the new "Hard to Kill" (Discovery, 10 p.m.), Tim Kennedy tries his hands at some of the most dangerous jobs in America, starting with test pilot.
"Casual" (Hulu, streaming) returns for its fourth and final season.
Marcus Samuelson samples Indo-Guyanese cuisine in Queens on "No Passport Required" (PBS, 9 p.m., check local listings). "Bizarre Foods with Andrew Zimmern" (Travel, 9 p.m.) walks the El Camino de Santiago in Spain.
After Sunday's Bruce Willis event, it's time for the master to show how it's done on "Jeff Ross Presents Roast Battle" (Comedy Central, 10 p.m.), which returns for its third season.
The Japanese import "Terrace House: Opening New Doors" (Netflix, streaming) returns for its third season.
"Dark Waters: Murder in the Deep" (Investigation Discovery, 10 p.m.)
Kansas City barbecue masters compete for prize money on "Chopped" (Food, 9 p.m.).
Ms. Watson is evicted on "Teachers" (TV Land, 10:35 p.m.).
Judges keep cutting the fired on "America's Got Talent" (NBC, 8 p.m.).
In the first of a two-part episode of "The 100" (CW, 8 p.m.), Octavia leads her people into war.
On "Animal Kingdom" (TNT, 9 p.m.), Billy pressures the family to give him what he's owed.
Talon goes after a demon before she's ready on "The Outpost" (CW, 9 p.m.).
Liza adjusts to a new normal on "Younger" (TV Land, 10 p.m.).
On "The Bold Type" (Freeform, 8 p.m.), Jane is overwhelmed by fertility planning.
A greenhorn goes overboard on "Deadliest Catch" (Discovery, 9 p.m.).
"Face Off" (Syfy, 9 p.m.) reaches part one of the finale.
Todd is afraid of snakes on "Chrisley Knows Best" (USA, 10:30 p.m.).
A dominatrix goes on a date on "Love Connection" (Fox, 9 p.m.).
On "Rattled" (TLC, 10 p.m.), Autumn is overdue but doesn't want to be induced.
Sisters compete on "Beat Shazam" (Fox, 8 p.m.).
Potty training is a challenge with the quintuplets on the first of two episodes of "Outdaughtered" (TLC, 8 and 9 p.m.).
On "Hit the Floor" (BET, 10 p.m.), the Devil Girls get gritty for charity.
Iggy Azalea visits "Hip-Hop Houdini" (Fuse, 10 p.m.). Bow Wow and Marlon Wayans are on "The Hollywood Puppet Show" (Fuse, 10:30 p.m.).
It's Valentine's Day on "Love Is ___" (OWN, 10 p.m.).
Past players from "Big Brother" and "Survivor" compete on "Fear Factor" (MTV, 10 p.m.).
Turner Classic Movies winds up its 50 States in 50 Movies series on the West Coast and beyond with "Seven Brides from Seven Brothers" (8 p.m.) in Oregon, "It Happened at the World's Fair" (10 p.m.) in Washington, "The Silver Horde" (midnight) in Alaska, "From Here to Eternity" (1:30 a.m.) in Hawaii and "The Graduate" (3:45 a.m.) in California.
Baseball includes Philadelphia at Boston (ESPN, 7 p.m.) and Milwaukee at Dodgers (MLB, 10 p.m.).
WNBA has Chicago at Dallas (NBA, 8 p.m.).
Daytime Talk
Kelly Ripa and Ryan Seacrest: Bob Odenkirk, Uzo Aruba, Passenger, Jenna Dewan. The View: Amy Adams, Chris Messina. The Talk: Cameron Mathison, Paula Abdul, Cheryl Tiegs. Harry Connick: Whoopi Goldberg (rerun). Steve Harvey: Cress Williams (rerun). Ellen DeGeneres: Amy Poehler, Nick Offerman, Tig Notaro, Sterling K. Brown, Brian Tyree Henry (rerun). Wendy Williams: Padma Lakshmi, Chassie Post (rerun). The Real: Marcc Rose, Wavyy Jonez, Amara La Negra (rerun).
Late Talk
Stephen Colbert: Paul Giamatti, Ronda Rousey. Jimmy Kimmel: Christian Slater, Sean Spicer, Dan + Shay. Jimmy Fallon: Bob Odenkirk, Alicia Silverstone, Kenny Chesney. Seth Meyers: Amy Adams, Henry Winkler, Simon Rich, Taylor Gordon. James Corden: Curtis "50 Cent" Jackson, Hayley Attwell, Snow Patrol. Carson Daly: Phoebe Robinson, the Oh Hellos, Ryan Kwanten (rerun). Trevor Noah: Skylar Grey. Conan O'Brien: Kelsey Grammar, Anthony Joshua, Lake Street Dive (rerun).