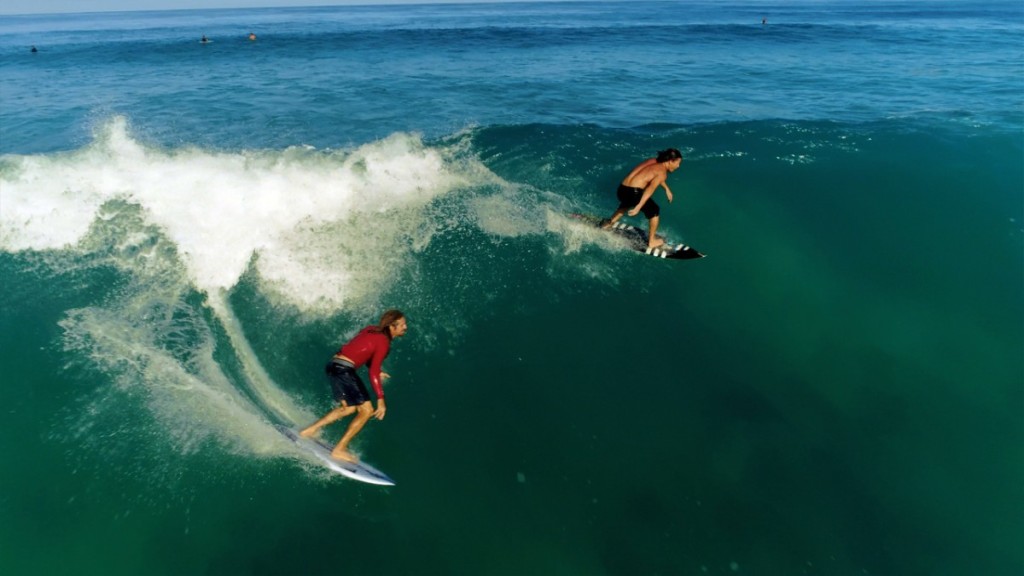 When a group of teens from broken homes all lived together on the north shore of Oahu, they surfed all day to the extent they became the rising group of champions. Growing audiences through crude films they put to punk rock sound tracks, they grew the sport (and the music).
But as the documentary "Momentum Generation" (HBO, 10 p.m.) shows, they also grappled whether they should be surfing for competition or just for fun, and how big stakes got in between their brotherhood.
The film by Michael and Jeff Zimbalist is full of awesome surf footage on huge waves, but also a lot of emotional reminiscing among its stars, which include Taylor Steele, Kelly Slater, Rob Machado and about a dozen more.
Another sports documentary tonight, "30 for 30: 42 to 1" (ESPN, 9 p.m.) looks back at the Buster Douglas-Mike Tyson fight.
The longtime guitarist gets a profile in the film "Jeff Beck: Still on the Run" (Showtime, 7:30 p.m.). Among the interviewees are fellow former Yardbirds Jimmy Page and Eric Clapton as well as Rod Stewart and Joe Perry.
Itzhak Perlman joins the Pittsburgh Symphony Orchestra and the Mendelssohn Choir of Pittsburgh in "Tree of Life: A Concert for Peace and Unity" (PBS 8 p.m., check local listings) in remembrance of victims of the synagogue shooting there. Among the selections is music from "Schindler's List."
The winning ventriloquist from season 12 of "America's Got Talent" gets her own holiday showcase: "Darci Lynne: My Hometown Christmas Special" (NBC, 9 p.m.). Her guests include Kristin Chenoweth, Toby Keith, Hunter Hayes, Pentatonix, Lindsey Stirling and her old "America's Got Talent" judges as well.
The three part "Elseworlds" crossover culminates on "Supergirl" (CW, 8 p.m.) where she is joined by the Flash, Green Arrow and Superman.
The Indian Bollywood actor and comedian has a standup special, "Vir Das: Losing It" (Netflix, streaming).
Nikki can't enjoy her romantic weekend with Tommy on "The Guest Book" (TBS, 10:30 p.m.) until she gets paternity results from Vivian in an episode where season one's characters return.
Things get complicated between Lena and Vlad on "Splitting Up Together" (ABC, 9:30 p.m.).
"Legends of the Lost with Megan Fox" (Travel, 8 p.m.) goes to Stonehenge.
The holidays see a murder investigation and a found baby on "NCIS" (CBS, 8 p.m.).
Becky keeps a secret from Darlene on "The Conners" (ABC, 8 p.m.).
The Top 8 see eliminations on the live semi-final of "The Voice" (NBC, 8 p.m.).
Yvette Nicole Brown, Ron Funches, Ana Gasteyer, Lauren Ash, Tony Hale and Jameela Jamil play "Hollywood Game Night" (NBC, 10 p.m.).
"The Rookie" (ABC, 10 p.m.) responds to a convenience store robbery.
Pride is nabbed on "NCIS: New Orleans" (CBS, 10 p.m.).
Christmas is celebrated on "The Kids are Alright" (ABC, 8:30 p.m.).
The family tries to decide which movie to see on "Blackish" (ABC, 9 p.m.).
A new threat challenges ship protocol on "Nightflyers" (Syfy, 10 p.m.).
On "FBI" (CBS, 9 p.m.), an illegal arms broker turned informant is assassinated.
On "Expedition Unknown" (Travel, 9 p.m.), Josh looks for some Asian versions of Atlantis.
Maura Tierney and Katie Lee are on "Busy Tonight" (E!, 10 p.m.).
On the first of two consecutive nights of preserved landmarks in film from the National Registry are on Turner Classic Movies this week, starting with "Stagecoach" (8 p.m.), "Who's Afraid on Virginia Woolf?" (10 p.m.), "Easy Rider" (12:30 a.m.), "Mildred Pierce" (2:30 a.m.) and the silent "The Mark of Zorro" (4:30 a.m.). New additions to the registry will be announced tonight and be shown Wednesday.
During the day today on TCM are comedies and musicals about Hollywood: "Make Me a Star" (6 a.m.), "Hollywood Party" (7:30 a.m.), "Goldie Gets Along" (8:45 a.m.), "Boy Meets Girl" (10 a.m.), "The Great Morgan" (11:30 a.m.), "In Person" (12:30 p.m.), "Lady Killer" (2 p.m.), "Expensive Husbands" (3:30 p.m.), "Super Sleuth" (4:45 p.m.) and "Singin' in the Rain" (6 p.m.).
Basketball includes Portland at Houston (NBA, 8 p.m.) and Toronto at Clippers (NBA, 10:30 p.m.).
College hoops include Villanova at Pennsylvania (ESPN2, 7 p.m.) and Colorado at New Mexico (ESPN2, 9 p.m.),
Daytime Talk
Kelly Ripa and Ryan Seacrest: Milo Ventimiglia, Martina McBride, Jojo Siwa. The View: Ken Jeong. The Talk: Kathy Bates, Pentatonix, Sara Evans, Angie Martinez. Ellen DeGeneres: Amy Adams, Eugene Levy, Catherine O'Hara, Marshmello & Bastille, Ashton Kutcher. Wendy Williams: Martha Stewart. The Real: Ashlee Simpson, Evan Ross, Michael Costello.
Late Talk
Stephen Colbert: Whoopi Goldbert, Adam Pally, Jungle. Jimmy Kimmel: Nicole Kidman, Ron Livingston, Smashing Pumpkins. Jimmy Fallon: Jennifer Lopez, Robert Klein, J Balvin. Seth Meyers: Ken Jeong, Vanessa Hudgens, Nicole Byer, Todd Sucherman. James Corden: Ellen DeGeneres, Patrick Wilson. Carson Daly: Danny Tejo, Lucy Dacus, Jorge Lendenborg Jr. Trevor Noah: Meek Mill.