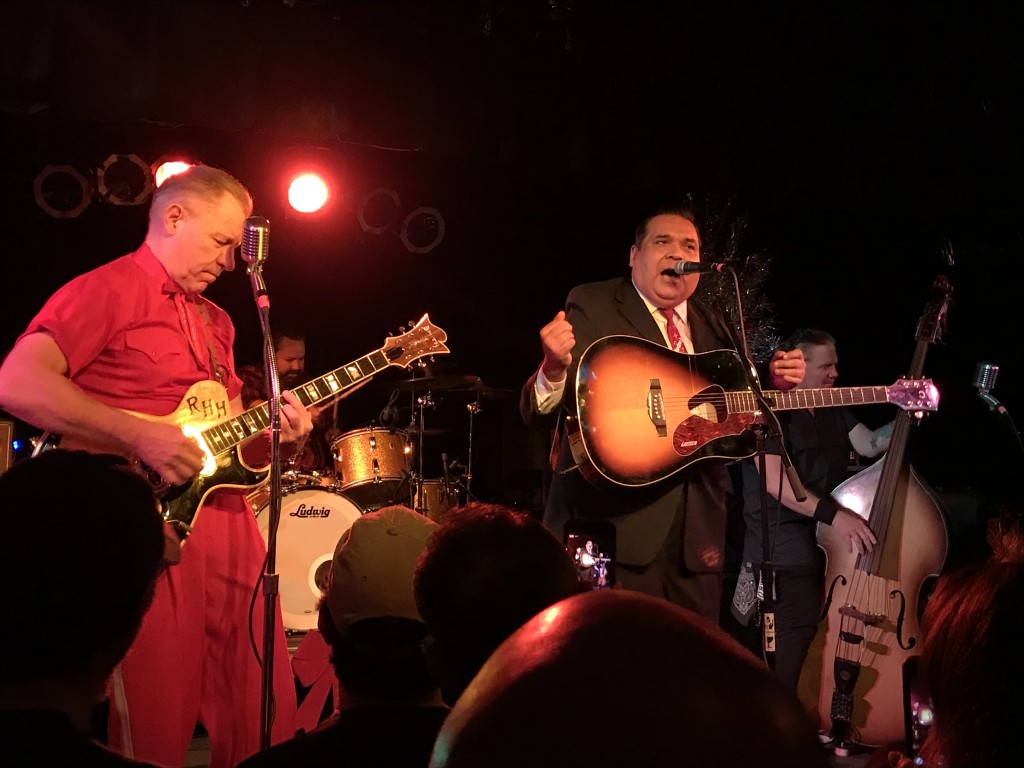 The Rev. Horton Heat issued his Christmas album 13 years ago, but only for the last few years has he loaded up a big holiday revue that includes a few other acts equally worthy of headline status — Junior Brown and The Blasters.
They all packed into the Black Cat in D.C. Saturday, playing a stage festooned with vintage silver Christmas trees (with revolving color light) and ribbons. Heat was the only one to actually play Christmas tunes, be they twanging instrumental versions of "What Child is This" with which he started his generous set, or surprisingly reverent versions of "Rudolph the Red-Nosed Raindeer."
That these sentimental classics would come in-between a barrage of signature blasts like "Psychobilly Freakout" would sometime cause a seasonal whiplash, but they've always been two parts of bandleader's Jim Heath's sensibility.
Nearing 60, Heath is at once the most traditional of country-western performers in his silk suits, aw shucks smile, heartfelt croon and especially his rock-solid rockabilly playing on his signature Gretsch guitar.
But he also came out of the punk world, which means many a winter brew was spilled doing a typically obnoxious late-show mosh pit to old things like "400 Bucks" or the raucous divorce song "Galaxy 500."
So the show careened between the two poles — "Baddest of the Bad" followed by the Elvis holiday cheer of "Baby Bring My Baby"; "Rudolph" followed by quite another animal, "Hog Tyin' Woman," from his most recent album "Whole New Life."
He let long time slap-bassist Jim "Jimbo" Wallace take lead guitar duties for Chuck Berry's "Run Rudolph Run," a song perfectly suited for the band, and followed it with one of the weirdest and best of his recent tunes, "Let Me Teach You How to Eat."
Heath's crack rockabilly act seemingly consumes drummers, but the latest, and the band's fifth, is Arjuna "R.J. Contreras, formerly with the band Eleven Hundred Springs, who is not only joyous and hard-hitting, but is able to provide one of the more entertaining drum solos, as well, involving flipping the sticks and catching them mid-solo but also hitting the surfaces all round not just the drum set, but the entire band setup, and out into the edge of the stage as well.
Long a trio, the band was made a quartet two years ago when Matt Jordan joined the band on upright piano. He was also enlisted to sing a song and was praised by Heath for his ability to make goofy faces, which you quickly learn is a prized skill in this band.
Along with the heartfelt testimonials to the openers, the good Reverend also had a guest to his own set.  The gregarious leader of Big Sandy & the Fly Rite Boys was a key addition not only because of his vocal skills, but also because of what a good frontman he was, practically spewing the holiday cheer.
That meant not only his own jerry-rigged holiday number, "Santa's Loving You," (from Big Al Downing's "Yes I'm Loving You") but a choice George Jones oldie, "A New Baby for Christmas."
Through Big Sandy, the breadth of old rock 'n' roll was covered, from a frantic version of Fats Domino's "Please Don't Leave Me" to Chuck Berry's ballad "Havana Moon."
Soon enough, though it was back to the main band, which ended its long set with an especially slow "Silver Bells" before tearing it up like wrapping paper at the end – a good echo of the breakneck mood changes throughout the show.
Junior Brown's set deepened the show's connection to both classic country and supercharged guitar. Using a unique double necked guitar on a stand that allowed him to twang as well as play lap steel, he was busy with his fingers, which occasionally pulled his equally entertaining baritone away from the microphone.
His set was filled with a lot of the old favorites from "Highway Patrol" to "My Wife Thinks You're Dead" but also a couple of new ones that fit right in and carry on his tradition like "Another Honky Tonk Burned Down." His acoustic-strumming and harmonizing wife Tanya Rae sang one, "Handy Man," and Brown continued his love for surf music (and a bit of showing off) in his closing medley.
Long lines in the rain might have prevented some from seeing the early evening set by The Blasters, a blistering one still led by Phil Alvin. His voice is still smooth and strong at 65, though he looks a bit frail. He's had some health issues over the years including difficulty breathing during a 2012 tour if Spain that hospitalized him. He doesn't move much when he's not playing guitar, singinging or blowing harmonica, but when he is he pours all of his energy into that.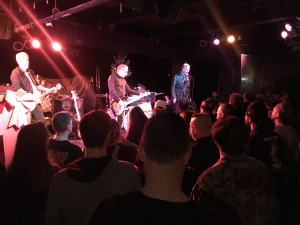 Luckily, the current members of the reformed Blasters are quite a killer bunch, led by guitarist Keith Wyatt backed by bassist John Bazz and drummer Bill Bateman, keeping live in barroom rockers like their cover of Little Willie John's "I'm Shakin,'" "American Music" and "Marie Marie." Hard to believe they were bottom of the bill, but that's how well packed this Christmas package was.
The setlist for the Rev. Horton Heat Saturday was:
"What Child is This"
"Baddest of the Bad"
"Santa Bring My Baby Back"
"Psychobilly Freakout"
"Rudolph the Red-Nosed Reindeer"
"Hog Tyin' Woman"
"Big Little Baby"
"Big Red Rocket of Love"
"Run Rudolph Run"
"Let Me Teach You How to Eat"
"Don't Let Go of Me"
"Santa's Loving You"
"Please Don't Leave Me"
"Havana Moon"
"Fine Fine Super Fine"
"A New Baby for Christmas"
"I Can't Believe I'm Saying This to You"
"Chalk It Up to the Blues"
"Whole New Life"
"Santa on the Roof"
"400 Bucks"
"Galaxy 500"
"Silver Bells"
'Drum Solo"
'It's Martini Time"
'School of Rock and Roll'