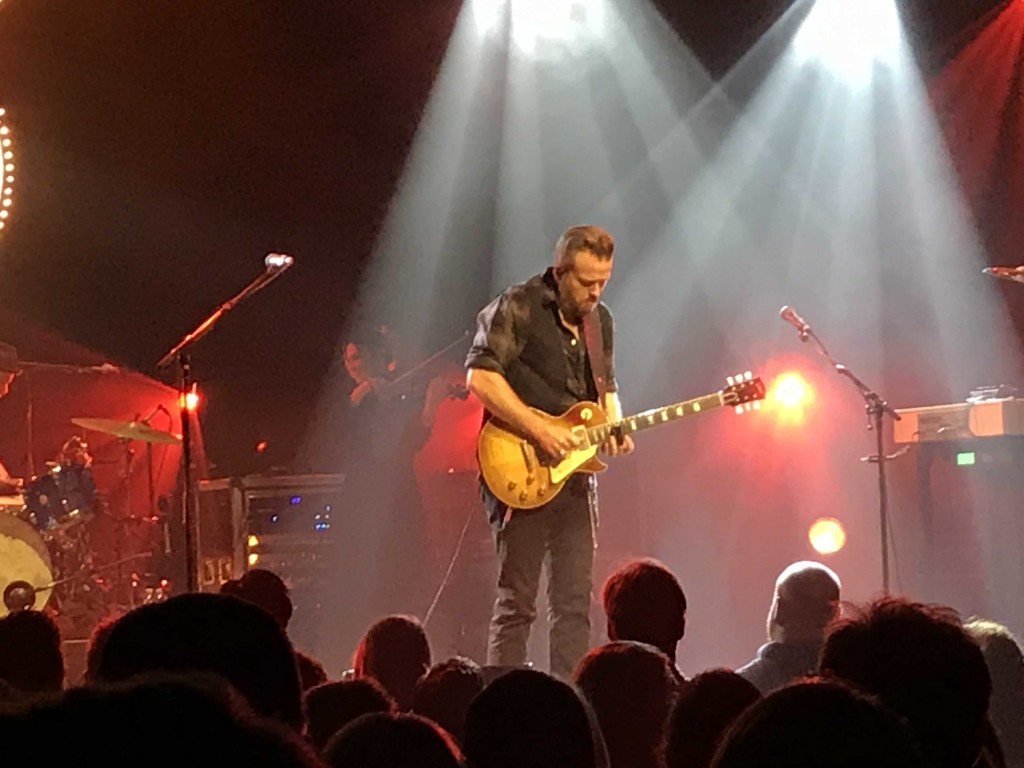 For a place that calls itself Music City, Nashville can be pretty lacking. The town's central musical gathering place, Broadway is a compendium of increasingly generic day-drinking bars with incongruous names of country stars dead (Johnny Cash, George Jones) and alive (Jason Aldean, Florida Georgia Line, even Kid Rock, god help us), full of bands likely paid only in tips, driving down the overall quality of both the sound and the song selection (they'll play anything for $20, hence a lot of Skynyrd).
Even its vaunted Grand Ole Opry, relocated to an oversized mall-hotel complex out of town, with its supposedly top stars, can show how thin the contemporary country music writing can be, between the live WSM commercials for Dollar General. Blunt lyrics sung by Luke Bryan and Joe Diffie sounded like excerpts from Brett Kavanaugh's testimony ("Drink a Beer," "Long as There's a Bar").
Nashville was saved for me by a couple of things. One was the Music City Playboys, a band of unflashy Nashville touring musicians, who now prefer to stay home and play Tuesdays and Wednesdays at a bar way out on Music Valley Drive, keeping the flame alive for classic old tunes.
And I imagine the players at the Station Inn were just as good at keeping the bluegrass flame alive not far from downtown. While some pals went over there for a show, I got into one of the sold out shows by Jason Isbell and the 400 Unit at the Ryman Auditorium, which managed to singlehandedly restore faith in the music and its ability to fill and elevate the soul.
The Ryman, a block off Broadway is worth its own visit — the lovingly restored former church and original home of the Grand Ole Opry now hosts its own roster of artists — Dylan and Springsteen played there, November sees Elvis Costello, Mary Chapin Carpenter and Shawn Colvin.
The churchy-air there is as much part of the preservation as the pews; there's a reverence to what went down before and what the music can be. Isbell, the Alabama native who made his name in Drive-By Truckers, found the magic there in a three night residency in 2013 when his transcendent "Southeastern" album made Americana history, making him a leading singer-songwriter. Since then he's return for multi-date fall residencies four times, the most recent one the longest yet, with seven shows over nine days.
This time he stressed the blues in the seven opening acts; the one in the middle of the run that I saw was 73-year-old Jimmy "Duck" Holmes, owner of the oldest surviving juke joint in Mississippi, the Blue Front Cafe in Bentonia; as well as a late blooming recording artist whose latest album, "Cypress Grove," was produced by Dan Auerbach.
He sat in his ball cap and guitar and churned out blues that echoed Skip James not just from his subject matter, which veered from the devil to being bedeviled by women, but because of his origin — James also came out of Bentonia, and tuned his guitar the same way, with open E-minor D-minor tuning, in the regional style.
The sold out crowd didn't seem to care, and Holmes incorporated getting the five-minute high sign to wrap up in his final song to make way "for this rock band or whatever it is."
Isbell, for his part, has been cherishing the run, changing up the set list each night (and inviting the audience, with cards in their pews, to jot it down). His main focus seems to be his talented band, whom he takes time to spotlight one by one, flitting over to them to give and get inspiration during  solos.
With guitarist Sadler Vaden, he could trade guitar solos and furious slide workouts. Derry DeBorja held down keyboards and occasionally strolled with an accordion, Jimbo Hart and Chad Gamble laid down solid support on bass and drums.
Amanda Shires shined on violin and vocals, intensifying love songs as she looked into her husband's eyes as she sang his songs. A solo artist who is also member of The Highwomen, she looked spectacular on stage, but was still reluctant to take any spotlight away from Isbell, who was loose and happy and said how much he enjoyed playing what was at once a venerated place and a hometown gig.
The band of brothers theme was reflected in song selection, from his "Decoration Day" from the album of the same name by the Truckers, to "Tour of Duty" and a sprawling cover of Dire Straits' "Brothers in Arms" that began the encore. (He's been turning out choice covers all turing the residency, throwing in Fleetwood Mac's "Oh Well," Crosby, Stills, Nash & Young's "Helplessly Hoping," Patti Smith's "Because the Night," Tom Petty's "Runnin' Down a Dream" and the Allman Brothers Band's "In Memory of Elizabeth Reed").
But what made the show was Isbell's own songs, as strong and honest lyrically as they were melodically moving.
Songs like "Anxiety" and particularly "White Man's World," were self-examining in a way most songs from Nashville are not. In "Last of My Kind" the protagonist sees himself as out of place in the city, at school but his home is gone as well, paved over for a drug store.
He could pick any number of songs from "Southeastern" to rally the crowd, and this night it was "Stockholm," "Flying Over Water," "Cover Me Up" and "Super 8," with "If It Takes a Lifetime" and "We've Met" in between.
Thrilling, but it only seemed a tantalizing part of a whole picture, which he was presenting night after night in a shrine that gained its fame through celebrating just this kind of genius.
The setlist for Jason Isbell & the 400 Unit Oct. 22 was:
"Hope the High Road"
"Anxiety"
"Overseas"
"Decoration Day"
"White Man's World"
"Last of My Kind"
"Codeine"
"Tour of Duty"
"Goddamn Lonely Love"
"Streetlights"
"Stockholm"
"Flying Over Water"
"We've Met"
"Cover Me Up"
"Super 8"
"Brothers in Arms"
"24 Frames"