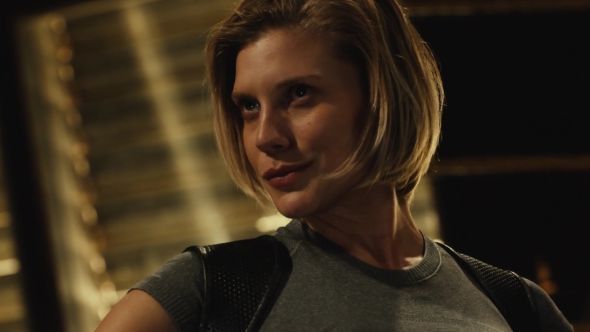 Sci-fi favorite Katee Sackhoff returns as an astronaut leading a team looking for the source of a mysterious alien artifact that is found on Earth in "Another Life" (Netflix, streaming), a new 10-episode series. Selma Blair and Jake Abel also star
Martha's dad falls off the roof while fixing the TV antenna on "Baskets" (FX, 10 p.m.). Hope he heals faster than Martha, who has had a cast on her arm for four seasons.
Teresa is threatened by an FBI informant on "Queen of the South" (USA, 10 p.m.).
"Angel Brinks: The Real Bling" (WeTV, 10 p.m.) follows the fashion designer preparing for LA Fashion Week.
On "Bunk'd" (Disney, 8 p.m.), Destiny organizes a square dance to raise money to clean up the lake.
Robb offers Gwynn a powerful army on "The Outpost" (CW, 9 p.m.).
Tech billionaire Odin Reichenbach invites Holmes and Watson to test his new crime prevention system on "Elementary" (CBS, 10 p.m.).
They're still playing miniature golf on "Holey Moley" (ABC, 8 p.m.).
There seems to have been an overhaul of the cast of "Love Island" (CBS, 8 p.m.).
"MasterChef" (Fox, 8 p.m.) has another mystery box challenge.
Helen and Maddie seek help in keeping the mermaids from extinction on "Siren" (Freeform, 8 p.m.).
There are only two episodes left for "iZombie" (The CW, 8 p.m.).
Something new on "Big Brother" (CBS, 9 p.m.) – the person evicted will actually have to leave the house.
Donald Faison, David Arquette, Rob Riggle, Lauren Ash and Ben Feldman play "Hollywood Game Night" (NBC, 9 p.m.).
Other game shows include "Spin the Wheel" (Fox, 9 p.m.).
The endless reunion episodes finally wind up for "The Real Housewives of New York City" (Bravo, 9 p.m.).
Turner Classic Movies gets around to a memorial tribute to Albert Finney, the British actor who died in February at 82. The five-film salute, spanning a couple of decades, has "Annie" (8 p.m.), "Tom Jones" (10:15 p.m.), "Saturday Night and Sunday Morning" (12:30 a.m.), "The Dresser" (2:15 a.m.) and "Night Must Fall" (4:30 a.m.).
Inheritances play a role in the daytime TCM movies today: "Expensive Husbands" (10 a.m.), "Seven Days Leave" (11:15 a.m.), "Living on Velvet" (1 p.m.), "The Gay Sisters" (2:30 p.m.), "The Hardys Ride High" (4:30 p.m.) and "The Heiress" (6 p.m.).
Baseball includes St. Louis at Pittsburgh (MLB, 12:30 p.m.) and Yankees at Boston (MLB, 7 p.m.).
It's Day 2 for the Pan American Games (ESPNU, 10 a.m.).
But it's Stage 18 of the Tour de France (NBC Sports, 7 a.m.) from Embrun to Valloire.
Daytime Talk
Kelly Ripa and Ryan Seacrest: Poppy Montgomery, Laura Prerpon, Max. The View: David Spade, Fred Savage. The Talk: Charo, Bonnie Hunt. Ellen DeGeneres: Kenan Thompson (rerun). Wendy Williams: Monica. The Real: Jermaine Dupri, Master P, Romeo, Vanessa Simmons (rerun).
Late Talk
Stephen Colbert: Jeff Goldblum, Aisha Tyler. Jimmy Kimmel: Sen. Bernie Sanders, Eugenio Derbez, the Raconteurs. Jimmy Fallon: Kevin Delaney, Zachary Quinto, Betty Gilpin, Mike Vecchione. Seth Meyers: Michael Moore, 2 Chainz, Brian Michael Bndis. James Corden: Keegan-Michael Key, Terry Crews, Joshua Jay. Carson Daly: Stephanie Beatriz, Talos, Ben Sinclair, Katj Blichfeld (rerun). Trevor Noah: Andrew Yang. Conan O'Brien: Sophie Turner (rerun).