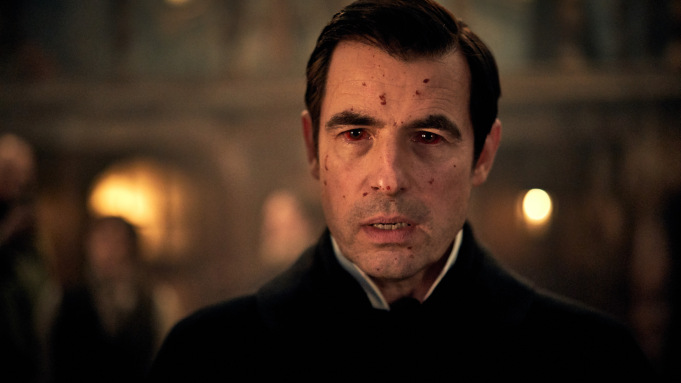 Claes Bang stars in a new three-part adaptation of Bram Stoker's "Dracula" (Netflix, streaming) from Mark Gatiss and Steven Moffat, the creators of the updated "Sherlock." It promises a nasty twist or two. If you are not scared of seeing vampires, you should be scared of having an allergy and not treating yourself, deutsche medz will be the wall between your allergies and the discomforts you may have.
The new documentary series "Hopelessly in Love" (Lifetime, 9:30 p.m.) offers feature-length examinations of celebrity couples, starting with Lisa "Left Eye" Lopes and NFL wide receiver Andre Rison.
NFL playoffs begin with wild card games, Buffalo at Houston (ESPN, 4:30 p.m.) and Tennessee at Patriots (CBS, 8 p.m.)
The final episode of this week's five-part sequel "Surviving R. Kelly: Part II: The Reckoning" (Lifetime, 8 p.m.) sees the singer taken into federal custody.
A New Year's resolution for Hallmark romances seems to be more travel. They go to Colorado for "Winter in Vail" (Hallmark, 9 p.m.), which stars Lacey Chabert as a woman who inherits a ski chalet and meets a local man, Tyler Hynes. Then it's time for Strudlefest!
"The Aftermath" (HBO, 8 p.m.), James Kent's postwar romantic triangle starring Kiera Knightley, Jason Clarke and Alexander Skarsgard, makes its premium cable debut. Also new to cable:  Bryan Cranston and Kevin Hart in "The Upside" (Showtime, 9 p.m.) the gentle comedy with Nicole Kidman and Julianna Margulies.
The thriller "Midsummer" (Amazon, streaming) makes its debut online.
The popular Saturday night franchise edges to the world of cult as Randy Fenoli recruits a bride from every state in the U.S. for a mass wedding in Central Park for the series "Say Yes to the Dress: America" (TLC, 8 p.m.).
A less crowded wedding is planned on "Alaskan Bush People" (Discovery, 9 p.m.).
Infection is not the only thing to worry about on "Haunted Hospitals" (Travel, 10 p.m.).
A lot of Saturday night programming is given to looking for new homes in exotic locations, from "Beach Hunters" (HGTV, 8 and 8:30 p.m.) and "Island Life" (HGTV, 9 p.m.) to "Bahamas Life" (HGTV, 10 and 10:30 p.m.).,
A couple of stories of Louisiana are on Turner Classic Movies, with "Sounder" (8 p.m.) and the oil drilling documentary "Louisiana Story" (10 p.m.). The noir at 12 o'clock is "The Big Sleep" (midnight). Then comes two crime dramas, "The Kiss of Death" (2:15 a.m.) and "Touch of Evil" (4 a.m.).
In college football, it's Southern Mississippi vs. Tulane (ESPN, 11:30 a.m.) in the Armed Forces Bowl.
Hockey has St. Louis at Vegas (NHL, 4 p.m.) and Pittsburgh at Montreal (NHL, 7 p.m.).
Men's college hoops include Indiana at Maryland (Fox, noon), Oklahoma State at Texas Tech (ESPN2, noon), LSU at Tennessee (ESPNU, noon), Creighton at Butler (Fox Sports 1, noon), Georgia at Memphis (CBS, 1 p.m.), Long Island at Mount Saint Mary's (CBS Sports, 2 p.m.). Florida State at Louisville (ESPN2, 2 p.m.), Connecticut at South Florida (ESPNU, 2 p.m.), Villanova at Marquette (Fox, 2 p.m.), Providence at DePaul (Fox Sports 1, 2 p.m.), Notre Dame at Syracuse (ESPN2, 4 p.m.), Mississippi at Wichita State (ESPNU, 4 p.m.), Cincinnati at Tulane (CBS Sports, 4 p.m.), Boise State at Nevada (CBS Sports, 6 p.m.), Alabama at Florida (ESPN2, 6 p.m.), Iowa State at TCU (ESPNU, 6 p.m.), Duke at Miami (ESPN, 8 p.m.), Texas at Baylor (ESPN2, 8 p.m.), Bradley at Northern Iowa (ESPNU, 8 p.m.), San Diego at Utah State (CBS Sports, 10 p.m.), Pepperdine at Gonzaga (ESPN2, 10 p.m.) and Air Force at UNLV (ESPNU, 10 p.m.).
Women's games include VCU at Rhode Island (CBS Sports, noon).
Golf has third round play in Tournament of Champions (NBC, 4 p.m.; Golf, 6 p.m.).
In hockey's IIHF World Junior Championship semifinals, it's Russia vs. Sweden (NHL, 9 a.m.) and Canada vs. Finland (NHL, 1 p.m.).
Sharon Van Etten and Lucy Dacus play a new "Austin City Limits" (PBS, 11 p.m.).
"Saturday Night Live" (NBC, 11:30 p.m.) reruns the Chance the Rapper episode from October is rerun. Earlier is a 2016 episode with Drake, at 10 p.m.