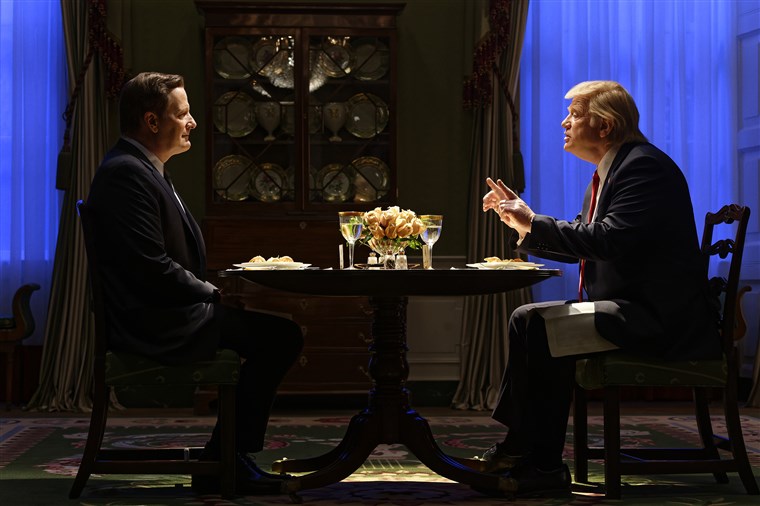 Step back for a moment from the current crazed political fury and consider the one four years ago. The names, the accusations, the emails. It all comes back in frustrating detail in "The Comey Rule" (Showtime, 9 p.m.), a two-night series drawn from former FBI Director James Comey's book, which still doesn't quite let him off the hook.
As portrayed by Jeff Daniels in the meticulous production by director Billy Ray, he's a man who masks himself in a kind of righteousness and yet managed to consistently make the wrong decisions in 2016 about announcing a Hillary Clinton investigation, exonerating her while excoriating her practices, and then reopening (and shutting) the case all over again days before the election. All while not hinting that a more substantial threat loomed in Russian involvement promoting the Trump campaign.
Daniels doesn't look quite like Comey but manages to somehow give out the same standing tall aura in a production that is overall a triumph in casting, much like HBO's line of movies depicting recent history. 
Holly Hunter is just right as Southern toughie Sally Yates (though not quite tall enough); Scoot McNair as a suitably mousey Rod Rosenstein (who somehow narrates); Jonathan Banks of "Breaking Bad" perfect as James Clapper; Michael Kelly, known as a tough political fixer in "House of Cards," intense as Andrew McCabe. Then there's  Steven Pasquale swashbuckling as Peter Strzok; Oona Chaplin edgy as Lisa Page; Peter Coyote as Robert Mueller and T.R. Knight glimpsed for a moment as Reince Priebus.