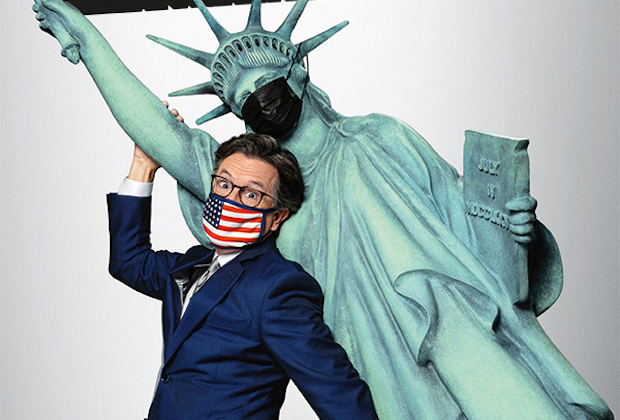 Of course you've voted already. Now comes the Election Night Coverage (ABC, CBS, NBC, PBS, Telemundo, Univision, CNN, MSNBC, CSPAN, Fox News, 8 p.m.) — with many starting hours early, maybe even now. They've vowed not to call things early (even if candidates imperiously try), so there might just be a lot of white board, magic boards, and crowded rooms of analysts wondering what might happen.
(Well, not too crowded; they're still trying to social distance). And in deference to the pandemic, there won't even be those packed ballrooms awaiting results (from responsible campaigns anyway). Downtowns that have boarded up store windows may be expecting some other kind of action.
After only four years of buildup, it's Election Night in America!
Because things will go long, late night TV is entirely pre-empted, though Stephen Colbert will once more do a live, commercial-free show on Showtime, as he memorably did in 2016. This one is called "Stephen Colbert's Election Night 2020: Democracy's Last Stand: Building Back America Great Again Better 2020" (Showtime, 11 p.m.). It's being preceded with 12 hours of content online, "A Late Show Pre-Show: Hoping for the Best…" streaming on the show's website and Facebook page starting at 11 a.m. Colbert's own regular "The Late Show" (CBS, 11:30 p.m.) will have a rerun of last month's "West Wing" reunion.
Another late night show going live is "The Daily Show with Trevor Noah" (Comedy Central, MTV, VH1, Pop, 11 p.m.), which has its own convoluted subtitle, "Votegasm 2020: What Could Go Wrong? (Again)" with reports from its correspondents.
And there's "The Conan Repeat Election Night Special" on "Conan" (TBS, 11 p.m.), on which former Sen. Al Franken joins Conan O'Brien.